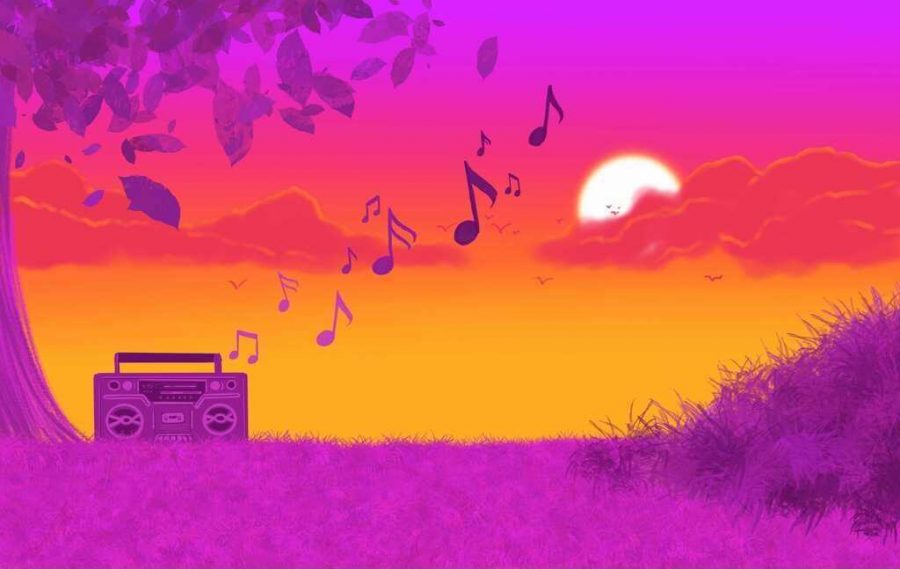 Graphic by Lucia Thorne
Spring is here in Boston (besides the random snow day in April), and the best way to enjoy the warm weather is with new music. This list of alternative, rap, and rock songs will make your city walks and picnic experiences that much better. Picture yourself laying under a weeping willow as the wind ripples through the thin branches and onto your skin, while you sink into your surroundings. Harmonize the sounds of nature with these springtime songs.
1. "Put a Flower in Your Pocket"– The Arcs
The Arcs create an ethereal experience with their raspy voices and harmonies. The song starts with guitar and a subtle drumming pattern, but as you continue to listen, the bass and keyboard soon layer in. The instrumental bridges create tension for the listener, which adds to the drug-dealing experience that this song encapsulates. 
2. "Venus Flytrap"- Feng Suave
You feel a sense of tranquility as birdsong progresses you into the intro. You're a bug stuck to a venus flytrap trying to win the girl of your dreams. The bass and guitar bring you into a high, and it feels like you're flying among the clouds as the chimes kick in. The lead vocals blend into the instruments, and you absorb everything around you.
3. "Colors"- Black Pumas
You wake up from a dream state and follow your guide, Eric Burton, the lead singer. He takes you through the joys and hardships of life as they collide. Gospel-like harmonies begin to blossom as you ride downhill with the piano keys frolicking among you. The song takes you through a personal garden where there is always room to grow and move forward.
4. "My Vibe"- Mt. Joy
Looking at the cover art to this song is like looking at the Beatles Sgt. Pepper's album cover. There are endless characters, similar to the endless instruments that kick in throughout this lively experience. The rapturous blend of guitars, keyboard, and drumbeats compliment the lead singer as the funky flair of his voice intensifies in and out. You feel like you're on top of the world.
5. "Cupid's Chokehold/ Breakfast in America (Radio Mix)"- Gym Class Heroes featuring Patrick Stump
Ba ba da da…. This classic Gym Class Heroes song can't help but make you move in crazy ways. As the lead singer proudly shows off his girlfriend, you stand up and start dancing with the wind. The drumbeat stays consistent while the pace of the guitar shifts. This 2005 single will rock your world.
6. "Got it Bad"- LEISURE
This psychedelic alternative tune will take you into a trance. The lead singer's vocals are amplified by the endless harmonies. The drums and bass carry one another as alien-like echoes swirl in between. A sonorous, deep voice floats in and out, making you feel out of your body, like you're dissolving into the sun's rays.
7. "Everyday"- A$AP Rocky
This famous collaboration combines old school and modern rap. Lines like "Every day I spend my time drinking wine, feeling fine," and  "I got the love birds chirping out the window," mellow you out as whistles in the background hone into the sounds surrounding you. Nothing else matters during this four-minute duration.
8. "Johny Says Stay Cool"- Babe Rainbow
Upbeat bongos kick off this funky alternative track as radio-like voices float in telling you to breathe in, breathe out. The guitar solos dissolve as new verse lines begin. The bongos resoundingly kick in throughout the entire song, flaring off groovy sensations as the grass dances between your toes.
9. "I Can't Breathe" – H.E.R.
Chimes float into this R&B/Soul single. The slow pace storytelling memoir references George Floyd's last words, "I can't breathe," and brings attention to the justice system that continues to uphold oppression and racism. Many other cases, like Breona Taylor's, represent the names that H.E.R. also references in the song. You sit under a tree and wonder why nothing has changed. How can you help? 
Here is a list of Black Lives Matter charities you can donate to.
Join the movement, stay updated, and further educate yourself. 
10. "Piece of My Heart"- Janis Joplin
This classic rock song hits home and ends your day under the willow tree. So enraptured by the love of someone else, you are willing to break off a piece of your heart. This song dedicated passion as a process to heartbreak, which is intensified by the famous rasp in Janis's voice, along with the guitar solo layering over her vocals. The tulips start to look brighter, and every color around you intensifies.
As this spring in Boston is coming to a close, the warm weather will continue for the next five months. Celebrate your hard work and accomplishments throughout the year. Sit down under that weeping willow tree near your house and illuminate your day with some music and do something you love.