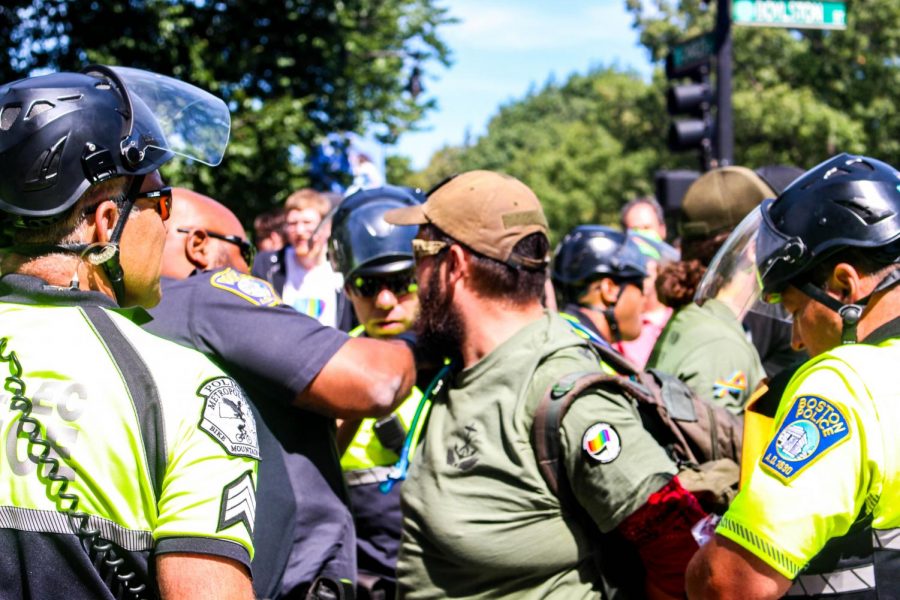 The Berkeley Beacon Archives
The organizers of last summer's Straight Pride Parade that erupted into violence, will hold a pro-police rally at the Massachusetts State House Saturday that will likely be met with considerable opposition from a clashing protest called "All Out Against White Supremacy."
The pro-police rally, "Restore Sanity," is being held in response to Black Lives Matter protests that have gripped the nation over the last several weeks, John Hugo, president of Super Happy Fun America said in a press release. The Black Lives Matter movement has shifted into the political mainstream as a result of the protests, ignited by the police-killing of George Floyd.
"We believe Black Lives Matter has nothing to do with civil rights…" Hugo said in the press release. "We support the police. Without police there would be chaos."
SHFA is a self-described advocacy group for the "straight community."
The group has also condemned the "Defund the Police initiative," which calls for the redirection of police funds to community resources. The initiative has garnered national traction in recent weeks with some cities like Minneapolis already moving to disband their police departments. President M. Lee Pelton endorsed the initiative in a virtual panel with Commonwealth Magazine last week.
[elementor-template id="60935"]
"Ordinary citizens are finding themselves in a position where they need to protect their property and lives and sometimes paying the ultimate sacrifice for doing so," the description of the Facebook post for Saturday's pro-police rally reads. "Now is not the time to de-fund law enforcement and good decisions are never made when emotions are running high."
The counter-protest event page said their rally was being held to "drown out [SHFA's] hate."
Emerson denounced the "Restore Sanity" rally on Twitter Friday, calling the group's messages "veils" and quoting Pelton's letter condemning the Straight Pride Parade from August of last year. 
The college also sent an email to students occupying residence halls over the summer, encouraging those who protest to practice social distancing and remain peaceful.