Emerson student leads march through Boston against Kavanaugh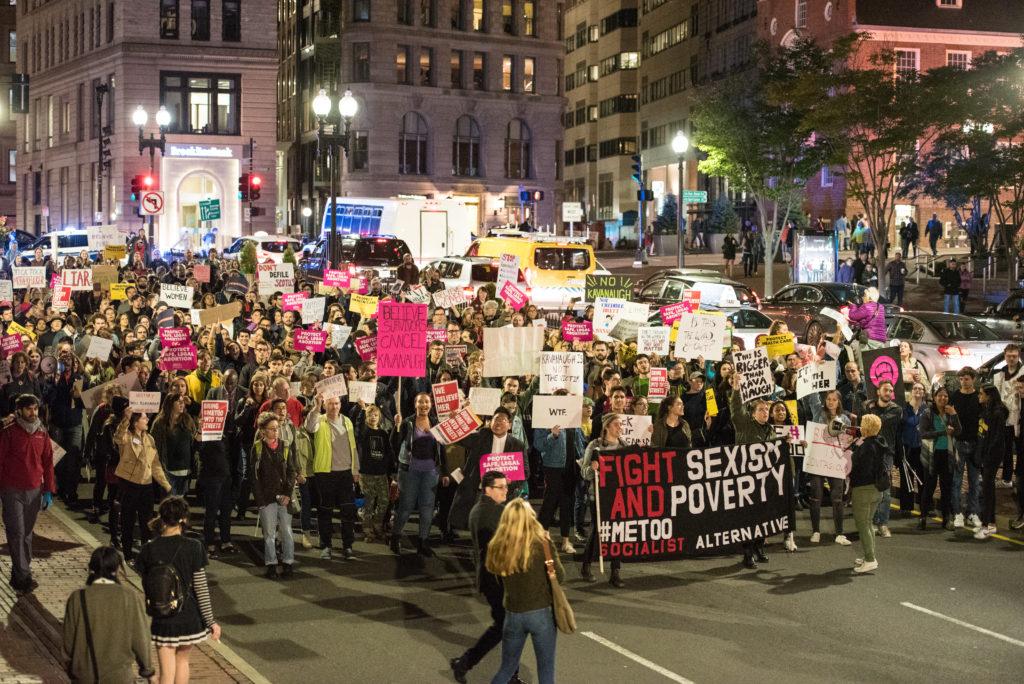 By Jacob Seitz, Senior Marlboro Reporter
October 6, 2018
Approximately 300 people attended a protest organized by sophomore Mari Sitner as part of Boston Socialist Alternative on Friday, a day before the U.S. Senate voted to confirm Judge Brett Kavanaugh as a Supreme Court Justice.
The protest, called "Boston Says Stop Kavanaugh!", supported the #MeToo movement and objected Kavanaugh's nomination to the Supreme Court. The Senate confirmed Kavanaugh with a narrow 50-48 vote on Friday. The protest and march started at the Massachusetts State House and ended at the Edward W. Brooke Courthouse.
Protestors blocked off the majority of Beacon and Tremont Streets on their way from the State House to the Edward W. Brooke Courthouse. People of all ages and pets all marched through the streets—some holding signs or flyers while others chanted into megaphones. The Boston Police Department escorted the protesters during the march and made no arrests.
Freshman Tamar Varnbrand attended the protest and held a sign that read, "I'm so angry I'm protesting on a Friday night #MeToo." Varnbrand said she felt obligated to attend the protest.
"I just got too angry," she said. "I couldn't just stay home and be fine and go and party because I'm too angry to not do anything."
We stand for community, fact-based journalism. What do you stand for?
Some things in life are essential; they touch us every single day. Good journalism is one of those things. It keeps us in the know as we hurry through our busy lives.
The protest featured four speakers at the State House and three at the Courthouse, representing organizations such as Believe Survivors Boston, Jobs with Justice, Our Revolution Sommerville, and the Party for Socialism and Liberation.
Sitner, speaking on the steps of the Edward W. Brooke Courthouse after the march, thanked all victims of sexual assault for coming forward. She also called for a continuation of the #MeToo movement, despite the results of Kavanaugh's nomination.
"We need to continue the MeToo movement and build a new system with new standards for how we treat women," Sitner said to the crowd. "We need to continue to demonstrate and disrupt."
Sitner planned and spoke at the "Tell Jeff Flake to Reject Kavanaugh" protest on Monday, Oct 1. during the Forbes Under 30 Summit at City Hall Plaza. Sitner said more Emerson students should attend future protests and use their voices.
"Without these [protests] people wouldn't have a way to channel their feelings," Sitner said in an interview. "If we can organize and we can all show up in one place and prove that there's power in numbers, then honestly anything is possible."
Jacob Seitz, Senior Marlboro Reporter
Jacob Seitz is originally from Central Ohio and resides in Cambridge. He currently serves as Assistant Express Editor and Senior Marlboro Reporter. He was previously Assistant Editor of The Record, the...