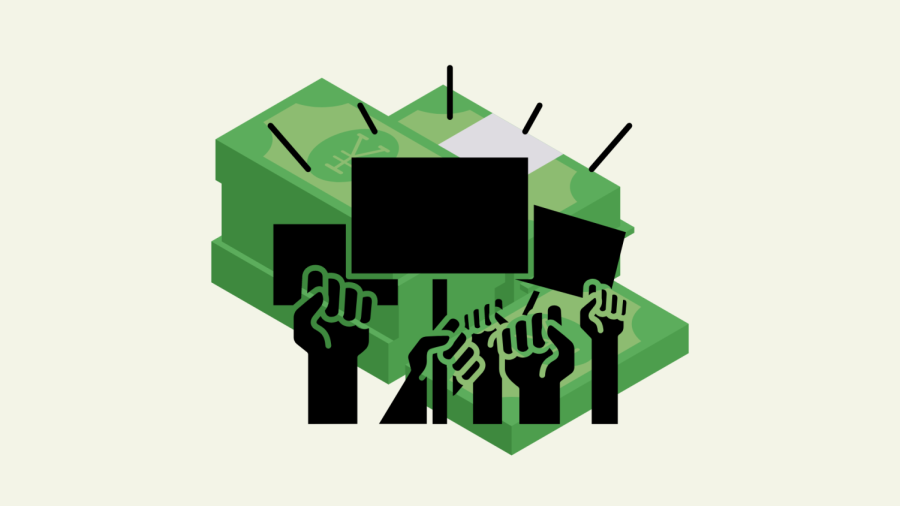 Protest graphic © @amethyststudio via Canva.com / Money graphic © @drawcee via canva.com
On April 1, Dylan Young, a then first-year visual media arts major, attended a student protest in the 2 Boylston Place alleyway. About 50 students gathered that Friday afternoon, a small but loud assembly that protested the tuition increase for the upcoming academic year. 
Around two weeks earlier, a campus-wide email from Interim President William P. Gilligan and Chairman of the Board Eric Alexander announced tuition and room and board costs would rise by 2% for the 2022-23 academic year. In response, a group known as Power to the Students spread word through Instagram about a plan to rally against what they saw as administrative overreach into student education.
The organizing group encouraged students to sign a Google Form petition to the administration. Power to the Students made five demands addressing financial inequity at the college and set an April 13 deadline for the administration to respond.
The petition garnered over 100 signatures, and the administration met the deadline, according to a member of Power to the Students. The group received an email from administrators that expressed interest in taking the demands into consideration. While it mentioned reinstating the Budget Planning Priorities and Advisory Committee—a committee that would include two student representatives and which was later announced publicly in May—there was little indication of how or when the administration planned on discussing the five points. As the spring semester ended, students departed for the summer, and the group did not hear anything further.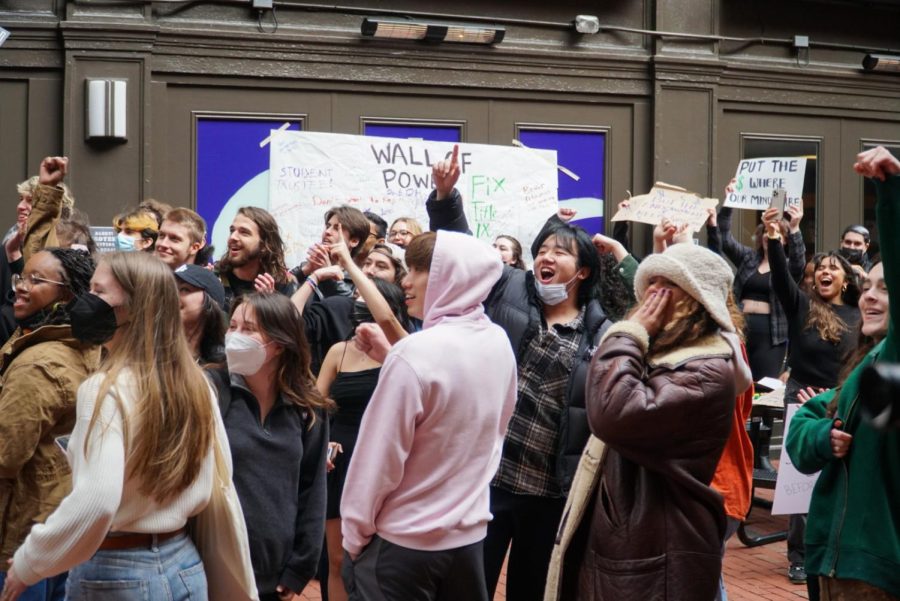 But the protest affected students who attended. It confirmed what they already knew: Emerson is alarmingly unaffordable, and the risk students take in attending the college is not being counterbalanced by the quality of their education. Young was inspired by the impassioned stories his peers shared and decided to take action.
The first-year was already interested in campus organizing, having joined Emerson's Democratic Socialists of America Chapter and leafletted with members of the Emerson Staff Union. Toward the end of the spring semester, he reached out to some of his friends about forming a students' union. A group formed through word of mouth, and on July 2, an introductory Instagram post birthed the Emerson College Students' Union.
"We just saw that there was a lot to confront at Emerson," Young, the union's minister of grassroots communication and chairman of internal data, said.  
The Emerson College Students' Union and Power to the Students represent a desire in the community to address the dissonance between the college's marketed student experience and the reality of that experience. Students returning to campus this fall recognize the need for a structure to express grievances about their education, which is slipping out of—and maybe never was in—their hands. 
Students want a say in the college's financial decisions
Tuition at Emerson has become increasingly unaffordable over the last decade, increasing roughly 56 percent from 2012 to 2022. Until the pandemic, annual tuition increases often ranged from 4 to 4.5%. 
Since the 2020-21 academic year, the increase has plateaued at 2 percent, aligning the college with nationwide trends. According to College Board, tuition increases were at a historic low at the beginning of the pandemic—the average increase for private nonprofit four-year institutions in the 2021-22 academic year was 2.1 percent. To lessen the impact of rising tuition, the college established a tuition increase offset fund in 2020. 
While the latest increase remains below pre-pandemic levels, it's uncertain what rates will look like in the future. With inflation rising nationally and colleges adjusting their tuition prices in accordance, the inaccessibility of higher education is no less dire, as stories about students working to make ends meet abound. 
Emerson students are seeking more control over the direction the college takes, considering their tuition goes toward their experience.
"If they're about student lives, student concerns—[these administrative decisions] have to be made along with student input," Young said. 
The idea of restructuring the relationship between students and college officials is not new. In 2015, Beacon correspondent Willie Burnley Jr. proposed the idea of fighting against tuition increases through a student union in an op-ed. In regard to his and his peers' financial struggles, he wrote, "We have to demand that the administration institute a two-year tuition freeze and authorize a student-administrator task force to create a plan to reduce the burden." 
Before Young entered Emerson, that call for a student union was briefly taken up.   
In spring 2019, inspired by Burnley Jr.'s op-ed and a 1969 proposal by Emerson's Black Organization with Natural Interest to provide scholarships and fellowships to Black students, the Emerson College Student Union formed. The students behind ECSU built their ethos closely around Burnley Jr.'s call for an "unsanctioned, non-hierarchical, student union." In their campaigning material, they described themselves as "student-led, non-hierarchical, and independent of the institution." 
ECSU's social media accounts have largely been inactive since Fall 2020, as most of the members have graduated. But in their time, they raised awareness about issues like racism and food insecurity on campus, as well advocated for a pass/fail policy and a room and board refund when the pandemic began. Issues with transparency from the administration and Board of Trustees were also prioritized.
In a 'disorientation guide' published in August 2019, the members wrote about the Board of Trustees, "They alone hold the voting power to decide everything from our tuition costs to their own board members. But I'm sure they have our best interests at heart…right?"
Now, the newly formed students' union, which has around 20 active members so far, envisions an Emerson where students are involved in financial decision-making. The union developed an eight-point program of desired changes in how the college functions. The first three revolve around tuition, stating that students should be able to collectively bargain with the college, that the college should be more transparent about its finances, and that students should generally not be "economically exploited." 
Collective bargaining applies to union employees negotiating for better working conditions, but the students' union uses it to mean "creating a system with the college where we can negotiate or have at least some representation in administrative matters," said Jonathon Balboni, a sophomore political communications major and the union's minister of external affairs. The group wants students to help decide how money from tuition and room and board charges is allocated. 
The union's demands echo those of Power to the Students, whose petition called for improving financial transparency and financial aid as well as increasing student representation by creating a new student position on the Board of Trustees. 
The college's financial decisions are made by the Board of Trustees, who are volunteers, and facilitated by the Office of Administration and Finance. While Emerson's bylaws allow student representatives—one undergraduate student, typically the Student Government Association president, and one graduate student, nominated by the Dean of Graduate Studies—to attend meetings, they are not able to vote, be counted in the quorum, or be privy to executive sessions. Members of Power to the Students wanted to create a student voting position within the Board.
"How is an institution that prides itself on producing thousands of well-educated young people not going to trust those same people to make decisions with their money?" One member said at the rally.
Restructuring Emerson
Changing the relationship between students and the administration will first require an internal shift among students. Members of ECSU and Power to the Students recognize a fundamental problem at Emerson in the lack of a consolidated channel through which students can organize. While there is a network of extracurricular clubs and organizations, it is difficult to build overarching action across campus. 
Right now, Emerson students are represented by the Student Government Association—the representative body that works with the administration and the Board of Trustees—and student organizations and advocacy groups focused around specific communities, issues, and interests. There are also departments within the college dedicated to working with students, such as the Social Justice Center and Intercultural Affairs. 
These channels serve different and necessary purposes. SGA is responsible for allocating funds to student organizations and advocating for students in administrative decisions. Student organizations put the college's social justice commitment to the test by establishing accessibility and diversity measures. Departments within the college work to improve student experience and provide resources. 
But fighting for a reimagining of the relationship between the student body and administration cannot be achieved through channels built through the school or through a few student groups alone. The members of the nascent students' union want to fill that gap in campus-wide organizing. 
"[The union is] basically going to be a mechanism for the student body to bring issues to the school and talk to each other, communicate with each other and get what we want out of the school through democratic means," Balboni said.
The group foresees the union being a robust forum for students to work together collectively to solve issues on campus. They are looking to create a "democratization of Emerson's campus," said Young, through general meetings, monthly town halls, and polling among the student body—and hopefully, through negotiations with the administration.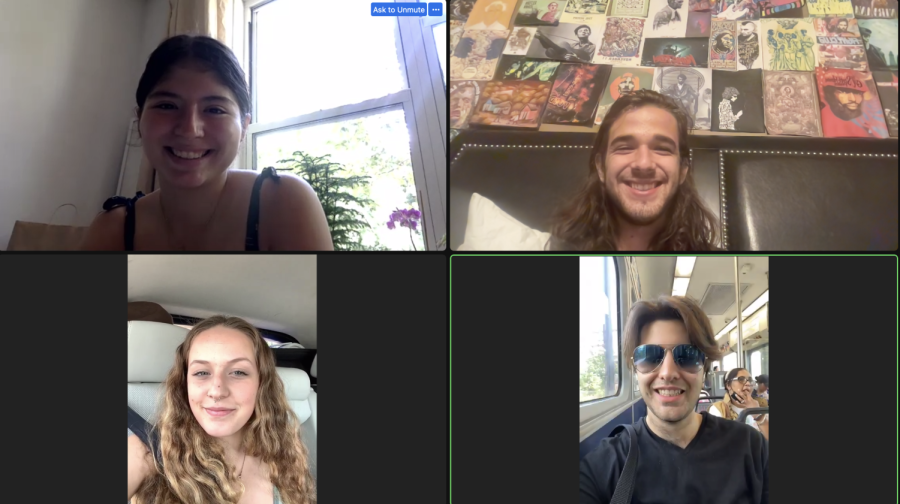 The members know that to fairly represent students, they have to get a significant portion of the community to participate. In order to create lasting change, students have to show up in numbers. They look forward to working with existing advocacy groups on campus, especially considering the work marginalized students have been doing before the union's formation.
"Our demands are going to be shaped by what the students want to change," said Emma Cudahy, a sophomore political communications major and the union's minister of the treasury.
The union members plan on staying unaffiliated with the college, just as the previous student union was, so they're able to build a structure that is solely operated by students, without administrative overlap. 
The members of Power to the Students have a different angle. Many of the students who organized the April protest are also members of SGA whose efforts to change things at Emerson have mostly been situated within this already established student-administrative structure. 
Power to the Students was originally formed in 2021 by primarily SGA members to protest the tuition increase for the 2021-22 academic year. This spring, the members regrouped outside of SGA because of the limitations of its legislative process. 
"You have to have a lot of data and be very professional in your approach," said Neiko Pittman, SGA executive vice president and one of the protest organizers. "It takes a lot of time for us to come up with the legislation because we have to sit down and write 20 pages of work and send it off to the administration and then hope the administration listens."  
With only about a month left in the spring semester, it was easier to form a protest within Power to the Students than to navigate official SGA channels to voice disapproval. The protest was meant to be a visible and immediate display of students' outrage at the tuition increase to the administration and the Board. The email response they received was generic, Pittman said, but the experience of organizing the protest as a space for students to collectively voice concerns will inform their work in the future—but not necessarily as Power to the Students anymore. 
The members have no current plans to organize within the protest group and will instead prioritize SGA this fall. Pittman said SGA has seen the lack of structural resources students have in trying to solve academic, financial, and cultural issues on campus. They hope to improve SGA this academic year so systemic issues can be dealt with more efficiently.
"[I'm] trying to create some sort of system where students can actually go to our student government association and be supported in whatever advocacy that they're trying to do," Pittman said. 
While SGA and the students' union both seek to strengthen student advocacy in different ways, Pittman said the two groups' approaches do not necessarily have to contradict one another. 
The goals ECSU outlined such as holding meetings and acting as a forum for the student body are actually many of SGA's responsibilities, but some students may not be aware of this fact and seek a better internal structure. As SGA works to strengthen its processes and ECSU looks to create their own, these two mechanisms could become symbiotic.
An unaffiliated organization might be better suited to connect with students and build relationships throughout the Emerson community, Pitttman said. That was also part of the reason SGA members decided to organize the protest within Power to the Students—they could share their anger with other students.
In the future, Pittman speculated, students could develop their voices through outside organizations and then come to SGA for legislative support in drafting specific, detailed solutions. The students' union has also expressed interest in working with SGA. They see coalition-building with other organizations as necessary to eventually interfacing with the administration and Board to have their demands met. 
"I think that if we have enough of the student body who is demanding a certain thing, then that's a form of power in itself," Cudahy said. 
What's next for student organizers
Heading into the fall semester, the students' union is preparing to do outreach across the college. One connection they've already formed is with staff at the college, who they've been in contact with on the topic of organizing. 
The staff they've spoken with cannot give advice as members of the Emerson Staff Union, but they have shared general insights from their organizing experience. 
Illona Yukhayev, an instructional technologist at Emerson, tells students who want to begin organizing that change takes a long time, and things aren't solved by one or two wins. It takes more than having a vision; everyone else has to show up to pressure college officials. 
"Leadership cannot create a channel for you to challenge it," Yukhayev said. "You want to challenge the people in power, they're not going to make it easy for you. You have to do it from the ground up." 
Yukhayev said students should apply "continuous pressure" and push for substantial change. She encouraged them not to be satisfied by easy achievements, like periodic discussions with the Board of Trustees. 
Other staff members believe advocacy work is a positive development at Emerson. Homa Sarabi-Daunais, the Interim Director of Production and Safety, said collective action forces the college to put its principles of social justice into practice. 
"Organizations like the staff union, like the students' union, the faculty union, what they are doing is holding [the] college accountable to those values and helping the college to be a better version of itself," Sarabi-Daunais said.
While the community prepares for another fall semester, the students' union has a variety of initiatives planned to draw in more members. The campus may soon see student gatherings and fundraising events, as the union expands its reach. Emerson won't be the only place people decide to fight against unfair treatment, as organizers gain momentum both locally and nationwide. 
It has yet to be seen how successful and lasting this wave of student efforts will be, but at the very least, students are coming to terms with the need to reimagine how financial decisions are made. 
"Nobody's coming to save us, we have to save ourselves," Balboni said.