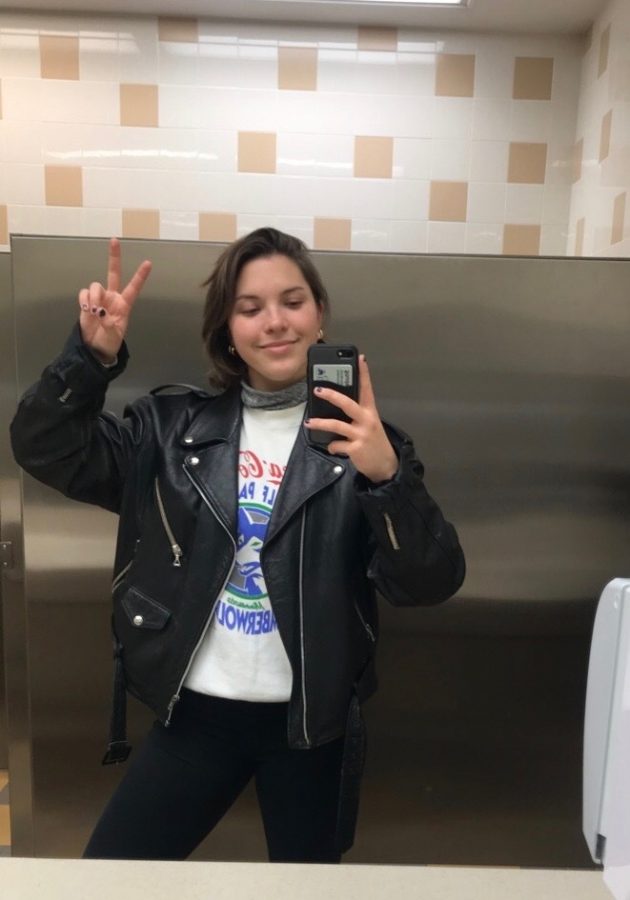 Kate Foultz/Courtesy
There's this infinity of little small moments that make up all your time at Emerson. I was looking forward to another Tam Thursday, things like that. There's the big events, but even just all the minute, microscopic moments that I was excited to have with my friends.
Already, senior year is such a turbulent period of time in people's lives, and then with this, not only is school being uprooted, but just the entirety of everyone's lives. I had one final goodbye with my basketball team, but it was so rushed. I was looking forward to the whole spring semester; graduating and having that big ceremony with the class, enjoying the Boston spring and seeing all the flowers bloom, being able to hang out with my friends in the garden, and all that.
It didn't leave a lot of room to really process, and even now, I think there's certain days where the finality of what's actually happening kind of hits you in waves, like, 'Wow, I'm actually done with college now.' I get more emotional some days than others. It's strange—not having that final goodbye and sense of closure.
I was excited for the commencement. I'm not utterly heartbroken at the moment, but it definitely was something I was looking forward to. My parents were going to fly out from Santa Fe. They haven't really been to many Emerson-related functions since orientation. My dad came out for my senior game, but aside from that, that was pretty much it. So that would have been a big, nice moment, where our whole family could get together.
The basketball team are some of my best friends. I'm so grateful and thankful that the start and end of my collegiate career was surrounded by great teammates and friends off the court. I kept telling my coach I'm so thankful that our season had just ended. Obviously I was heartbroken when it ended because I'm a senior and that was the last time I'll play that kind of competitive basketball, but my heart just broke when I realized all the spring athletes didn't even have an opportunity to all play together.
I live in East Boston, and all my stuff is actually still there. I kept telling one of my roommates who was still living in the apartment that I'd just go home for a couple weeks—it's been two months now. I'm actually going to fly back out to Boston in June to ship some things back. My lease ends in August, and so from there, I have really no idea. I don't know if I've fully processed that I'm completely done with college and have zero structure in my life at the moment. My parents moved here to New Mexico after I finished high school, and we don't know anyone here, so I've been doing a lot of Zoom calls with the people I used to live with.
I'm glad I'm not in a close-quarters city, dealing with a really dense, urban living environment right now. Instead, I have a lot of free space and clean air, and it's just a little more relaxing. We'll go outside to go on hikes or things like that, and just get a little fresh air. My mom actually works at a hospital as a case manager. She comes home and leaves all her things outside and puts them in separate containers, and then washes her clothes, takes a shower, things like that. Everything is staying pretty much as sanitized and clean as possible, so I feel pretty comfortable.
I remember the very first day of orientation, I met Sam Dearborn and Cam Pazol, and became best friends with them, and still live with Sam today. I definitely know I will maintain those relationships and friendships throughout my entire life. In high school, I definitely didn't feel too close with anyone, and I kind of never really found my group of people that I thought I'd be friends with for life, and I definitely seem to have found that at Emerson. Silly, stupid moments with my friends, I think I'll cherish the most. All the friendships that I've fostered over the years at Emerson are definitely going to be missed. But then again, those are things that won't leave, and I'll keep throughout the years, so I'm very happy that Emerson brought all those people into my life.
I talk to some of my friends and they're like, 'It's kind of nice not really having to figure out life right now, because pretty much everything is on hold.' In a sense that's true, but it's also a little scary, because I'm not sure when things were going to start up again and when I'll have a stable job. I have no source of income right now, and my landlord in Boston is very obstinate about paying the full rent on time, and I don't know how I'm supposed to get the funding. So that's been a challenge, but I also do think now I'll have more free time on my hands because I'm done with classes, so I definitely am going to try and use this time to hone different talents, stay creative, and be somewhat resourceful and productive during this time, to put myself in a better position for when there are more job opportunities in the future. I'll have more potential abilities on my resume that could help land a job.
I'm not a VMA student, but all the people I live with are VMA students, and I will say I'm always an extra or would witness their process in the 48 Hour Film Festival. Those were honestly some of the most hilarious moments, just seeing their creativity off no sleep, an absurd amount of coffee and Redbull and hot cheetos, and the kind of projects they would come up with were always highly entertaining and something I will not forget.