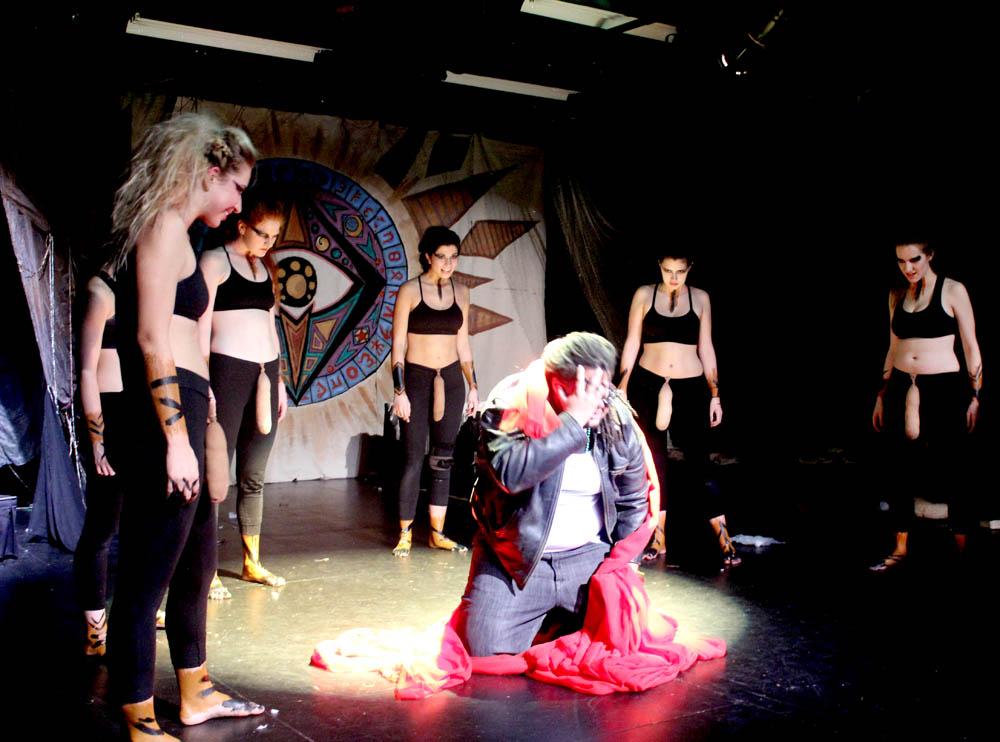 A cacophony of neon stage lights and thumping electro music invoked more of a rave party than ancient Greek theater as penises dangling from sticks greeted the audience entering the Cabaret Theater on Sunday and Monday nights for the Emerson Shakespeare Society's production of Cyclops: A Satyr Play.
"I love doing theater for non-theater people," said junior performing arts major and first-time director James Blaszko. "I'm very interested in theater I can bring all my friends to. And I wanted to make this an experience everyone would remember."
Cyclops depicts the episode from The Odyssey in which Odysseus finds himself lost after the Trojan War on a mountain inhabited by the Cyclops. Cyclops served as a refreshingly different companion piece to the typical Greek tragedy.
Upon arriving, Odysseus encounters a father and his primitive sons living in fear and oppression alongside the Cyclops. The longer he spends on the island, the more animalistic Odysseus becomes, blinding and thereby killing the tyrannical Cyclops. But with the Cyclops defeated, the natives no longer have anyone to fear and keep them in line.
Blaszko said he applied to all of the Emerson - based theater companies last semester, hoping at least one would choose him. In April, he heard good news from the Emerson Shakespeare Society, who commissioned him director for their production of Cyclops which he pithed to them. For the piece, Blaszko had a very specific vision from the start.
"I love unapologetic theater," Blaszko said, referring to the prosthetic penises, sexually lewd language, and bombastic music that recurred throughout the performance. "I wanted people to love it or hate it. There should be no such thing as passive theater watching."
According to Blaszko, his production follows tradition for a show that was sexualy charged, even in ancient times. With uproarious costumes, like Odysseus' rainbow bedazzled boxers, the show is not unlike the modern campy hit The Rocky Horror Picture Show.
According to the book Greece & Rome by R.G. Ussher, the play has always stood out for its bawdy humor and sexual overtones.
Blaszko said he was involved in all aspects of production. Besides helping the actors with their craft, Blaszko read eight different translations of the play to find the most modern sounding one. He also assisted in costume and lighting decisions and selected the soundtrack, which was almost exclusively The White Stripes.
Sophomore performing arts major Kai Andrade Tshikosi portrayed the titular Cyclops. Tshikosi, wearing a leather jacket and golden eye patch, commanded with a ferocious and lurid energy from the moment he roared onto the stage. His introduction, a lip dub to The White Stripes song "Little Cream Soda," had the same flamboyancy and modern vibe present in Baz Luhrmann's Romeo and Juliet movie adaptation.
"The lyrics are saying that the Cyclops is a creature with everything he'll ever need," said Tshikosi of the mashup between the play's themes and modern rock music song. "He has control over everything and he doesn't need gods."
The Emerson Shakespeare Society put on the production as a workshop, with a small $500 budget.
"In a way, I'm grateful we didn't have the money because it forced us to be creative," said Blaszko. He said that two army parachutes were dyed and taped together to create the cave set on stage, at a cost of only $30. A group of girls, playing the primitive sons, wear only black sports bras and tights, with homemade penises wrapped in nylon hanging from their waist.
The production sold out all 54 seats in each of its three performances and received a standing ovation during the final show. Going forward, however, Blaszko said he will not allow this success to blind his judgment.
"It's really easy for Emerson theater people to get wrapped up in themselves," said Blaszko. "I know this production isn't going to get me a job. It's about the experience and that's even more important."