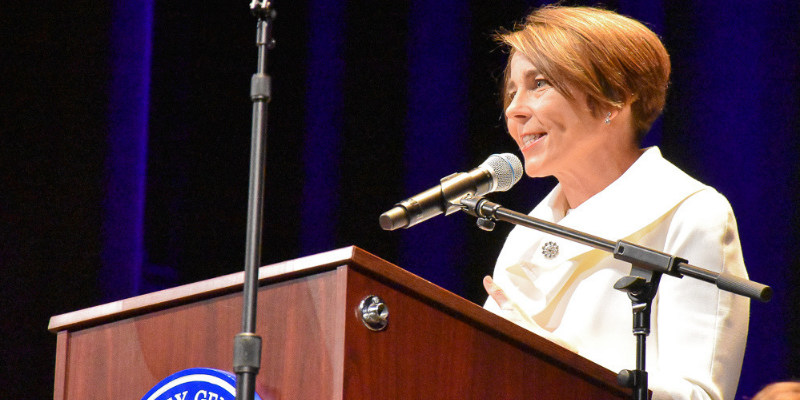 The Berkeley Beacon Archives
Massachusetts Attorney General Maura Healy joined 17 other state attorneys to sue the U.S. Department of Education Thursday over new federal Title IX regulations she says unfairly weaken protections for those who report sexual misconduct at colleges, including Emerson. 
In the complaint, Healy asked the court to postpone when the regulations go into effect. If the court rules against her action, all institutions must comply with the department regulations by Aug. 14 to receive federal funding. 
The sweeping federal changes would overhaul how sexual misconduct cases are investigated at schools and universities. The department's proposal, championed by Secretary of Education Betsy DeVos, would narrow the definition of harassment, require colleges to enforce more rigorous standards of proof, allow live hearings for Title IX cases, and exempt institutions from investigating off-campus incidents. 
"If the Rule is permitted to take effect, students across the country will return to school in the fall with less protection from sexual harassment," the complaint reads. "The Rule will reverse decades of effort to end the corrosive effects of sexual harassment on equal access to education."
The attorneys allege that the new rules exclude a breadth of discriminatory conduct from Title IX's reach and could discourage students from reporting incidents of harassment and assault. 
[elementor-template id="60935"]
Healy also takes issue with the timeline to implement the department's policies. She said pushing institutions to amend Title IX regulations in mere months could distract them from important discussions about reopening and remote learning in the era of COVID-19. 
President M. Lee Pelton recently approved the formation of a steering committee that will amend Emerson's policies to comply by the impending deadline. A statement released by the college last month said putting the new regulations in place so quickly "would be a tremendous challenge." 
If DeVos' proposed federal changes are enacted in August, they will be implemented well before Emerson finishes reviewing its own sexual misconduct policies, a process that has been underway for more than a year. The college's Title IX working group is currently in the midst of reviewing its draft of recommendations to account for comments from the community and the new federal guidelines.
In their first draft released May 1, the working group suggested the college create a standing Title IX committee, move the Title IX office out of the Social Justice Center, and more. Multiple student activists have since denounced the working group for operating under the guise of change while doing little to tangibly address the issues that plague the college. 
The Department of Education released the new set of Title IX regulations on May 6 after a three-year-long process of reshaping established Obama-era guidelines. The previous administration vehemently discouraged live hearings — a key shift in DeVos' proposed regulations. 
"Survivors of sexual assault and harrasment deserve to have their voices heard and to be protected at our educational institutions," Healy said in a statement. "We will not stand by as Betsy DeVos abandons students who seek a safe learning environment free from violence and discrimination."