11 years later, I'm still whipping my hair to Willow
In 2011, I vividly remember using my iPod touch voice memos to record WILLOW's "21st Century Girl" off YouTube. I'd repeatedly replay it, singing along while on my trampoline. Now, 10 years later, I channeled that same energy, only minus the trampoline, at WILLOW's concert at the Royale Nightclub last week. 
Royale, being smaller than the typical arena size, offered an intimate experience for the show. Considering rock was the theme throughout the night, a mosh pit was to be expected, pushing the screaming crowd even closer. The doors of the nightclub opened at 7 p.m. but the first opener, Kid Sistr, didn't come on until 8 p.m. 
Kid Sistr plays a mix of alternative rock and bubblegum pop, and had pink stage lights emulating this feeling throughout their set. The female trio consists of vocalist and guitarist Isabella "Sabel" Englert, vocalist and bassist Sara Keden, and drummer Rebecca Webster. Being the first ones to grace the stage, they made me appreciate live music and reminded me how much I really missed it.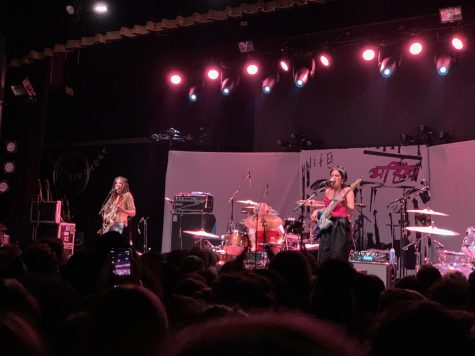 Though I'll admit I didn't know their songs going into the concert, I left knowing I'll remember them. Their music reminded me of teenage girl angsty feelings—something I could relate and jump around to. "Dallas," one of their songs, which is a mix of smooth vocals and edgy instruments, was immediately added to my "liked" songs. Their performance started the concert off right by making me long for more modern rock music and girl bands.
The hype continued into the second opener, De'Wayne. The singer performed songs from his debut album, STAINS, mixing alternative and punk rap. As the concert went on, the energy heightened, and I edged closer to the stage. 
Prior to attending the concert, I listened to STAINS. I wasn't sure what I was expecting, but I certainly didn't anticipate rock music. As each song went on, I realized how much I liked his music style. De'Wayne can't be molded into one specific genre. He's trying something not necessarily new with his sound, but different. The audience was feeding off his liveliness, myself included.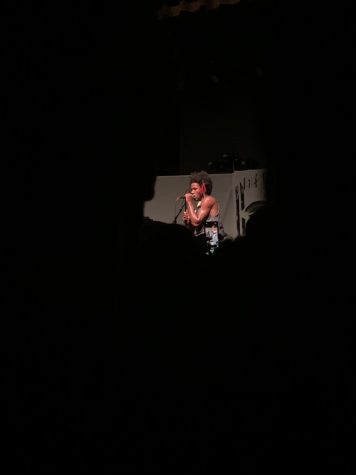 The last performer, and certainly not least, was headliner WILLOW, who finally made her appearance around 9:30 p.m. Though the wait was over two-hours, it was well worth it. WILLOW opened with her lead single "transparentsoul," a song I've listened to nonstop since it was released earlier this summer. 
Wearing a big black t-shirt with The Craft on the front and fishnet tights, WILLOW's best accessory was the colorful printed electric guitar she's been using throughout her tour. She even played the drums during her interlude "F**K You," emphasizing the angsty rock theme. 
Despite the instrumental talent, WILLOW's excellence lies in her voice. At one point, the band behind her fell silent as she sang a shortened acapella version of one of her older songs from 2015, "Marceline." A completely different vibe from her most recent album, the song captured her voice in an angelic way, softer yet still with hard-hitting notes. 
Following this, WILLOW performed "Time Machine," another older song from 2019, but one of my favorites from her. Though from a different album, "Time Machine" is similar to the energy of "Marceline." It is one of many beautiful songs I connect with, as well as much of the audience who cheered her name. 
After each song, WILLOW would thank the crowd for their support in a genuine way. During these breaks, she'd also give an authentic speech about loving and caring for yourself. She'd ask us to repeat after her as she said phrases like, "I am loved." 
At one point, a fan threw a hat onto the stage with a note that said WILLOW inspired them. She repeated it back saying the fan inspires her, a notion that felt real and made me feel good, even if she doesn't know me personally. 
Before singing one of her new songs "4ever," WILLOW explained the meaning of the song being about attachment, and, as the song says, "this can't last forever." When singers explain the context behind the creation of their songs, sometimes it can be hard to relate, but this specifically resonated with me. 
WILLOW also performed a feel-good song, "G R O W," and maybe it was wishful thinking, but I was expecting a surprise appearance of Avril Lavigne, the feature on the song. Instead, Tyler Cole, WILLOW's boyfriend and the other half of their musical duo The Anxiety, made a guest appearance. 
The two sang their hit song "Meet Me At Our Spot"—which I pregamed nonstop before the concert—as well as a couple of other songs from The Anxiety album. 
The concert came to a close after WILLOW sang some more songs from Lately I Feel Everything. The crowd seeped with enthusiasm as they yelled WILLOW's name for an encore, me included. Don't get me wrong, I couldn't ask for anything better than her performance of nearly the entire album and then some, but something was missing. 
I made my way to the spacious back, out of the pit, as WILLOW made her way back onstage. It's like she read my mind as she started up her actual final song, "Wait A Minute!" This time, I had room to properly dance my heart out because although this is my second most listened to song of all time on Spotify, it never gets old. In fact, WILLOW never gets old considering I'm still listening to her 11 years later.