A limited menu buoys The Tam through the pandemic
The Tam, a venerable Tremont Street dive bar, is best-known amongst Emerson students for its potent drinks. But this summer, it was a menu of turkey sandwiches, Hot Pockets, and popcorn that enabled their quintessential green doors to once again welcome patrons last July.
Massachusetts's phased reopening does not allow bars to reopen until Phase Four; restaurants, however, could reopen in Phase Two, a goalpost reached in late June. This led many Boston businesses to apply for a food establishment license and start serving up grub made on the premises. 
During a shift in management in 2018, The Tam—which has been open since the 1940s—received a food establishment license, according to data from the city of Boston. It wasn't until the Theatre District haunt reopened last summer after shuttering in March due to the pandemic that they put the license to use beyond basic vending machine snacks. 
"I think the popcorn was pretty popular, honestly," alumna Kate Foultz '20, a barback and bouncer for The Tam until August, said. "I'd always get people be like, 'Oh, can I actually have another bag of popcorn?'" 
Although the storied watering hole now nourishes its patrons, the pandemic has forced a goodbye to many of their other services and traditions. Bar seating is cut up by plexiglass, the Tuesday trivia nights are abandoned, and the usual throngs of college students dancing to '80s music and putting away cheap shots are now limited to about a 25-person capacity, according to Lyn Grande, a bartender at The Tam. 
The statewide dining curfew established on Nov. 6 forced the bar to close at 9:30 p.m. for nearly three months. Since the Jan. 25 lift on the curfew, they are now back to their late-night hours of closing at 2 a.m. Thursday through Saturday, and 1 a.m. every other night. 
"Thursday, Friday, and Saturday, we usually had a line all the way down the street," Grande, who has worked at The Tam for 16 years, said in an interview with The Beacon. "It's gone from feast to famine."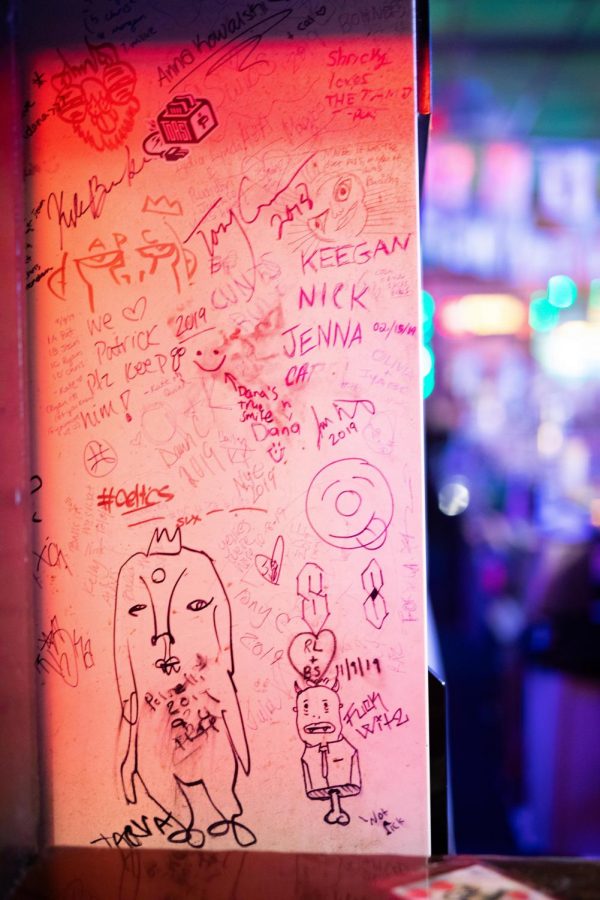 Foultz said she adopted more hostess duties once the bar reopened, ushering patrons in to safely seat them at proper distances. This, with the required mask-wearing and constant sanitizing, changed the atmosphere of the stomping ground.
"It definitely was weird, in terms of just having such less people in The Tam," she said. "When I've talked to the bartenders and stuff in the past few months, they've been like, 'The Emerson kids do not come in here anymore.' Or if they do, it'll be obviously a much smaller group."
Emerson students, Grande said, now come in "dribs and drabs." Since the crowds—once made up of theatregoers, club hoppers, and sports fans—are now far more modest, they've had to cut back on workers' shifts.
Though the flocks are smaller, many Emerson students and alumni still regard the neon "Michelob" and "Budweiser" signs as the glow of a safe haven. Going to the bar, a stone's throw from Emerson's stretch of Boylston Street dorms, is a "rite of passage" for students, said Eleanor Hilty, a '20 alumna. 
"Before I was even of age to go, I had heard the tales of The Tam from older students and walked past and seen the line and everything and understood that it was a bit of an Emerson hot spot," she said. 
Hilty hasn't been to The Tam, which she termed "a weird little outcasts club," since the onset of the pandemic. Despite this, she found a way to bring some of the bar's panache to her home in Walpole, Massachusetts over the summer. 
"A bunch of my friends, we all got on a Zoom call and changed our background to the stock picture of The Tam that's on their Google page, and we had a virtual Tam," she said. "We all made drinks a little bit too strong."  
For others, the bar was a social mecca. Junior Fabiana Muci said going to The Tam for a whiskey sour was a weekly ritual. The jam-packed space, she said, lent itself to mingling. 
"The reason why I made so many friends last year was because of the Tam," Muci said. "It was [often] people I had class with that I would just never talk to, but then when I would see them at the Tam I'd be like, 'Oh, you have class with me, so we should talk.'" 
Foultz said the regulars at The Tam formed a Facebook group, where they planned meet-ups over the summer to drink together or hold barbecues. 
"I think this place is something that all the regulars really appreciate going to and find is an escape for them," she said. "It would be pretty devastating for them to not be able to go there anymore."
Hilty said she met people within "the hallowed walls" of The Tam who she had never encountered on Emerson's campus, as well as people she knew. Seeing familiar faces was a large part of the appeal of her usual Thursday night trek—besides her order of a gin and tonic with an extra lime.  
"I think there's a little magic in the griminess of it… The Tam definitely has that hidden gem feel even though it's in downtown Boston—you feel kind of cool for going," Hilty said. "It's definitely one of the highlights of my Emerson experience, and it's not even connected to Emerson at all."  
Muci said the bar houses some of her favorite memories, but she too hasn't been back since the pandemic began. 
"It would be really tragic if the people that didn't get to experience The Tam are never able to experience it," Muci said. "For the people that were able to experience it they won't talk about their Emerson experience without mentioning their nights at The Tam."
Foultz said it was hard to precisely pinpoint the magic of the place.
"It has this kind of aura about it that pulls people in—all the regulars call it The Tam hole because they've just been going everyday for years," she said. "Time moves slower when you're at The Tam."
Grande described the space as an equalizer. 
"Everybody treats everybody the same," she said. "You come in here for beer you end up leaving with friends. That's the kind of place it is."
Despite the financial setback the pandemic has wrought, Grande said she's not worried about The Tam's long-term survival. 
"I have faith in this place," Grande said. "This place, for some reason, always seems to come up fighting. No matter what, we're always here. Through blizzards, everything. We never close. We're open every single day."