Activist David Hogg organizes gun regulation rally on Boston Common
Dozens of local Boston students met at the Boston Common Parkman Bandstand with March for Our Lives in support of gun regulation on Saturday. The group of predominantly young people served as a ray of hope for the future on a cold and rainy afternoon. 
The event was organized by Stand for a Safer Tomorrow, along with Emerson's Transforming Narratives of Gun Violence Initiative, a multi-year collaborative with Massachusetts General Hospital Center for Gun Violence Prevention and the Louis D. Brown Peace Institute. 
CJ Hoekenga, a sophomore business of creative enterprises major at Emerson, and Jordan Gomes, a sophomore at Fordham University, survivors of the Sandy Hook Elementary School shooting in 2012, opened the day's event. Hoekenga is the lead organizer with Stand for a Safer Tomorrow, a Boston-based group dedicated to ending gun violence. The two have pursued gun control activism with the Newtown Action Alliance.
"Sandy Hook should have been enough … Looking back, [it] was just the beginning," Hoekenga said to the crowd. "Gun violence in the U.S. has only gotten worse over the past ten years."
Gun violence became the No. 1 cause of death for American children in 2022. In 2020 alone, 45,222 people died from gun violence, according to the Pew Research Center; the number has increased by 43 percent since 2010.
Gomes called on the young people present at the protest to bring an end to gun violence.
"The youth have decided the time is now," she said. "We cannot continue to put our lives in the hands of previous generations because, as history shows, the rights of firearms will be prioritized over the safety of our people."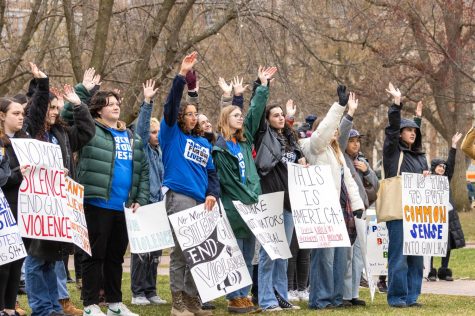 Hoekenga and Gomes invited people in the crowd to register to vote, speak with legislators, and make their voices heard. 
"Raise your hand if you have been personally affected by gun violence," said Rachel Jacoby, organizer for March for Our Lives, prompting almost half of the audience to raise their hands. 
"Raise your hand if you know someone who's been personally affected by gun violence," she added.
Every single hand was lifted in the air. 
Jacoby's speech was emotional, reminding listeners of the personal impact of gun violence, her words captivating the audience as she demanded "not one more" person should die from gun violence. 
The movement exists out of necessity, she said, because young people are at the frontlines of gun violence. The dominance of members of Generation Z in the anti-gun violence movement has earned them the colloquial title of "Generation Peace." 
"We have no choice because gun violence robbed us of our innocence," she said. "We have no choice because we live in a country that cares more about protecting guns than children."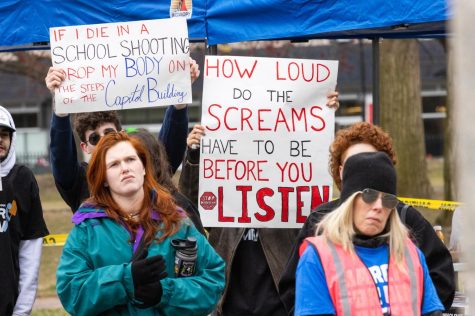 Dr. Peter Masiakos, a doctor from Massachusetts General Hospital, spoke about the young victims of gun violence he comes across as the hospital's Director of Pediatric Trauma Services. Since 2020, he said, the number of adolescent deaths from gun violence have been staggering. 
"We [medical professionals] take care of those people," he said in his speech. "We console the parents of the dead children. That's why I showed up [today]."
Masiakos not only emphasized the increasing number of homicides via gun violence, but a growing number of suicides and accidental deaths occurring in young children because of access to firearms. CDC data reveals there were 26,328 firearm suicides in 2021 alone.  
Masiakos is also the co-director of the Mass General Gun Violence Prevention Center. He said that despite the state's gun laws being among the strongest in the country, areas where a majority of residents are people of color—like Roxbury, Dorchester, and Mattapan—remain disproportionately affected by gun violence. 
"We will all work together as a community to address this uniquely American epidemic of violence," Masiakos said. "Work with me to change this, folks. The torch is passed to you." 
Pace McConkie, the policy and advocacy manager at the Louis D. Brown Peace Institute, spoke after Masiakos. McConkie shared the story of the institute's founding in 1993 after 15-year-old Lewis D. Brown was killed in the crossfire of a gang altercation. Brown was on his way to a community meeting against gang violence when he was killed, McConkie said. 
The Peace Institute exists on the five principles of peace: Love, hope, faith, unity, and courage. 
"Looking out to this group here, it's very evident that hope and unity are strong," McConkie said. "It reminds me that solidarity is our medicine … When people are united, we will never be defeated." 
McConkie described the effects of gun violence survivorship, saying that for every one person killed, 10 more are greatly affected after their death. He encouraged survivors to be at the forefront of every movement, taking up space and using their voices. 
"Congresswoman Ayanna Presley often says that those who are the closest to pain should be the closest to the power," McConkie said. 
Angelica Fontes, a community organizer with the Massachusetts Coalition to End Gun Violence, served as an example of what McConkie described—a living loved one of a gun violence victim. Fontes' 17-year-old cousin Elijah survived being shot in 2020, and has since been working with the coalition to eliminate gun violence for everyone in Massachusetts, especially communities of color. 
The coalition has a list of priorities that they say will lower the likelihood of gun violence and eliminate the root causes that lead to gun violence. The non-exhaustive list includes improved collection and analysis of gun violence data, firearm industry accountability, self-waiving the right to a firearm, updating the language in the 258E harassment protection order, supporting juvenile justice reform, raising the age of legal adulthood to 21 years, and universal basic income for youth aging out of foster care. 
The rally also featured a demonstration by Emerson's Transforming Narratives of Gun Violence Initiative. Students moved synchronically as a spoken word poem was performed. 
David Hogg, founder and board member of March for Our Lives, attended as the headlining speaker. Hogg has participated in the movement since he survived the mass shooting at Marjory Stoneman Douglas High School in Parkland, Florida in 2018. 
Hogg's headline speech ended the rally. He said the Saturday event was among the most significant he's attended because it took place proactively, not reactively. It's a movement that starts with a group of "small, determined individuals … before the next Sandy Hook or Parkland," Hogg said.
Almost 48 hours after the rally, six people were killed in a mass shooting at a school in Nashville, Tennessee. Evelyn Dieckhaus, 9, Hallie Scruggs, 9, William Kinney, 9, Cynthia Peak, 61, Katherine Koonce, 60, and Mike Hill, 61, were killed at the Covenant Presbyterian School on Monday. 
"What we need is to make people understand the future that we're trying to build together," Hogg said. "We're not stopping until no kid has to live in fear of gun violence."