Album Review: Sudden Myth by Jake Sorgen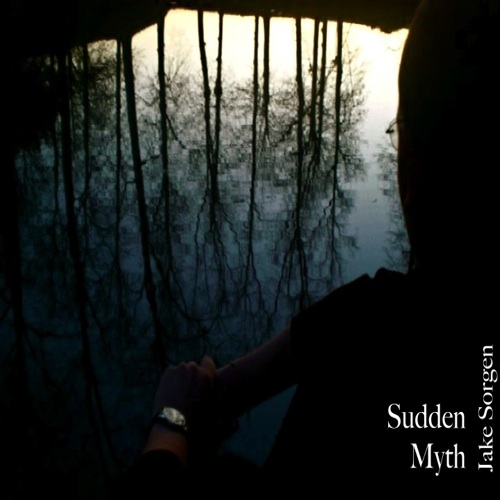 Layered and experimental, Jake Sorgen's new album Sudden Myth offers an intriguing flavor of folk. Sorgen's diverse instrumentation and artful arrangements add depth to this debut full-length. Evoking peaceful images of mountaintops and moonlight in one song and painting a bleak picture of city streets in the next, Sorgen takes us on a colorful and original sonic journey, with his guitar as the guiding light.
Sorgen's instrumental prowess gives Sudden Myth a beautiful texture. Acoustic guitar and mandolin spin a delicate but expressive web beneath Sorgen's vocals in the nostalgic opening song, "Before the Fall of the Wall." The artist showcases his saxophone skills on the following track, "London Terminal," the low, long notes giving the song a touch of urban gloom after the pure, rural folk of its predecessor. The experimentation occasionally goes overboard; the messy "She Said," for instance, blends rock instrumentation with snarly, whining vocals in a track that quivers with frustration but never quite gets off the ground.
Sorgen's guitar, however, is always the focus. His melodies meander with quaint sadness, longing, and wonder, and his driving riffs are ever present throughout the album. Two of the tracks, "iii" and "Green Flags," are pure guitar, instrumentals that shimmer with the emotiveness of his playing alone. The former's passionate strumming brings to mind the alternative country duo The Civil Wars.
In contrast to Sudden Myth's musical consistency, Sorgen's lyrics range from bluntly confessional to surreal. Naivete sprinkles songs like "Days and Nights," where Sorgen complains, "I'm growing tired of defending myself/When nothing is wrong with anyone else." Others, like the Neko Case-esque highlight "Glory, Glory," are meditative and philosophical, with the singer observing, "All those trained in their religion read too much into why magnolias bloom."
A sense of frailty permeates the record, exemplified in "Pencil Song," one of the album's standout tracks. The plaintive ballad compares a fragile relationship to writing with a pencil, with Sorgen lamenting, "All that I write can be erased, misconstrued, and replaced."
Though at times trite and inconsistent, Sudden Myth is heartfelt and versatile. Even in the spots where the album doesn't take off, Sorgen's talent, creativity, and energy are enough to keep us interested.