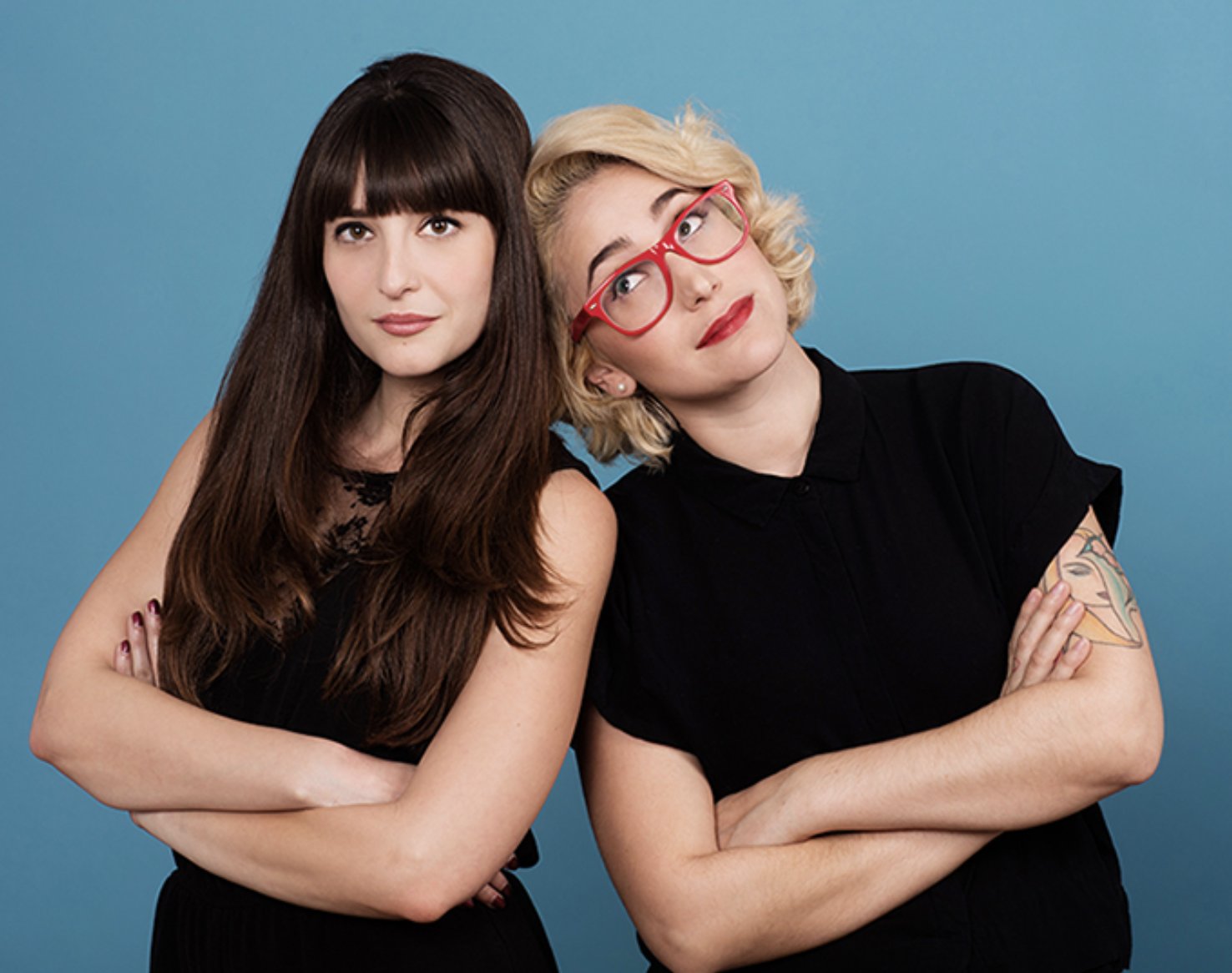 Gaby Dunn frequently walked by the Wilbur Theatre during her time at Emerson and saw the faces of her comedy heroes flashing on the billboard that hung above the building. This Thursday, she is returning to Boston as an Emerson alumna and as a performer at The Wilbur with her comedy partner and co-author Allison Raskin.
The pair are touring to promote their new young adult novel I Hate Everyone but You, a narrative told through text messages and emails between two best friends as they embark on their college years on opposite sides of the country. The novel centers on Ava, a student at the University of Southern California, where Raskin studied, and Gen, a journalism student at Emerson, where Dunn graduated in 2009. Through their digital exchanges, the two friends talk about challenges they face at school like coming out as bisexual and coping with mental illness.
Dunn and Raskin didn't meet until their late 20s, but the characters in the book are based loosely on their real-life friendship and what it could've looked like had they been friends in their college years. Dunn described the characters as the worst versions of themselves.
"It was important to me to portray a college experience that isn't perfect, and isn't fun," Raskin said. "There's this expectation that it's supposed to be the best time of your life, and that's so much pressure. In reality, it often isn't, and it definitely wasn't for me."
Raskin said they want to normalize mental health struggles and coming out, as they often tackle these subjects in their comedy. Dunn and Raskin have had a comedy YouTube channel with over 750,000 subscribers for several years now called Just Between Us. They publish weekly "advice" videos based on viewer questions, and sketch videos written by and starring them. Their work often centers around the same subjects they cover in their book— queerness, mental health, and social justice.
Dunn said they wanted to show that people can have these issues but still be functioning and ambitious people.
"For Gen, she's super happy to be queer, this is the best thing that's ever happened to her," Dunn said.
The book also features specific anecdotes about Emerson, including Dunn's experience writing for the Berkeley Beacon, because it was a formative part of her college experience. She also wrote about Emerson's extensive LGBTQ population and the idea of "gay by May."
"The one straight male character on the Emerson side is beleaguered by not feeling woke enough," Dunn said.
Dunn said that even people who aren't familiar with the pair's comedy can still enjoy and connect with the characters in the book and the coming-of-age elements of the story.
The upcoming tour follows the template of a variety show, featuring live sketches, videos, celebrity interviews, stand-up, and advice.
"We really wanted to make it a full live show where it's not just 'Oh, here's our book,'" Raskin said. "It's a full hour and a half of comedy."
Outside of the book, YouTube channel, and tour, Dunn and Raskin both have other creative endeavors. Dunn hosts the podcast Bad With Money which is starting its third season this fall, and she is writing a nonfiction book based on the podcast. Raskin is also working on a storytelling podcast which has yet to be released.
Dunn said she hopes that there is a high turn-out from Emerson students at their Boston show on Sept. 7, especially for those interested in comedy.
"It feels really weirdly full circle," Dunn said. "I went [to Emerson] and had all these dreams and now I get to actually perform there. I hope that's something everyone in college can take away because that's a fucking dream come true."