Alum's debut feature 'Ham on Rye' follows the journey of leaving home
An Emerson alum's indie drama debut film follows a group of teenagers on their journey away from home, exploring society's expectations of young adults.
From the mind of filmmaker Tyler Taormina comes the offbeat film "Ham on Rye," released in 2019 and showcased for a special Virtual Alumni Series in partnership between VMA and alumni relations on Oct. 12.
"Ham on Rye" follows a young ensemble cast's trek to a local deli, Monty's, where they engage in a small town's annual coming-of-age tradition: an event of music, awkward small talk, and a glowing white ball. The night ends with some teenagers staying behind in the small town while others who found a partner vanish—literally—into the horizon line, never to be seen on screen again. The kids left in their hometown continue their lives with an air of loneliness and FOMO regarding the life beyond their hometown they never lived.
The film opens with three young women getting ready for the event at Monty's, with the lead, Haley, played by Haley Bodell. The friends make their way to the deli, discussing their potential futures. Two secure a partner and leave their hometown, but Bodell is left behind. She is bewildered and isolated for the rest of the film, exemplified in a scene where she and her family attempt to contact her older brother, who is away in college and barely pays mind to their questions. 
The second half explores her coming to terms with being stuck, paralleled with Sloan, played by Cole Devine. A chef at Monty's, Sloan is a jaded,  college-aged man still stuck in his hometown, getting up to pranks and drugs when he's not at work.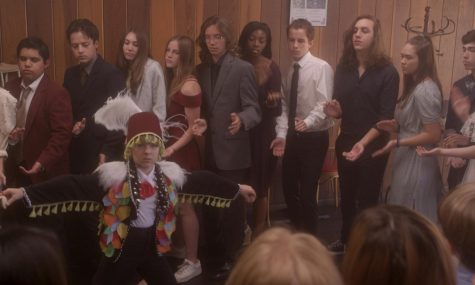 "Ham on Rye" centering on young people should be no surprise for those who know Taormina's career. Taormina went to Emerson aspiring to write for children's television. He went on to intern behind-the-scenes of "Randy Cunningham: 9th Grade Ninja," a DisneyXD kids' show starring Ben Schwartz. He quickly discovered that this was not an avenue he was interested in exploring further.
"I had to become a filmmaker by necessity, so I can not sit on a table with people and write with comedians but actually tell my own stories," Taormina said. " I just totally fell in love with cinema." 
Taormina participated in Emerson Los Angeles and moved out to Los Angeles after college. He got a day job in a restaurant, which paid his rent and kept him afloat. He quit in 2016 and dedicated himself entirely to filmmaking.
"A little bit of discomfort did help me, and I put all my time and energy outside of that day job to make my films," Taormina said. "Once I made my first short film, 'Ham on Rye' became much more of a reality because people saw that I had done a film before and I actually had good instincts."
Taormina first conceived the story in a jacuzzi with some friends in 2015. When one friend joked about going to a sandwich shop to hook up with someone, Taormina quickly became enthralled with that image. 
"I was really drawn to this juxtaposition and its absurdity," Taormina said. 
Alum Sergio Uguet de Resayre, a producer on the film, said the film's plot challenges society's perceptions of romantic relationships.
"'Ham on Rye' redefined my understanding of what a film could be since one of its virtues is how it plays with the Hollywoodification of the audience's expectations, shattering them in the process," Uguet said.
Taormina also cited the concept of a "third home" as another reason for his captivation with "Ham on Rye." 
The first home Taormina describes as where one lives, the second where one works, and the third an "extra space."
He described the concept of a third home as a "diminishing reality in the U.S." 
"[In the United States] it seems like you need money to access that third space and I think something about that disrupts something in me," Taormina said. 
Bodell finds her third space in the last scene of the film, where she lies in a park alone amid a serene calm, gazing at children frolicking in the grass.
"Ham on Rye" is filled with poignant messages, many dealing with the experiences of young people as they explore their identities and goals for the future. 
It's about taking the leap from adolescence to adulthood, away from the confines of where one grew up. 
In order to actualize Taormina's profound vision, logistics were necessary. Identifying and securing a budget was a crucial step. Taormina detailed on the film review website Letterboxd that funding came from a combination of his own savings and contributions from his close friends as well as investors, crowdfunding, and even credit card rewards.
Taormina described the process of actualizing his idea to the big screen as long, but not a "baptism in fire." He credited seven of his closest friends, mostly fellow alums like producers Jonathan Davies and Carson Lund, with helping the process run smoothly. He also spoke of the benefits of shooting in Los Angeles, mainly that many are eager to work on meaningful films.
The writing process started when Taormina was 25 and finally premiered theatrically when he was 29. Throughout the four-year operation, prop bins littered his apartment's living room.
"It really gives you the notion that making a film means shedding off all of the comforts of your life, you become prepared to lose everything," Taormina wrote on Letterboxd.
The crew shot "Ham on Rye" for over just 16 days, with approximately 100 actors shot across more than 60 locations. Taormina worked with leading actor Bodell from his 2015 TV show "Suburban Legends."
"It was all so rigorously planned out that it was actually just a very fun time," Taormina said. "Part of that was it's a lot of friends." 
Taormina said many film festivals initially rejected "Ham on Rye." It wasn't until a showing at a small festival with an audience of eight people that he met his distributor. 
Taormina and the distributor took "Ham on Rye" to Maryland Film Festival, where it was "supremely well-received" and got a positive write-up by the New Yorker's notable film critic Richard Brody. The following year, "Ham on Rye" had its theatrical release.
His most recent film, "Happer's Comet," played at Berlinale in 2022. At the moment, he is concurrently producing his fourth, fifth, and sixth feature films.
"Enemies of the State" from Ines Hofmann Kanna '96 and "Attica" from Marcia Smith '80 will be screened as part of the Virtual Alumni Series, the former on November 8th and the latter on December 6th.