Alumus creates children's show with female protagonist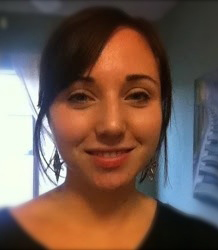 With the steering wheel of an alien spaceship in hand and her best friend George by her side, Ainslie Wickett safely steered the Everstar out of harm from pirates in the pilot of Amazon.com's potential series, "Everstar."
Emerson class of 2011 alumna Becky Tinker, 26, is the mastermind behind "Everstar." The children's program is currently in a competition through Amazon.com's "Prime" membership, which includes accelerated shipping and access to the program's online streaming service. The winner will become the website's next original series. According to Tinker, the results could be revealed as early as next week.
"Everstar" is a cartoon that follows a 12-year-old girl named Ainslie, who lives in Maine and wants to be a boat captain, according to the show's description on Amazon.com. As seen in the pilot episode, she intercepts a call at the town's local lighthouse that she believes to be a ship caught in the current storm, but is actually an alien spaceship which beams her up to help captain their vehicle.
"I was huge into science fiction and fantasy," Tinker said of the television series she watched as a child. "I started watching 'Star Trek: The Next Generation,' [and] anything in that type of genre that I could get my hands on. I always wished I had a spaceship of my own. That's really what 'Everstar' is about."
"Everstar" includes many of the things Tinker said she felt were lacking in the programs she watched growing up. She said she didn't like how many of these television series lacked a strong female protagonist and more mature themes
"I was always really bothered as a kid when I felt shows were talking down to me," Tinker said. "Kids are much much smarter than we give them credit for."
Tinker said that her love of these shows and ideals carried on with her to Emerson where she studied visual and media arts.
"I like the positivity of [writing for kids]," Tinker said. "I like being able to create these really imaginative worlds where kids can explore their own imagination, and their own creativity. There are obviously great dramas and comedies, but that wasn't quite where I wanted to be."
Tinker said that she knew she wanted to write television for kids but to practice these skills, she needed to create a directed study, due to a lack of screenwriting classes that focused on children's media. For the class, Tinker said she completed a script for a 30-minute pilot of a show. She said she also researched how writing for kids is structured in comparison to writing for adults, and the differences between writing for the different age groups of within the genre.
She said she did this course in collaboration with visual and media arts professor Martie Cook.
"It was really exciting, because it was a new kind of course we had worked on together," Cook said. "It was really neat to watch [Tinker] roll up her sleeves and get into it, and come out with some great work by the end."
During her time at Emerson, Tinker said she also completed an internship with The Jim Henson Company, which produced kid's television shows like Sesame Street. This opportunity further solidified her desire to focus on television for children
Tinker currently works at Kung Fu Monkey Productions, based out of Los Angeles, California. In August 2014, her boss, who is acquainted with the head of children's programming at Amazon Prime, Tara Sorensen asked if she would be willing to read Tinker's script for "Everstar."
Tinker said she headed over to Amazon.com and pitched the idea for her show, with almost the whole series mapped out. She said she had a lot of fun coming up with the whole package from the one episode she had already written. Although Tinker said she can't reveal any specific spoilers, she said that the season will show Ainslie learning how to become a true leader and captain.
Amazon.com then purchased her pilot. Although the company owns one episode already, this competition will decide whether they buy the rest of the series. After a couple of script rewrites, it went into production.
"I mean, it was absolutely surreal," Tinker said. "It was completely magical even as cliche as that sounds. Just seeing something I had personally created and seeing this whole world I had built come to life was absolutely amazing. It turned out better than I could even hope for."
Tinker said she is now waiting to see what will happen next. If this opportunity with Amazon.com doesn't work out she has multiple other pilots already written, including one about Celtic folklore and one about a boy trying to find out what's true about his family's past.
"I'm thrilled with her success," Cook said. "In this day and age to sell a pilot at where she is and her in career, not out of school for many years, is really unheard of. [She] not only sold a pilot at a young age, she has sold a pilot at the place that people who have even been working for years dream of selling a pilot."