'Always, Lola': small-scale production makes a big impact
A ragtag group of undergraduates struggle to come to terms with the death of a friend in a coming-of-age dramedy that will have you laughing, crying, and smiling through the tears. 
Jeffrey Crane Graham's film "Always, Lola" made its big screen debut on the east coast on Sept. 24 at the Boston Film Festival. The story follows five friends on their annual camping trip after their friend Lola's sudden death. Together, they navigate the aftermath of this tragedy as they move through the various stages of grief, and try their best to come to terms with reality. 
The Regal Fenway Theater was sold out, filled with Graham and the cast's friends and family members. The theater's neon lights radiated a warm glow over the crowd, as they chanted "Lola! Lola!" with popcorn and a soft drink in hand, awaiting the appearance of Roxy Striar who played Lola in her first starring role. 
Before accepting the role of Lola, Striar was an entertainment host for 2010's newly launched AfterBuzz TV, where she met Graham and producer Keven Undergaro. In 2018, the three came together for a table read of "Always, Lola." Undergaro fell in love with its "poignancy," which jumpstarted the film's production. 
"I've never done [a film] like this that has meaning and such impact, and purpose," Undergaro said in an interview with The Beacon. "The fact that the script really tapped into [mental health] and raised an awareness made it so it was something I had to be part of."
Graham reveals the story behind the script, driven to write about the death of his best friend from high school. With depression and substance abuse currently at an all time high, "Always, Lola" contributes to the discussion surrounding mental health and seeking help.
"We're in the middle of a pandemic right now but I think it's becoming very clear that the next health crisis will be a mental health crisis," Graham said. 
The film has already won two awards at the Marina rep Ray and Silicon Beach Film Festivals for best feature and director. The film team is still in the middle of its distribution journey, but Graham's goal is to have it available on streaming platforms next year. 
While Graham has written other scripts in the past, this is the first feature he wrote with the intention of actually producing it. While writing, however, Graham had to keep in mind the constraints of financing the film.
"One of the smartest things that you can do as a filmmaker early in your career is just shoot within your means," Graham said. "Focus on characters and story, and personal emotional experiences, because everyone can connect with that even if there's not a big car chase, or a big war scene, or a rocket going into space."
In what he referred to as a "bootstrap" production, Graham and his team shot the film in only 11 days. 
"Even on the largest productions, you are going to war when you go to a film set," he said. "You are fighting time; time is the enemy. Everything is so expensive and you have a schedule and you're trying to create art within the constraints of business."
With a small cast and modest budget, Graham serves as an inspiration to students and those interested in making their own work. While filming "Always, Lola" at his alma mater—Miami University of Ohio—Graham hired current students for various roles such as assistant director, script supervisor, digital imaging technician, and background actors. 
"I almost wish I would have done it younger," he said. "Start making stuff now. That's how you learn."
Undergaro, who has years of experience in the entertainment business, encourages students to take the leap. 
"Just do it," he said. "Your first film doesn't dictate your career. Now you can make a movie on your phone, the key is being resourceful and creative." 
The small town location of Oxford, OH worked as a blessing in disguise for cast and crew, who were able to cut through red tape and permits when finding areas to film. The set fostered an intimate atmosphere that radiates from the screen, as they were able to bond over their personal relationships with the characters, grief, and death.
"Everyone has experienced losing someone they love," Graham said. "With that being the emotional context of the film and the thematic DNA of the story, we knew it would make a rich context for storytelling."
In an interview with The Beacon, Striar elaborated on the cast's bond with the film and each other.
"There was not an odd man out," she said. "Everyone was there for the same purpose and everyone connected equally."
The "purpose" Striar referred to connects the audience to the film. Both those involved and those watching are there for Lola, and for the tens of millions of people struggling with the illness she represents. 
"The thing about growing up is that it's very hard to get out unscathed," Striar said. "There's so many people out there with these beautiful, or horrifying, or devastating, or exhilarating stories that deserve to be told."
Right now, "Always, Lola" is more relevant than ever. Warm, intimate, and funny, it leaves audience members with a greater understanding and empathy for those suffering with mental health. The bright colors, use of social media, colloquial language, and pop-culture references allow the film to communicate its message with the youth. 
The five undergraduates honored Lola as they cheered to her memory with red solo cups. The campfire cast a glow on their faces as they sat together, surrounded by darkness. Through intimate conversations, each character moved through the five stages of grief as well as the pain that comes with reopening the past.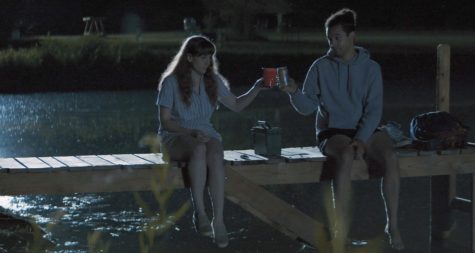 The film explored the simultaneity of mourning and moving on. By suddenly switching from present to past tense over the course of the story, the echoing voices that played in the flashbacks acted as echoes in the mind. Quiet rested on the campsite, crickets filling the silence between the things left unsaid. 
In these moments, do you push people away or do you pull them closer? What happens in the "after?" The friends find themselves drawn together as they figure out who they are without Lola, and how to stay intact without the glue that held them together.
Through a scavenger hunt set by Lola just before her death, characters are forced to reflect as they find pieces of herself left behind, and take comfort in the parts of her that they carry with them. The moments of comedy remind audiences it's okay to look back and smile. 
"Grief is meant to be shared and discussed and collectively experienced." Graham said. "One of the most dangerous ways to grieve is to do it alone."
In a conversation after the screening, Graham said he hopes the film will destigmatize conversations about mental health and seeking help. 
"Lola's death could save someone's life," he said.