Anti-trans protesters met with counter-protesters at Boston Children's Hospital
Dozens of counter-protesters gathered outside of the Boston Children's Hospital Sunday in response to the highly controversial visit of Canada-native "Billboard" Chris Elston and subsequent anti-transgender protesters at the hospital.
Elston gained traction online for his criticisms of puberty blockers and genital replacement surgeries, especially in regard to transgender youth. In union with other conservative influencers like Matthew Walsh and Chaya Raichik, supporters of this online movement began mobilizing. 
Massachusetts has seen materializations of the far-right campaign against trans healthcare, the most recent incident being the arrest of Catherine Leavy—a resident of Westfield, MA—for a false bomb threat that sent the hospital into lockdown. The threat is one of many received by the hospital—a common occurrence at hospitals that offer gender-affirming health services.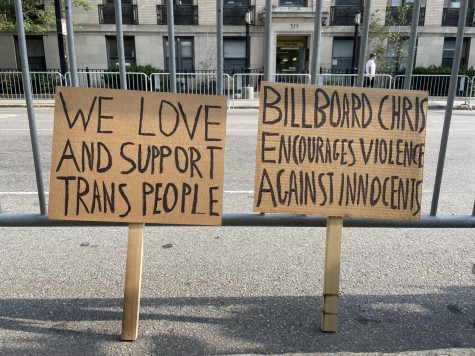 "Sending a bomb threat is the dumbest thing you could possibly do in the history of the world," Elston said in an interview with The Beacon. 
He alleged that the cause of these threats is not his rhetoric but rather the hospital's own videos and the outrage they have caused. 
Elston shared several videos produced by the hospital that discussed the surgeries offered for transgender youths prior to his visit, ultimately leading to their deletion due to online criticism. His trip to the Boston Children's Hospital is one of many in his cross-country protest of gender-affirming procedures. 
Before Elston arrived, counter-protestors flooded in at 9 a.m., met by a single protestor, Congressional candidate for Massachusetts Robert Burke (R). Burke stood with a sign reading "BURKE FOR CONGRESS" and denied an interview. At 10:30 a.m., Burke was joined by several police officers and a large group of about 60 counter-protesters. Burke consented to an interview as the crowd began growing in size. 
"I believe Massachusetts is looking for a congressman to look out for families and give parental control," Burke said.
Burke has reportedly attended an anti-mask, anti-Covid vaccine rally outside of Mayor Michelle Wu's house, has ties to Super Happy Fun America—a conservative New England group known for its "Straight Pride Parade,"—and spoke at a Resist Marxism rally.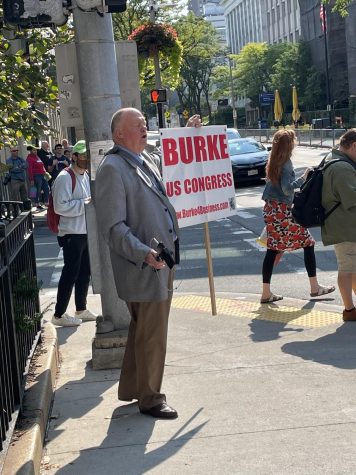 Joining Burke, a Boston mother named Nancy wore a "Liberal Mom, not Right Wing Hate Group" T-shirt. 
"My daughter who has autism believes she is trans," Nancy said, although The Beacon is unable to confirm whether Nancy was using the appropriate gender-identifying terms. "The Massachusetts Department of Developmental Services provides services to adults with autism. They say I'm abusive because I don't agree with this religion. Transitioning should be the last thing you do, not the first." 
Nancy said her daughter is 22 years old. Both Nancy and Elston referred to healthcare facilities as "trans-ing vulnerable youth."
On the other side of the street, Lilian, a nursing major and counter-protester to Elston, summarized the sentiment of the people around her. Out of concern for her safety, Lilian declined to share her last name with The Beacon but spoke freely about the recent bomb threats to the hospital and how they urged her to attend the protest.
"Trans rights brought us here today," she said. "How pro-life can you be if you're threatening to kill children?"
Brian Cafferelli was also drawn to the protest after the bomb threats. 
"I heard on Twitter about awful things happening," he said. "The bomb threat last week. Threats against doctors. I hope anyone who comes here today to protest this hospital feels uncomfortable and not welcome in Boston."
Later, a transgender woman named Piper joined the counter-protestors. 
"Fascists love to put out this idea that we're performing all these irreversible surgeries on kids when it's largely just puberty blockers," she said. "If they decide later to go through puberty for the gender they were assigned to at birth, they can." 
"Supporting trans people is the simplest thing you can do," Piper continued.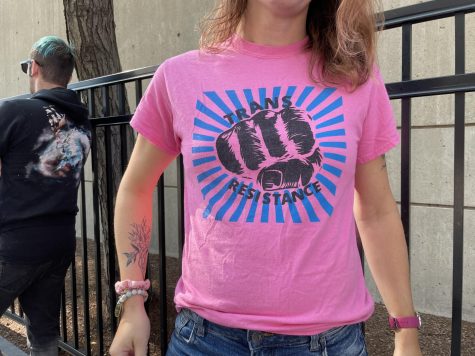 At approximately 10:50 a.m, 10 uniformed police officers wielding wooden batons and riot gear stood in front of the protesters. This prompted chants from the opposition: "All cops are bastards."
"I don't think we should be stopping the development of children," Elston said to The Beacon. "If someone wants to transition as an adult, that's an adult decision." 
According to Elston, one of his main concerns with the procedures is the pending approval of their use. Elston claimed the drugs used in hormonal therapy are "entirely experimental," stating that the same drug was used for chemical castration in the 1940s. 
The practice of chemical castration has since been challenged in the U.S., and though the procedure uses similar scientific evidence as hormone replacement therapy, it lacks patient-provider consent and communication required of all modern medical practices, according to the National Library of Medicine.  
The medications administered to transgender youth are most commonly gonadotropin-releasing hormone (GnRH) analogs, which are puberty blockers that suppress the body's release of sex hormones, including testosterone and estrogen, during adolescence. The use of puberty blockers to "pause" puberty in transgender youth is considered "off-label use," meaning the drugs are FDA approved but not yet for this specific purpose—they were originally approved in the 1990s to temporarily stop puberty in young children who experienced it too early.
According to Johanna Olson-Kennedy, medical director of the Center for Transyouth Health and Development at Children's Hospital Los Angeles, the lack of approval for gender-affirming usage is because drug firms have yet to conduct the required studies, particularly on children.
"Drug firms have declined to perform the studies necessary to get these approvals," she said in a Washington Post article. "In general, because many drug companies avoid performing trials on children, it is common in pediatric medicine for doctors to prescribe drugs off-label."
Additionally, a 2019 study published findings that gender-affirming hormone treatments have shown to be safe and increase quality of life and the mental health of patients. 
According to a study from the Council on Science and Public Health, there are several FDA-approved hormone therapies, as well as off-label therapies, that have been safely utilized for various medical purposes, including menopause, chromosomal defects, pituitary gland abnormalities, and hormone replacement therapy. 
The study claims adverse effects are a concern with the use of any hormone therapy, but serious short-term issues are uncommon and long-term effects have not been characterized, affirming that patient consent is the only necessary component to attaining these drugs.
As he spoke, Elston handed out signs to the protesters similar to the one he wore.
 "Why can't a child just be gender non-conforming?" Elston said. "10 year-olds still believe a man in a red suit goes flying through the air and comes through their chimney and puts presents under their tree, and I'm to believe these children know who they really are?"
"There's no such thing as a transgender child," Elston added. "There are boys, and there are girls, and that's it." 
According to a recent report from the Williams Institute, 300,000 youths identify as transgender in the U.S. Furthermore, the study found 18% of all transgender people in America are 13 to 17 years old, revealing that the number of young people who identify as transgender has nearly doubled in recent years.
Across the street, counter-protesters continued chanting. 
"Say it loud, say it clear, transphobes are not welcome here," they yelled.
At noon, about eight protestors and 60 to 70 counter-protestors had shown up. Tensions increased around 1:30 p.m. when the counter-protesters approached the barricade and were held back by police. Both crowds had since increased in size.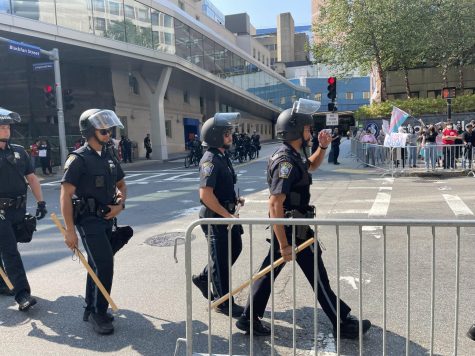 A hospital employee stood to the side watching the events unfold. When approached by The Beacon, they declined to be interviewed. However, moments later when asked if the situation was overwhelming, the employee sighed.
"It's just a sign of the times," they said.
The Boston Children's Hospital did not respond to The Beacon's inquiry for comment; however, it has since updated its website and released several statements regarding the criticism it has received. The hospital has stated it does not perform genital reassignment surgery on minors.