Armenian community protests Azerbaijani aggression in march through Common
A few hundred organizers marched from the State House to the Parkman Bandstand on Boston Common to protest the Azerbaijani invasion of disputed land on Friday afternoon.
Masked attendees waved towering Armenian flags—blue, orange, and red—over their heads. They chanted loudly, their voices reverberating into the park and the steps of Emerson's campus. Many held up handmade poster board signs that read "Speak up against genoicide" and "Stop Azeri agressions."
"We just realized that something had to be done because nobody really knows what's going on," Ani Khachatourian, an Emerson graduate student and member of the Armenian Youth Federation, said in an interview.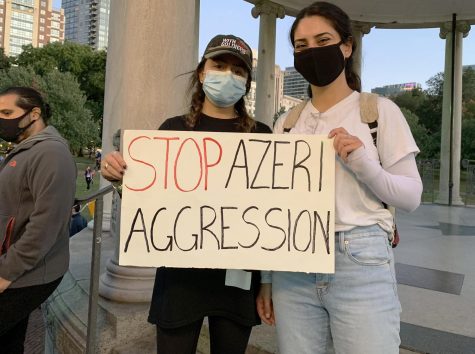 On Sunday, tensions between Armenia and the Turkish-backed neighboring country of Azerbaijan rose over the foray into the Armenian-supported region of Nagorno-Karabakh, which has been disputed land since the collapse of the Soviet Union. Both countries argued they responded to opposed artillery attacks.
Nagorno-Karabakh officials have reported at least 80 military deaths, 5 civilian casualties, and around 30 injured civilians in the last week, according to the Human Rights Watch.
Khachatourian said Azerbaijani missiles launched into the regional capital of Stepanakert, which caused civilian casualties, was the initial strike.  
"They are claiming us as the aggressors, but it doesn't really make sense…they have more than three times the population," Khachatourian said. "We don't want anything from them; they want our land. And honestly, I understand why they want it because it's so beautiful but we're not giving it up, we're not gonna sell into anything." 
Several attendees said the support and unity on Friday night surprised them.
"I am mind blown from the amount of people that are here, but it's because we all have one fight and we have one end goal and that is to get the word out that Turkey is guilty of genocide," Meghri Dervartanin, a Lesley University student said. 
Khachatourian, who helped organize the march, said the attendance "spoke volumes."
"We, as a people, try so hard to exist," she explained."We're a very proud population, culture, and everything.Today was big for Boston, it was big for Armenians, I'm so happy that this many people are feeling so united right now. Unfortunately it's for not the most positive of things, but we're together and that's all that matters." 
Organizers said they planned to host speeches from community members at the steps of the State House, but decided to walk through the Common the evening of. 
"We weren't planning on marching at all," Saro Sakaian, another Armenian Youth Federation member, said. "We started right in front of the State House. We had some speeches given by our AYF members, our executive body gave a speech, and then we decided to march through the common once we saw the huge turnout."
Still, at least one member of the federation said the Armenian community will not rest until peace returns. 
"We're here to stay, we're here to spread the word that Armenians aren't going anywhere, that Armenians will fight for justice and fight for no war…until the day we die," Dervartanin said.
Maximo Aguilar Lawlor contributed reporting.