Athletic department transforms fans into followers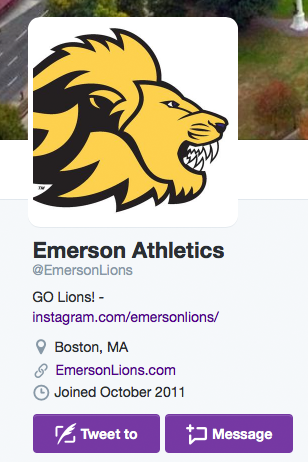 The Emerson College athletic department has been ramping up its online activity this year to engage with its fans.
Matt Ulrich, athletics' director of media relations and game operations, said he knows the importance of the department having a big presence on the Web.
"We have to align ourselves with the younger demographic," Ulrich said. "No one is checking emails much anymore, so it helps get things like schedules and games out there."
With more attention on social media content, Ulrich said he has seen the support for the profiles and athletics grow.
"[These media accounts] really show where our fan base is at," Ulrich said. "Since the beginning of the year we have seen our Twitter go up around 100 followers and our Instagram [following] has nearly doubled. A game that may have had 30 fans last year is turning out to be like 120 [fans] this year."
Ulrich added that he's seen the department's Facebook page turn into something he didn't expect it to become: an open environment.
"It's like an online community," Ulrich said. "You see parents on there asking other parents how their kids are doing, commenting on great plays and spreading the word that they are going to events."
On that page you can find shared sports articles, game times, shirt giveaways, and fans showing their support for the teams.
"Volleyball has been packed; soccer has seen significant crowds even when the weather hasn't been so great too," Ulrich said. "You're starting to see kids all over the place rocking our shirts also."
Aside from the department's Facebook page, most teams have their own social media profiles. Ulrich said the coaches are usually in charge of the accounts, but some are run by players.
The women's soccer team uses their Twitter in as many ways possible. They share pictures, promote their games, and also keep their followers posted on results from past matchups.
The significant growth in social media is fun to watch and something Ulrich, who played lacrosse at Emerson until he graduated in 2013, said he wishes was around when he was here.
"When I was an athlete here, you didn't see many kids walking around in sports swag or attending games," Ulrich said. "Now the school is supporting us more and the student body is as well. Overall, I've seen significant progress."
Men's soccer player Max DeLuca, a freshman journalism major, said he thinks it's great to see the results play out in real time.
"It definitely helps me keep up with some of the teams I don't get to watch," DeLuca said. "Just being able to check the box score is a nice option to have."
DeLuca said he thinks the social media activity of the accounts does help with attendance to an extent, but he still thinks it can improve.
"There is definitely more room to market these accounts," DeLuca said. "Some people still don't even know we're on social media."
According to Ulrich, building a following can be tough but it's something that the Lions have done through different techniques.
"It's still a learning process," Ulrich said. "We will continue to look for more ways to promote ourselves."