Biden defeats Trump, vows to bring new direction for divided U.S.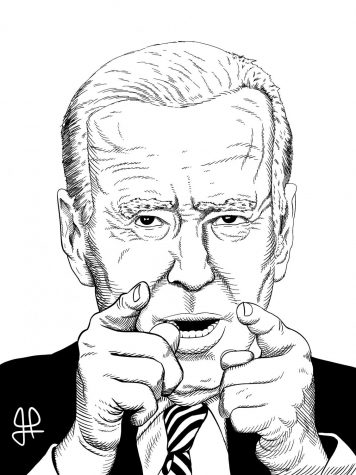 Former Vice President Joe Biden is slated to become the 46th president of the United States after accruing at least 290 electoral votes and emerging victorious in Pennsylvania, the state of his birth, on Saturday morning. The win makes President Donald Trump the first incumbent to lose re-election since George H.W. Bush conceded to Bill Clinton in 1992. 
"We have to remember the purpose of our politics isn't total unrelenting, unending warfare," Biden said in an address to the nation from Delaware Friday night. "No, the purpose of our politics, the work of our nation, isn't to fan the flames of conflict, but to solve problems, to guarantee justice, to give everybody a fair shot."
Once inaugurated, Biden's running mate, Senator Kamala Harris, will be the first woman to hold the vice presidency, as well as the first Black woman and first Indian-American woman in the oval office. 
The unprecedented election was marked with key Biden wins in states that flipped for President Donald Trump in 2016 or have voted red for several decades. Biden now maintains a lead in  Georgia—traditionally a Republican stronghold. The former vice president grabbed Pennsylvania's 20 electoral votes Saturday morning, pushing him past the 270 needed to claim the nation's highest office, according to the Associated Press and multiple other major news outlets. 
In the four days after Election Day, Biden also won Wisconsin, Arizona, Michigan, and Nevada.
Biden's lead in Georgia is slim, and the state is headed for a recount. If he holds on to win, it would be the first time in 28 years a Democrat has won the southern state. Previous recounts, including one in Wisconsin in 2016, have done little to alter vote totals. 
Biden has attempted to earn the nation's highest office twice before—running and losing in the primaries in 2008 and 1988.
In a statement, former President Barack Obama congratulated Biden on his victory. 
"I know he'll do the job with the best interests of every American at heart whether or not he had their vote," Obama wrote. "So I encourage every American to give him a chance and lend your support" 
While Biden's victory has already been acknowledged by leaders around the globe, it appears that President Trump may not accept the results of the election. The Trump camp began filing lawsuits early this week in Michigan, Pennsylvania, and Georgia, alleging election officials mishandled vote counts and did not give his campaign adequate access to polling sites. Multiple legal experts across the country have called Trump's claims of voter fraud "baseless."
Control of the Senate is still up in the air, and will ultimately be decided by voters in Georgia, as races for the state's two senate seats are both headed to runoffs. If Democrats are able to pick up both seats, they will gain a slim advantage, with vice president-elect Harris casting a tie-breaking vote. While Democrats still control the house, if they lose the races in Georgia, Biden would take over the White House under a divided Congress, potentially jeopardizing the president-elect's ability to pass his legislative agenda. 
The results finally offer a nation a conclusive result following four days of uncertainty, during which election officials nationwide counted through millions of mail-in ballots brought on by the coronavirus pandemic. Several states, like Pennsylvania, California, and Massachusetts, mandate that mail-in and absentee ballots cannot begin to be counted until Election Day.