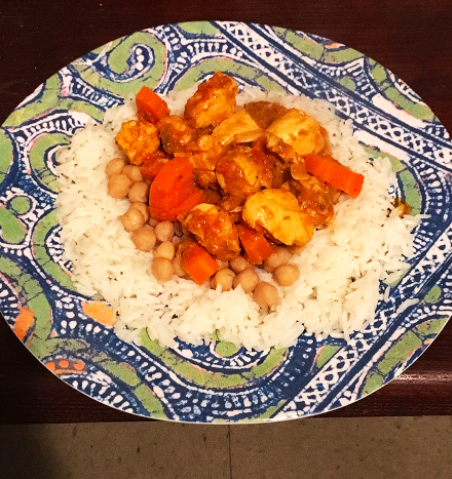 There's only one thing better than a home-cooked meal. I'm talking about the hero of brown bag lunches and impromptu sandwiches. It's a blessing, it's a lifesaver — I'm talking leftovers.
Leftovers let you eat home-prepared meals while only cooking a few days a week, and let's be real, no student has time to cook every night. I have a hard time thinking of recipes to make sometimes. With evening commitments Sunday to Wednesday, I don't always want to try a new recipe, and I definitely don't want to make anything complicated.
I start planning leftovers by picking a dinner that is easy to make in bulk and can become an ingredient in other meals later that week. For example, every few weeks I make a big pot of chili and keep it in the fridge—I can eat it plain, over rice, in an egg scramble, or even mixed into a pot of mac 'n cheese. Preparing leftovers can be as simple as making well-seasoned chicken in bulk for salads, sandwiches, or pasta.
In my latest cooking excursion, I decided to make my first homemade chicken curry. I was under the impression that it would actually take the time the recipe suggested, about an hour, instead of almost double that much. I was wrong. It was a pretty complicated New York Times Cooking recipe, but it didn't seem like doubling the recipe would add much time and effort. I knew it wouldn't be something I would make on an average day, so I wanted to make the endeavor worth it.
I got to work chopping and pureeing lots of ingredients that I would have never associated with curry, like cinnamon, tomatoes, and jalapeños. I sauteed them with spices and yogurt and it boiled down to a very smooth sauce. I then cooked the chicken in the sauce on low for 30 minutes. Adding double the chicken to the pot added more time, but no more pain.
My partner and I each got four meals out of this meal prep. We had it overcooked carrots, chickpeas, and rice for the first night and the next day's lunch. The night after, when I got home late after a four-hour class, it was all ready in the fridge, only needing a few minor adjustments. I chopped it up and made it into a quick chicken salad by adding some spices and a bit of mayo, and I paired it with sourdough toast. We had leftover curry sauce to use on whatever we pleased.
I'm not saying you need to make homemade curry to prepare leftovers, but a little extra effort can pay off. As the Food Network queen Ina Garten would say, "store-bought is fine."
The possibilities for making bulk dinners are endless. There are so many recipes that can be doubled or even tripled with little to no extra work. You can even freeze individual servings of soup, chili, or sauce for when you feel particularly uninspired in the kitchen.
No one should worry about cold noodles or chicken on campus. Luckily, Emerson has quite a few microwaves. I bet your breakroom at work has one too. Microwaves can be found in the Max, on the lower level of the Max Mutchnick Campus Center, at Center Stage, in most academic department offices on campus, and probably in faculty offices as well. From what I can tell, they don't mind if we use them. At least no one's ever said anything to me.