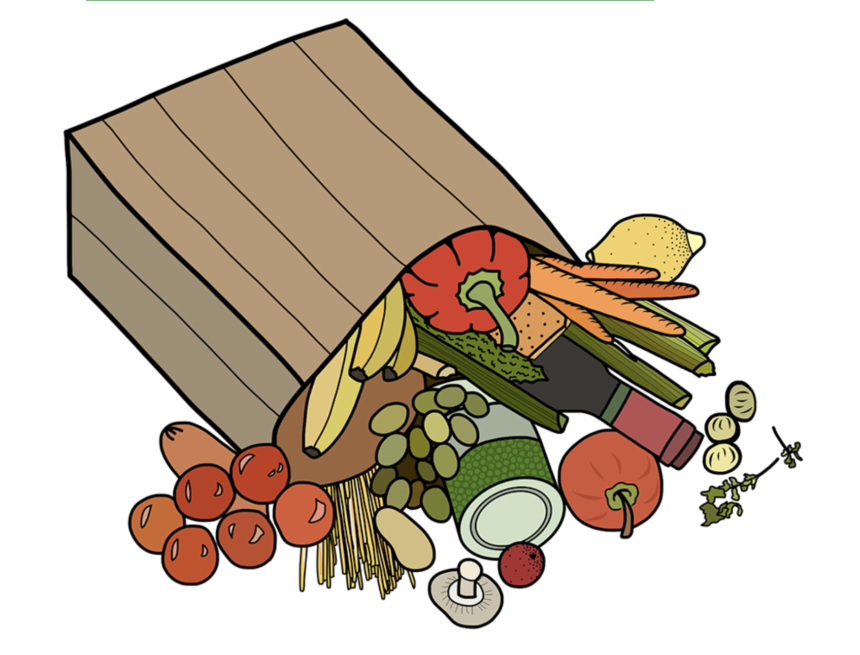 Ramen, mac and cheese, takeout, repeat. Sound familiar?
While eating pizza every night may be my heart's true desire, it's not so great for my wallet or my health. Now that the semester has officially started and about half the school community has found themselves off-campus, we need to talk about what we're eating.
Whether you're in your first off-campus apartment or you're just tired of your meal plan, every college student gains something out of learning to cook.
It's not always easy or fun. Even though I worked as a cook in a restaurant before living on my own, the adjustment was difficult, and sometimes I still just want someone to cook for me.
But making your own meals is essential. It's cheaper than eating out, and most things you make at home will be be much healthier than anything you buy.
And it's easier than you think—It might be intimidating, but I've crafted a simple starter pack that will help turn any novice chef into their apartment's own Ina Garten.
Cookin,' Choppin'…
You really only need a few different pots and pans to get started. You can make plenty of recipes and an abundance of meals with just three cooking vessels: a sauce pot for—well sauce, pasta, and rice; a frying pan for meats and veggies; and a glass baking dish for cooking in the oven. Once you have those things you are ready to get started.
There are only a few crucial techniques that you need to know to start. You should know how to cook the main starches: rice and pasta. Most people already know how to make pasta, just plop it into boiling water for 8-10 minutes, but rice is a little different.
Rice may seem difficult at first because it has a selfish need for constant attention, which we all do, but it's still annoying. Follow the package instructions for the water to rice ratio, add a bit of butter, and that's it. Let it boil, then turn the temp down and stir constantly. I know that seems a bit intensive, but just post up in the kitchen and watch Netflix or do some homework. It only seems long. You could also use frozen or instant rice, but I'll never look at you the same if you do.
For protein, start with something easy like a ground meat or a portabella mushroom. Put olive oil in a pan over medium heat, add in the protein, and season with whatever you like. That can just be salt and pepper if you're vanilla, or you could transform your dinner by adding spices like turmeric, chili powder, or cayenne. Paprika is my favorite. Cook the meat until it has changed entirely to brown inside and out, then drain. With mushrooms, just heat them for a few minutes until they are soft. These proteins can be tossed with rice in a stir fry, mixed into a red sauce for pasta, or just added as protein for a salad.
…and Grocery Shoppin'
Going to the grocery store can be daunting if you don't have a plan of what you are going to get. Stick to the staples and add in ingredients you like along the way.
Center your meal around a base such as brown rice or pasta. You can make lots of different meals with just these starches and a few other ingredients. Rotini pasta with olive oil, a little parmesan cheese, and spinach sauteed with garlic and red pepper flakes makes a nice, simple dinner.
I would also recommend getting a few cans of beans. They are a great protein to add into almost anything and work well in a quick chili over pasta, a Mexican-inspired stir fry, or even just mixed into a salad.
It can be as easy as just buying some sauces like pesto or curry to add to meat, starch, or a veggie to include a variety of flavors in meals throughout the week.
Of course, also buy some vegetables for the week. Frozen vegetables taste the same as fresh and can usually just be microwaved in the bag. They are a great addition to sauces, quick soups, or simply on the side.
If you are only going to buy one fresh vegetable, I would suggest getting spinach. This leafy green is packed with the good stuff like vitamin K, A, etc., and is incredibly versatile. Use it for a side salad, on top of a burger, or in a plate of pasta. You can just let it sit in a pot of drained, cooked pasta with the lid on for a few minutes to get it to soften—it's that easy. I even add some into my scrambled eggs in the morning.
While you are at the grocery store, pick up a frozen pizza and a few other frozen options. You are not going to want to cook every night and these allow you to prepare a quick meal that is still much healthier and cheaper than takeout.
Learning to cook, even if it's just simple things, is a skill everyone should have. Maybe you'll even be like me and find making dinner relaxing after a long day of class or work. And the best part—you're gifted with your very own home-cooked meal.