Blank Street Coffee opens a Back Bay location near Emerson
Blank Street Coffee's newly opened shop on Boylston St. in Back Bay sits just a 15-minute walk from Emerson's campus. It opened on Friday, making it the third Boston location. The coffee shop is on the ground floor of an ornate building with stained glass bay windows and engravings.
Blank Street offers a variety of beverages and pastries. While they have the basics—plain, chocolate, and almond croissants—they also have what makes them unique, like an apricot ginger scone for an affordable $4. They also offer not just coffee but an assortment of other teas, such as oolong, Early Grey, and more..
On Friday afternoon, the cafe was bustling but not shoulder-to-shoulder. A brass instrument band was outside, garnering attention of curious customers. One customer, Joan Basile, describes it as a "New Orleans" style band. 
"We saw the music outside," Basile said as she sat with her daughter, Sam Basile, and her baby. They are both residents of East Boston.
They started their day at Tatte before deciding to also get coffee at Blank Street for the first time. The Basiles said the band drew them to the Back Bay location, but the drinks made them glad they stopped.
"This matcha latte rivals [Tatte]," Joan Basile continued. "And it's a big bar for me."
"I had peppermint tea, and the temperature was perfect—the tea is delicious," Sam Basile said.
I ordered a Signature Pistachio Latte; the pistachio flavor was very subtle and the milk made it smooth and creamy, but not overpowering.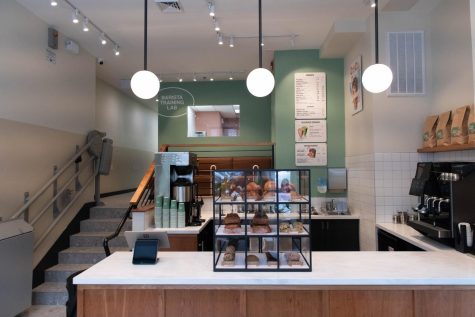 The shop is a quaint space with a standing area in front of the small bar. Lush plants line the front windows above a booth for customers to sit. Just a couple of stairs up and behind the open bar is a loft space with a few small tables. Behind that is a closed-off room labeled "Barista Training Lab." The Basiles were seated in the loft area, sipping at their drinks.
"The ambiance here is what really makes it," Sam Basile said. "I love being up here and being able to see the view too."
It is no surprise that this coffee shop is more compact than most others in Boston. Founders Vinay Menda and Issam Freiha started the company with the philosophy of "much smaller locations" for coffee shops. Menda and Freiha were business and economics majors who studied at NYU and Columbia, respectively. They opened Blank Street's first location in Williamsburg, Brooklyn in 2020—what began as battery-operated carts transformed into the physical locations Bostonians and New Yorkers alike recognize.
However, this location is "Blank Street's largest Boston store to date," said Menda in an interview with the Beacon. Menda also said it's the first Boston location with a barista training lab. This partly contributes to the square footage that makes it the largest in Boston.
Customers have the option to sit and enjoy their drink, but as Menda explained, "[it's] a great option for college students who are on a budget or always on the go." 
Freiha, in an interview with The New York Times, said their focus is not on making the most "amazing coffee you've ever had," but rather making an enjoyable, affordable one that you'd want to get daily. A small iced latte works out to be $4 flat, excluding tax, and the iced pistachio latte is only fifty cents more. 
Their philosophy has proven incredibly successful—as of 2022, they opened more locations in New York City than any other local competitor. In NYC alone, they have 41 storefronts.
So, can Bostonians expect the explosion of Blank Street Coffee storefronts that New York City saw during the pandemic?
"We're excited to continue growing our presence in Boston," Menda said. "And introduce Blank Street to a vibrant area that's always booming with locals, tourists, and students."
Blank Street Cafe may prove to give Tatte a run for their money and become a new favorite destination for Emerson students who crave a morning caffeine pick-me-up.