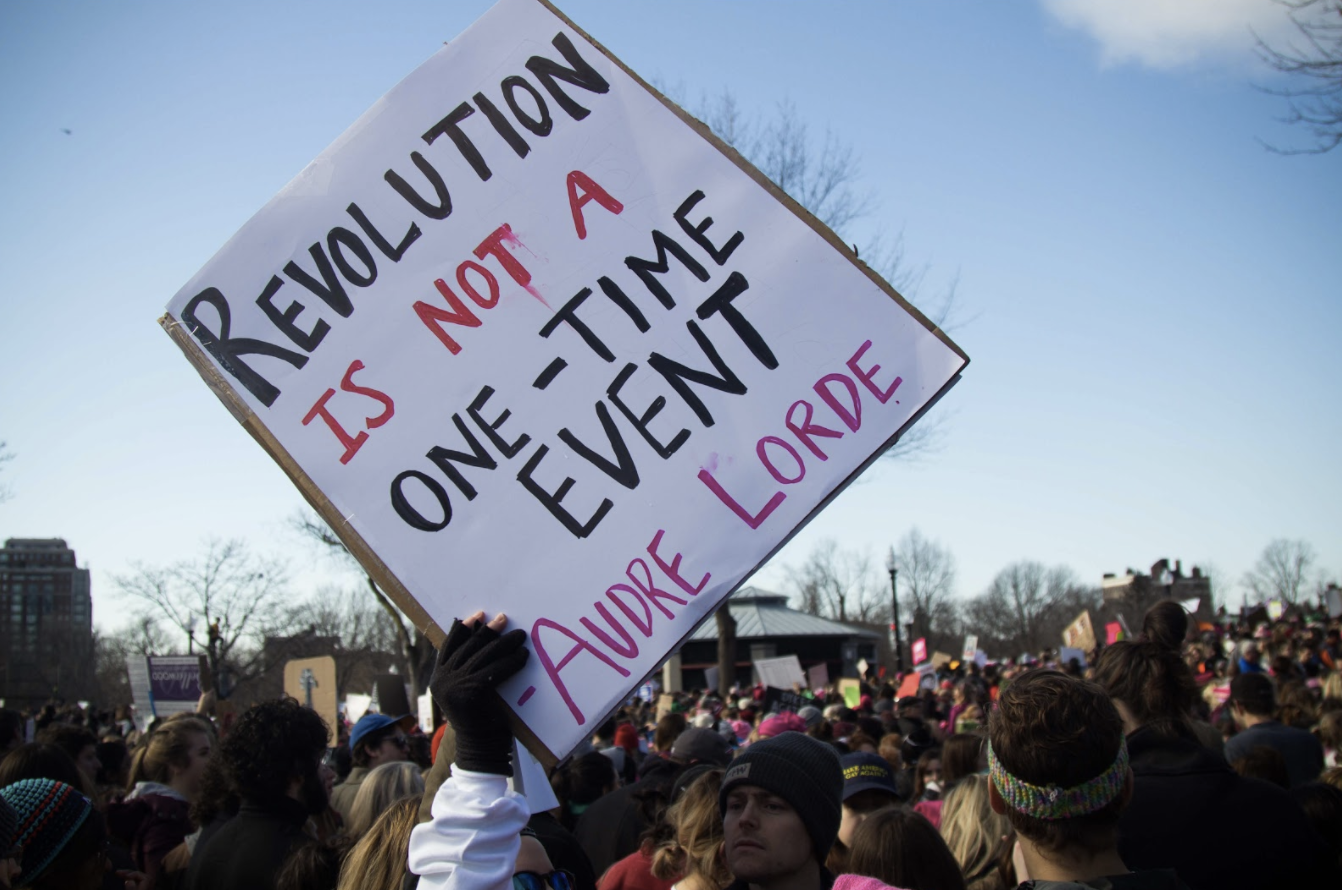 Freshman Monica Gregoretti prepared a sign with the words, "Don't Fucking Touch Me," and a shirt with the image, "I heart consensual sex," in preparation for the Cambridge/Boston Women's March 2018. They said they're looking forward to participating in a historical movement focused on equality.
"Everyone belongs in that space," Gregoretti said. "All trans women belong in feminist spaces, non-binary people, and men that are supporting women belong there. Anyone supporting the cause belongs there."
More than 250 marches across the country are planned for Sunday, the anniversary of the Women's March. The main event is located in Las Vegas, Nevada, as a kickstart for a Democratic voter register tour. A group of activist organizations called the January Coalition organized the Boston rally, which starts at 1p.m. on Jan. 20, at the Cambridge Common.
According to the event's FaceBook page, the rally stands for securing basic rights for all people, and opposes the Trump administration's actions towards marginalized groups. Maura Healey, the Attorney General of Massachusetts, alongside three other elected officials and community speakers are confirmed to speak at the protest. Musical guests include Vocal Opposition and BABAM, and accessibility for the rally can be found on the Janurary Coalition's website.
Senior Katja Vujić created a GoFundMe campaign last year to send Emerson students to the Women's March on Washington. She said she felt glad she attended the protest, but disliked the use of "pussy hats," the unofficial symbol of the Women's March last year.
"On one hand, it's this really beautiful thing where these women all over the country hand-knitted hats to give to strangers," Vujić said,"but it was very exclusive of trans women to say you're only a woman if you have a vagina."
Vujić said she thinks this year's marches may have a smaller turn out due to last year's unprecedented population. She said she supports both those who do and do not attend, and that feminism at its core is about a woman's right to choose.
"I understand the feeling that it's futile, and I've felt that way myself, but I don't think it's right to shame someone or say that they're not a good feminist or activist because they don't march in a specific event," Vujić said.
Ian Zigel, a freshman visual and media arts major, attended the Women's March in Miami. He said he liked the idea of it becoming a tradition.
"Actions speak louder than words," Zigel said. "[The Trump administration] can belittle it all they want, but the reality is millions and millions of people are speaking up and demanding to be heard."
He said he enjoyed protesting with friends and loved ones the most.
"Not to take away from the seriousness of the event, but it can be a lot of fun," Zigel said. "I'm looking forward to protesting with new friends from Emerson."
Nat Towsen '07 is the volunteer director of UCB Corps New York, an activist organization that operates from the UCB theater and school in New York. The organization held a sign making event on Jan. 14 in preparation for the protest.
Towsen said he hopes the march will reinvigorate people who became less involved with politics since last year's event. He said he knows a New York Department of Education English teacher who raises three children, yet finds time to call her senator everyday.
"Some people have found ways of integrating it into their lives, and I think that's really incredible," Towsen said. "Life is busy and complicated and it's hard to spend your time and energy and emotional energy on these things, so hopefully [the Women's March] will be sort've a reset for those people, and one for people that have been committed all year as well."
Towsen said he hopes this year's march will be more inclusive. He said he knows transgender citizens who refuse to march due to fears of facing harassment.
"They attempted to course-correct, which is not as good as figuring out how to be inclusive from the start, but it's better than not course-correcting," he said. "My hope is that they have taken that into account from the very beginning this year and that minorities will be more likely to feel solidarity with the march."
Towsen said he knows people who were too scared to chant or hold a sign, but showed up to march anyways. He said he hopes people will march at any level of engagement they feel comfortable with.
"I think that someone who came last year and didn't open their mouth once is more likely to chant along next time, is more likely to hold a sign next time, is more likely to bring five people next time," Towsen said. "I'm excited to see how much has changed in a year."