Boston squanders winnable Game 1 to Heat in OT
The Boston Celtics had every chance to win game one of their Eastern Conference Finals series against the Miami Heat on Tuesday night in the NBA Orlando bubble, but costly misses paired with some late-game heroics by Miami's star players Jimmy Butler and Bam Adebayo in the fourth quarter and in overtime let the Heat get the better of Boston, 117-114.
Leading by as many as 14 in the fourth and playing solid defense throughout, Boston could not buy a bucket from some of their star players when it mattered most. Jayson Tatum did score a game-high 30 points, but went 2-10 in the fourth and in OT, with a potential game-tying Tatum dunk blocked by Adebayo at the rim in the closing seconds of the game. Kemba Walker scored 19 points, but shot 6-19, including an ugly 1-9 from beyond the three-point line. 
"I'm just playing terrible, to be honest," Walker said after the loss. "I have to do better for this team on both ends of the floor, have to make better decisions, just have to make shots overall."
Walker is right there. In his last three playoff games, including last night, Walker has been shooting a horrific 28% from the field. Insert the meme of the dog saying "This is fine" in the flaming house after hearing that stat.
Let me say this though—the Miami Heat are a darn good basketball team. They are impressively led by longtime head coach Erik Spoelstra and rank in the top five in both offensive and defensive rating during these playoffs. They dismantled the Indiana Pacers in the first round and upset one of the favorites for the title in the Milwaukee Bucks during the conference semifinals in just five games. Miami also wields Butler, their top player and one of the last of the pure bulldog NBA players, who put pressure on Tatum at the end of the game defensively while hitting the game-winning layup and scoring 20 points on 7/14 shooting.
Along with Butler, the Heat have a plethora of versatility in Adebayo, the athletic young big man with two master's degrees in rebounding and blocking. Slashing point guard extraordinaire Goran Dragic, who has stepped up his game in Orlando, led Miami in scoring with 29 points in the game. Add the grittiest of glue guys in Jae Crowder and Andre Iguodala,  a walking 3-point flamethrower in Duncan Robinson, and All-Rookie Team contributors Tyler Herro and Kendrick Nunn. Just to name a few.
But the Celtics have a solid cast too, guided by head coach Brad Stevens, who has his team ranked number one in defensive rating through the first two rounds of the playoffs. Adding to that is Boston's star power of Walker, Tatum, Jaylen Brown—who dropped a helpful 17 points in game one—and Marcus Smart, who continues to surprise offensively and poured in a playoff high 26 points with a team high six three pointers. And of course, he's brought his customary All-Defensive play and brings key energy to the team.
The Celtics have had a good run in the Brad Stevens era, don't get me wrong. This is their third Conference Finals appearance in the last four years. But if Boston wants to return to the NBA finals and raise banner 18 in the TD Garden rafters, they need to improve and attack in certain areas.
Walker needs to be more consistent in his game and make timely shots. Boston cannot have one of their important players shooting as poorly as Walker has been.
They also need to take advantage of some of the Heat's faults. Miami starter Duncan Robinson has a defensive rating of 113, a stat that is like not telling your parents your D+ grade in spelling back in elementary school. Creating a persistent mismatch of either Tatum or Brown on Robinson could generate points galore for the Celtics. 
Tacking on one more point, Boston needs Gordon Hayward back sooner rather than later. Though he is projected to return sometime during this series after being out with a right ankle sprain, the Celtics could use Hayward's steady offensive game if guys like Walker and Tatum continue missing shots. He also gives the Celtics another strong weapon on the wing to overwhelm the weaker Heat defenders in Robinson and Herro. Here's hoping Hayward finds his way back into game action shortly.
Marcus Smart said it best in last night's postgame—that "[Miami] did their job, it's time for us to do ours in Game 2." Boston has the power to not only just tie this series up, but also to win it. And this writer believes they will respond and win solely because growing Celtics legend and Jayson Tatum's young son Deuce got to see his dad for the first time in months. Celtics in 6. 
Leave a Comment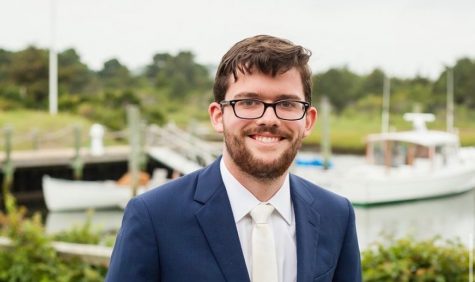 Brendan Beauregard, Assistant Sports Editor
Brendan Beauregard is a journalism major and sports communication minor from Medfield, Mass. He was named Assistant Sports Editor in December 2020 after serving as a sports columnist for The Beacon during the 2020 Fall semester. He previously was a contributor to FanSided's Chowder & Champions website, writing on topics such as the Boston Celtics and Boston Red Sox.