Boston 'warm and welcoming' amid record-breaking blizzard
Emerson students witnessed a winter storm of a magnitude not seen in New England in years, dropping nearly two feet of snow over the weekend and enveloping the Boston campus in white-out conditions. 
Saturday's snowfall registered at 23.6 inches, according to the National Weather Service—tying the President's Day Storm of Feb. 17, 2003 for the one-day snowfall record in Boston. In the nearby towns of Medford and Scituate, winds clocked in at 54 and 65 miles per hour, respectively, having already reached hurricane force on Cape Cod and Nantucket.
The blizzard pounded downtown Boston with high winds and torrential snow, and completely covered Boylston and Tremont Streets despite efforts to plow them. The extreme conditions prompted the college to cancel all events and close the fitness center Saturday, though a few Emerson students speckled the area—many of them trudging outside to visit the Dining Center and Max Grill, which remained open for normal Saturday hours.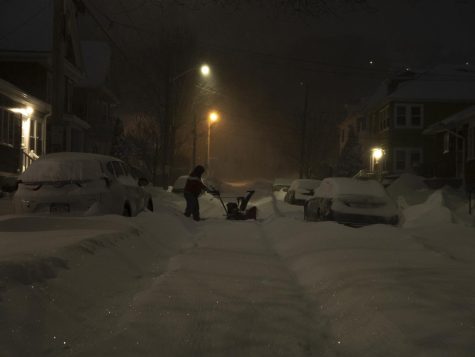 However, many downtown-area businesses did shutter their doors on Saturday. Sophomore visual and media arts major Aaron Baseman braved the storm to go out for food, but said his excursion proved unsuccessful.
"I went to Panera with my friends and it was closed," Baseman said. "So we went to the dining hall instead. That was kind of a pain."
Caitlin Farrell, a sophomore visual and media arts major from Connecticut, did not dare venture into the storm at all on Saturday. Instead, she was able to go to the Max Grill for dinner—only a few floors down from her suite—to avoid going outside.
"I didn't have to leave my building all day," Farrell said. "I could just go to the Max and I was set."
Farrell said she experienced the storm in her own way.
"I did enjoy watching it," Farrell said. "I sat in my room with the lights off and just stared out the window. And it was nice."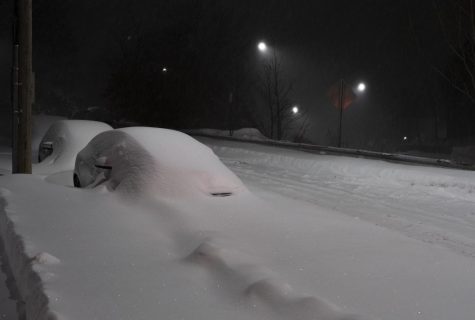 For students from warmer climates, like first-year visual and media arts major Quinlan Harper, Saturday's blizzard proved a breathtaking occasion. Harper, who is from Los Angeles, said he had experienced snow on the ground before, but nothing compared to this torrential barrage.
"My friend has this amazing view of the Common," Harper said. "I woke up in his room because we were having a sleepover and the entire world just looked white."
Unlike those who stayed inside, Harper made a beeline for the Common with his friends to experience the blizzard firsthand.
"It was kind of beautiful because there were a ton of people with their sleds and their kids, just all just sliding down the hill," Harper said. "My favorite part was how I saw so many people."
"We did penguin dives down the hill because we did not have a sled," he continued. "I couldn't see a thing because I wear big glasses; it was very funny because I've never not felt my hands and face before. That was a wonderful and weird moment—and I am now buying much better gloves."
Upon spending time at the hill, Harper noticed the camaraderie of fellow snow-goers, each helping one another sled down.
"It's kind of sweet," Harper said. "I saw a ton of people sharing sleds, which was amazing. I bet if I walked up to them, I could ask, 'Hey, can I borrow your sled?' and they would have been like, 'Of course, it's blizzard time.' Even though it was incredibly cold, Boston was very warm and welcoming."
Camilo Fonseca contributed reporting.