'Boys State' docuseries to stream at Emerson Thursday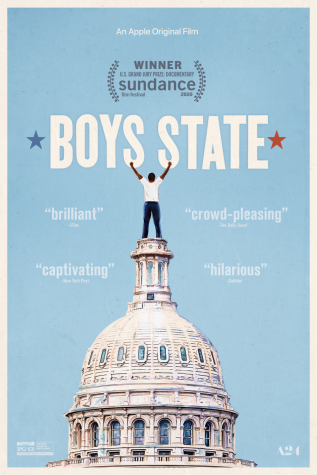 "Boys State" takes place during the American Legion's 2018 Texas Boys State, a week-long program that educates high schoolers as they play politicians in a mock government. Released in August by Apple and A24, the film has quickly proved its relevance in the 2020 election year, giving viewers an inside look into the inner workings of the political world. 
The filmmakers and several subjects of the docu-series attended press conferences hosted by A24 Films, with those present dissecting the film over Zoom on Sep. 20.
"We wanted to have a conversation about the things we care about just in a different way, and I think the discovery of Boys State and of [the main subjects] was," said filmmaker Jesse Moss. "They could make us laugh, they could make us cry, they could make us think.
Boys State can be streamed through Apple TV+ and can be viewed through Emerson College on Thursday, September 24, at 7 p.m. EST. Following the showing, A24 at Emerson will host a post-screening conversation with partners Emerson College Polling Society to discuss the film.

Held in 49 states, the Boys State program separates attendees into two parties at random: federalists and nationalists. The parties then get to debate their political platforms, pass faux legislation, and nominate candidates for elections. The highest office one could win in the program is governor of Boys State. 
The program emphasizes the idea of learning through doing, Moss and fellow filmmaker Amanda McBaine said. While much of the documentary focuses on the run for governor, attendee Ben Feinstein said the whole point of the program is not just to see the results of elections, but to understand why elections are held in the first place. 
"The program definitely reaffirms your commitment to democracy and understanding of why we do this," said Feinstein.
The documentary follows four main subjects through their week at Boys State: Steven Garza, Robert MacDougall, René Otero, and Feinstein. Each is assigned to the Nationalist Party, unlike Feinstein, who is placed in the Federalist Party. Boys State follows MacDougall and Garzas they battle for the party nomination of governor.
Moss said the boys felt more like characters than subjects. 
"We're very fortunate, and I think it's a compliment when people are like 'These feel like actors, this feels like a scripted film,'" said Moss. "They're all real people. This all happened in front of us while we were filming. Nothing was planned in advance."
While McBaine and Moss had planned on following him for their documentary, they did not expect him to get as far as he did in the campaign for governor, where he received the nomination from his party. Garza is a political, racial, and socioeconomic minority, and his soft spokenness left McBaine unsure if he could command a room like Garza did. 
In "Boys State," Otero—who did not join the Zoom call—said that the conservative atmosphere of Texas Boys State is something all liberals need to experience. He said in the documentary that he believes deep down, everyone has a desire for bipartisanship. 
"It just reminds me that this country is capable of," McBaine said. "If people are given a chance, then their voice is heard."
MacDougall and Garza took different approaches to winning the Nationalist nomination for governor. MacDougall assumed most of his party was very conservative and chose to compromise some of his views, such as his pro-choice stance on women's reproductive rights, as mentioned in the film. 
Garza said his approach was "Running on a very non specific platform of uniting all these Texas Boys State in the time of extreme polarization." 
Garza beat MacDougall in a run off election for the party nominee. While MacDougall lost, he showed support for Garza not only in the film, but two years later in the press conference. 
"Steven [Garza] is someone who actually ran on what he believed in…that ended up showing me that you don't have to lie to win all the time, you don't have to be dishonest," MacDougall said last week. "If you actually have those conversations, take the time, get to know the people around you….you can actually make progress."
Garza expressed on the call the necessity to sit down and have these conversations across parties as he did during his time at Boys State. 
"I wish that more politicians around the country would actually sit down with the opposition, not the enemy," Garza said. "That way, they'd be able to go home that night and say, 'You know what, for all the problems we had when we, [fought], we did something good today for the American people."
Through the four boys and their peers, McBaine and Moss were able to tell a story they think reflects a bigger picture than simply the details of the week-long program. 
"It mirrors the politics that we see in our country today and we've seen you know the sort of structural conditions that we're fighting against people whose voices have been denied, been disenfranchised." Moss said. "…I really think that is the larger struggle of this country."