Cantab Lounge keeps Boston poetry scene alive
By Sasha Zirin, Assistant Living Arts Editor
December 7, 2022
Performance poetry is a social art form that can involve encouraging community. 
At the Cantab Lounge in Cambridge, Emerson alum Myles Taylor '19 runs weekly poetry events with long-time poet Dawn Gabriel.
The Cantab Lounge began hosting comedy shows, slam poetry, bluegrass music nights, and nightly live music in 1938. The lounge plays a substantial role in Boston's history of art, culture, and community. It closed because of COVID-19 and was put up for sale in July 2020, according to Eater Boston. However, Cantab Lounge reopened when new owner Tim Dibble bought the place in the summer of 2021.
The Cantab has brought members of the Boston community together for many decades, and its new management is dedicated to conserving that. According to Taylor, ticket prices and refreshment costs have remained the same amid inflation.
As of Dec. 7, Cantab's poetry nights are 21 and over due to the distribution of alcohol. Gabriel said that there are strong efforts to establish all-ages events, possibly at the Democracy Center in Cambridge.
Gabriel mentioned that COVID-19 and the long term hiatus of the National Poetry Slam—a large-scale performance poetry competition—were huge blows to the Boston poetry scene, but said it is "coming back together slowly but surely."
During the pandemic, the poetry community of Boston didn't waver. Taylor said that after the poetry events' reopening, a large, loyal group of regulars quickly reformed. 
Taylor said that prior to the restarting of the events, people asked Cantab's management every day for the poetry slam on Wednesday nights.
The events now are reminiscent of Boston Poetry Slam's impact on the Cantab and the Boston poetry community. The BPS is an organization at the core of Boston's poetry scene since 1991, but shut down during the pandemic. Prior to this, the BPS held weekly events at the Cantab since the 90s.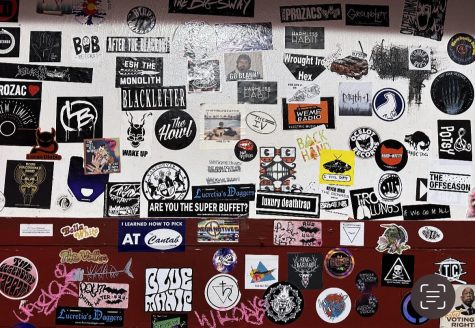 Taylor and Gabriel revitalized BPS through their events at the Cantab. They are currently working on accessing BPS's website and social media.
After the Cantab reopened, members of the Boston community wanted the historic poetry nights to return.
"The Cantab reached out to a few regulars [asking if they] want to run poetry again because people asked every day for the poetry slam on Wednesday nights," Taylor said.
Gabriel, who has been attending the Cantab since the 1990s, stepped up. Now, she and Taylor are co-producers of these poetry nights. Gabriel did so because of how important she finds the events to be.
"You walk in and there's community almost immediately," Gabriel said. "You perform and people support you. It's like a warm embrace."
Gabriel explains that running the Cantab events feels like giving back to what has deeply empowered her: poetry.
"Poetry lifted me up when I was very low, [helped me] find myself and my voice," Gabriel said. "It's an outlet and it's amazing—it was here for me." 
The weekly poetry events cost $3 and nearly always sell out, according to Taylor. The nights consist of a 20-person open mic followed by performances from the event staff, and each night ends with a slam. Some nights are themed or feature guest poets. 
The weekly event always brings a packed house of people who oftentimes know one another, and go wild when their friend steps on stage.
People come alone, or with groups, many of whom hold notebooks and write poems in them. The audience encourages fellow poets with snaps and cheers.
"[In poetry,] the art is maybe secondary to the community," Taylor said. "It's easy to make connections due to [poetry's] nature of being personal, being intimate. It's like skipping the small talk."
Taylor said his love of performance poetry and the community he found within it began at Emerson.
"I've been slamming since I got to Emerson, which was in 2015," Taylor said. "Emerson Poetry Project truly saved my life in a significant way. It got me to where I was—I would not be here doing this if not for it."
Poetry communities like Emerson Poetry Project tend to be places that lack judgment and foster people's love for poetry. Poetry nights at Cantab work to reinforce that value.
"You can start here," Gabriel said. "It feels comfortable, there's a friendly vibe that the leadership team tries to establish. You don't need an MFA, you just need something you scribbled down in a notebook."
Taylor said poetry as a culture is held up by people, for people. Through performance, camaraderie is found. 
"With the more experience you get from hearing experiences other than yours, [you] make connections through art to learn and then grow and [create] communities," Taylor said.