Cirque du Sol-heyy
Cirque du Soleil welcomed its audience back after temporarily pausing its operations with clownery, camp, and circus magic in Punta Cana, Dominican Republic over spring break. When the production was forced to a stop in the height of the COVID-19 pandemic in Mar. 2020, according to MIX, it gave the cast and crew time to truly amp up their show, and they did just that. 
Although they had other productions planned, their show KOOZA in Las Vegas, London, or Punta Cana really went all out. For those who share no acrobatic or acting talent, KOOZA is almost like watching a magic show. It's difficult for our little brains to grasp the impossibilities of each performance.
KOOZA revolves around a blue and yellow sky where the art of clownery is used to move the story along, as acrobats create impossible gravity-defying stunts in fabulous costumes and makeup. For a show so extravagant, the plot was quite simple. KOOZA refers to a box or 'treasure chest' that is opened by a curious little boy. Inside is a cast of about 50 acrobats, actors, and musicians that create a world of funky jazz and old Bollywood that truly makes for a great experience.
The amazing live vocals, along with an enthralling array of instruments, did wonders to build up the hype around each performance. Some of the music was made to keep the audience on its toes, making them wonder if they'll pull it off. Other times, a soft and supple hum kept my eyes and ears glued to the acrobat, appreciating the delicacy and detail in each movement. 
The story follows a little boy who is submerged in a magical, Peter Pan-esque alternate reality filled with kings, pirates, comical adventures, and more. The childishness of the story and ridiculousness of every actor on stage made for the perfect chaser to the intensity of the tumbling, taunting gravity suggestive gymnastics on stage.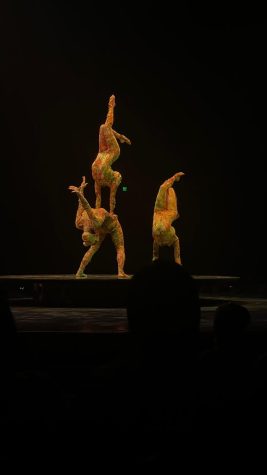 One performance that truly stood out was the tightrope walkers, consisting of four acrobats walking, biking, and balancing on large poles 15 to 25 feet in the air, across a thin rope. It was astonishing to watch all four walkers work together to quite literally balance each other out while simultaneously keeping the audience entertained by pretending to fall or literally enticing the audience to scream louder. 
Another ferocious performance was the aerialist who soared to incredible acrobatic feats while spinning and swinging her body every which way. Unlike the other performances, this one felt innately feminine—there was something delicate, subtle, and powerful about how she moved while sustaining her weight high up in the air. Sometimes she spun her body in a perfect motion with just her neck keeping her up. 
The 'Wheel of Death' duo forced several gasps from the audience, as two performers ran above and within two giant spinning wheels that are simultaneously rotated by a bar connecting them. The music for this performance consisted of loud drums in a thematic, almost ritualistic tone. Each drum grew louder and more intense as the speed of the wheels turned faster.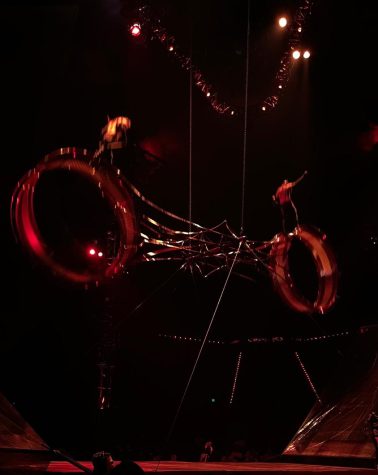 This set contradicts the aerialist performance because although it is powerful to watch the performers beat gravity through sheer force, it feels much more masculine. The display involved boasting strength and an unflinching attitude as a giant wheel comes their way. There were moments they stood feet away from the wheel hurtling towards them and their heads would avoid it for half a second, almost to brag. 
The acrobat was one with her rope, as if she herself was gravity and not defying it. This duo, however, were battling the 'Wheel of Death,' boasting that gravity can't keep up with them. Both were incredible and it was exciting to be able to scream at their successes, with the audience left to bite their nails in fear after realizing that it was a human being suspended mid-air.      
No other performance disappointed either. There was a trio of acrobats that looked like they had no bones, as they bent their bodies in every angle and made beautiful sculptures of visual art together. Another young performer, recently reincarnated from Ancient Greece, stacked and balanced his chiseled body on chairs. They ended up creating a 23-foot tower where he balanced his body upside down with nothing other than the will of God to prevent him from falling and breaking his perfect physique.   
From swinging their bodies from a single cord in the ceiling to walking and jumping in between a moving wheel mid-air, Cirque du Soleil does a great job in keeping the audience on its toes. There were one too many moments where it seemed the audience was inches away from witnessing a brutal accident or a wire would appear from behind them unveiling the truth that this isn't possible.