Candidates for Boston City Council At-Large gathered at the Fort Point Room in Atlantic Wharf on Oct. 24 to participate in a forum hosted by the Downtown Boston Neighborhood Association, the Fort Point Neighborhood Association, the Leather District Neighborhood Association, and the Wharf District Council Boston. 
Moderated by Matthew Broude of the Downtown Boston Neighborhood Association and Tom Ready of the Fort Point Neighborhood Association, candidates answered three questions on the issues of public safety, community engagement, and climate resiliency—specifically on how those issues will impact Downtown Boston and the city as a whole moving forward. 
All eight candidates running for City Council At-Large were invited to participate in the forum. Six candidates were in attendance for the Q&A portion of the evening, including incumbent councilors Ruthzee Louijeune, Julia Mejia, and Erin Murphy, as well as challengers Clifton Braithwaite, Shawn Nelson, and Henry Santana. Candidate Bridget Nee Walsh was present for the "Meet and Speak" portion of the evening, where audience members could interact with candidates one-on-one.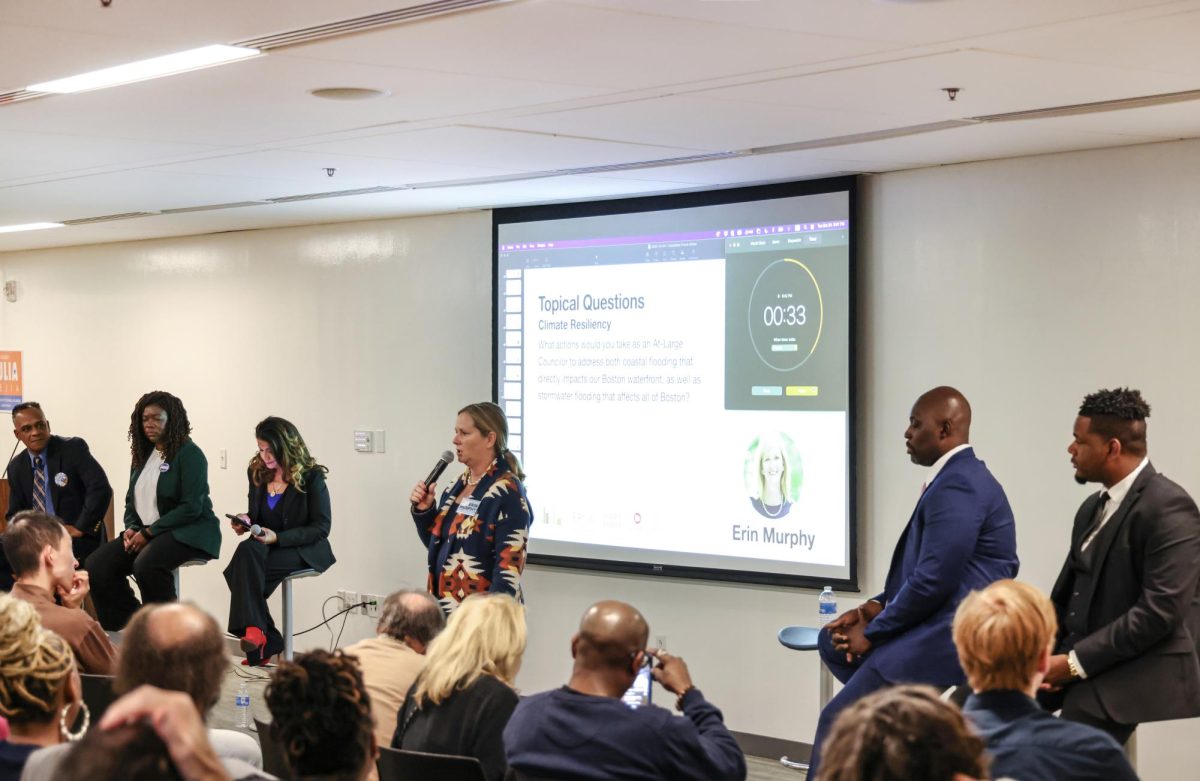 Public Safety
Candidates were asked how they see public safety in Downtown Boston and other areas of the city, and what actions they deem necessary in addressing public safety. 
Braithewaite, who received the endorsement of Suffolk County Sheriff Steven Tompkins, said the city needs to get to "the meat and potatoes and work collectively together." 
"If we don't take action, we will be talking about [public safety for] twenty years," she said.  
Louijeune noted that Downtown Boston neighborhoods having a higher concentration of nightlife entertainment venues creates a slightly different dynamic than in other neighborhoods. Louijeune also said that officials must work intentionally with people who feel disassociated from systems to improve public safety in the city. 
Mejia mentioned that the city has an opportunity to reimagine and redefine what safety means, and that officials must consider community, social-emotional, and personal safety when evaluating public safety methods. 
"There are lots of things that [different neighborhoods] have in common, but in each neighborhood, there are different needs," Murphy added. 
Nelson drew on his experience of frequently walking through Downtown to and from his job as a nursing assistant, noting that the city needs to go beyond crime and address public infrastructure that is "falling apart." 
Santana said that while he grew up in affordable housing, having access to affordable after-school and summer programs kept him and his siblings safe. 
"We need to create community," Santana said.
Community Engagement
Candidates were asked what they believe the role of community engagement should be in public planning, and what they envision their role as a City Councilor in facilitating community engagement. 
Braithewaite mentioned that he would host a weekly "Councilor's Corner" meeting to meet with residents and "bring [them] what [they] need." 
Louijeune noted that community engagement is extremely important in Boston, especially on the urban renewal front. 
"[There is] no reason to have a process if you do not incorporate feedback," Louijeune said. 
Mejia said that "[she] lives for community engagement," and that she will continue creating space for communities to speak for themselves. 
"I am not your voice," Mejia said. "I am your microphone." 
Murphy said that many city administrations say community engagement is important to them, but ignore resident input. Murphy said her job is to lift voices and push back. 
"We need to be clear as a city as to the role neighborhood associations have [in providing feedback," Murphy said. 
Nelson mentioned that "his job [would be] to listen to the input of all members of the community," and that this needs to be done more at City Hall. 
Santana, former Director of Civic Organizing for the city, noted that he worked to implement resident feedback in city projects.
"I believe in the community process," Santana said. 
Climate Resiliency
Candidates gave their plans to help tackle climate change and help create a climate-resilient Boston, addressing a pressing issue of our time. 
Braithewaite mentioned that education is key to combating the climate crisis. He also mentioned that Boston needs to have infrastructures in place to help mitigate the issue moving forward. 
Louijeune noted that the City Council recently held a hearing to work on developing a master plan to help deal with coastal flooding.
"We are in the eye of the storm," Louijeune said. 
Mejia stated that she is tired of having hearings, and instead urged the city to take action and educate the population as a whole about the grave risks climate change and coastal flooding pose to the city of Boston. 
"[We must] identify and put together an audit to hold ourselves accountable," Mejia said. "People are paying attention to climate change. We need to get ahead of it instead of drowning in it." 
Murphy said that Boston's blue spaces are beautiful assets, but some of them are becoming increasing threats. She said that all communities need to have a seat at the table when working on the city's master plan to combat climate change. 
Nelson noted that federal funding is needed to build up coastal walls and to bolster current infrastructures that are breaking down. 
"We are here to take care of you," Nelson said. "Boston needs to be taken care of." 
Santana echoed the opinions of many other candidates, agreeing that elected officials have a responsibility to bring communities from across the city together to be part of the decision-making process.