Class of 2015 presidential candidate 'lies' about past experience during campaign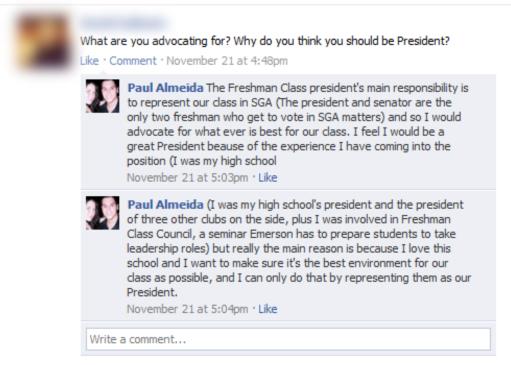 In the days before his election bid was dashed by voters, Paul Almeida, one of three candidates for class of 2015 president, falsely stated in his campaign that he served as his high school's class president, a Beacon investigation revealed.
According to Susan Obuch, an assistant to the principal of Watchung Hills Regional High School in New Jersey, from which Almeida graduated last year, the freshman was not class president and never served on the school's student government.
"Regarding the allegation that I embellished my credentials by saying that I was my High School's Executive Class president, it pains me to say that I did," Almeida said in an email yesterday. "I was eager, too eager, to begin improving things for my class, to be president. I'm not defending my transgression, in fact I admit to it and express my sincerest apologies for making that mistake."
Patrick Comeau, Student Government Association elections commissioner, said Almeida had the fewest votes, and thus will not be a candidate in the runoff election, where his two opponents will face off for the voting seat on SGA.
Two weeks ago, Almeida posted in a Facebook group that he created to advertise his campaign, stating that he was qualified for the position, in part, because he served as chief executive of his high school class.
"I feel I would be a great president because of the experience I have coming into the position (I was my high school's president and the president of three other clubs on the side)," he posted on Nov. 21.
Almeida, a political communication and marketing communication double major, served as the co-president of the Gay Straight Alliance, was a member of the Jewish Student Union, and attended a Spanish exchange program.
Obuch could not verify whether Almeida served as president of any other student groups.
Freshman Cerise Castle said she saw the Facebook post, and questioned the truth of it, after she had spoken to Almeida's high school classmates who said the candidate was lying.
"I would say it puts a dark mark on his campaign," said the journalism major in an interview.
Donovan Birch Jr., one of Almeida's opponents, declined to comment.
Ben Halls, the third presidential hopeful, said he doesn't think the rumors that circulated about Almeida's apparent campaign lies had a large impact on voting because most students had likely cast their votes before they heard.
"Part of me absolutely values honesty above everything, and for someone who is running for a voting position on SGA lying is completely unacceptable," said the 24-year-old writing, literature, and publishing major. "But I've worked with Paul in Freshman Class Council this semester and I know he isn't a liar. He may have told a lie, but he is not a liar, and there is a big difference."
Xakota Espinoza, Beacon staff, contributed reporting.