College apologizes for caterpillars in Dining Center food
Hang on for a minute...we're trying to find some more stories you might like.
The college's Sodexo liaison apologized for serving broccoli with insects at a town hall meeting on April 6.
Division of Student Affairs officials, Erik Muurisepp and Duncan Pollock, joined with Sodexo's General Manager of Dining Services, Patrick Griffin to host the forum and address student concerns. About nine students showed up for the 11 a.m. event, where staff detailed the extensive cleaning process produce goes through before it's served to students.
Griffin said the insects in the broccoli were not maggots, like some students assumed, but caterpillars. Although students found caterpillars in their broccoli on April 4, the Dining Center continued to serve it the next day.
"It happened the first day, we should have never served broccoli the second day," Pollock said. "Again, we own that."
Advertisement
Two parts make up a piece of broccoli—the florette, or the top, and the stalk. Students reported finding the caterpillars in the stalk of their broccoli. Pollock said the Dining Center will go back to serving the florette, not the entire vegetable, for the rest of this year.
The college buys organic produce to limit student exposure to harmful pesticides, which Griffin said results in a higher chance of insects infiltrating vegetables or fruit.
"The reality is, as the Dining Services, we put ourselves at more risk of these things happening and I really really apologize for that," he said. "I have personally seen it two or three times a year, pretty much every year, and it's just because of the [seasons] when you're going from the cold to the warm."
Griffin said if an insect burrows inside of the broccoli, there are not a lot of options except to check inside every single piece of broccoli rendering them inedible.  
When produce like lettuce arrives at the college, Griffin said dining service staff go leaf by leaf to make sure no foreign objects remain.
"We're adding more hourly employees to be in the back of the house to really take a hard look," Griffin said.
In February, Griffin worked with students to create more vegan-friendly options after receiving complaints.
"But I feel like we've had such a great year this year, all year long … I'm really proud of where we are," Griffin said. "I just don't want, you know, these last couple of days and events to overshadow, you know, this entire year."
About the Writer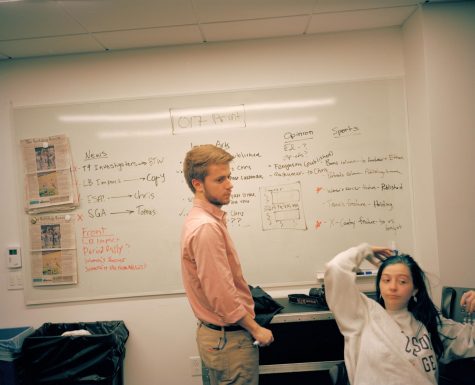 Chris Van Buskirk, Editor-in-Chief
Chris Van Buskirk is originally from Buenos Aires, Argentina, but was raised in Dallas, Texas. Currently, he serves as the Editor-in-Chief directing the...