College endowment balloons amid pandemic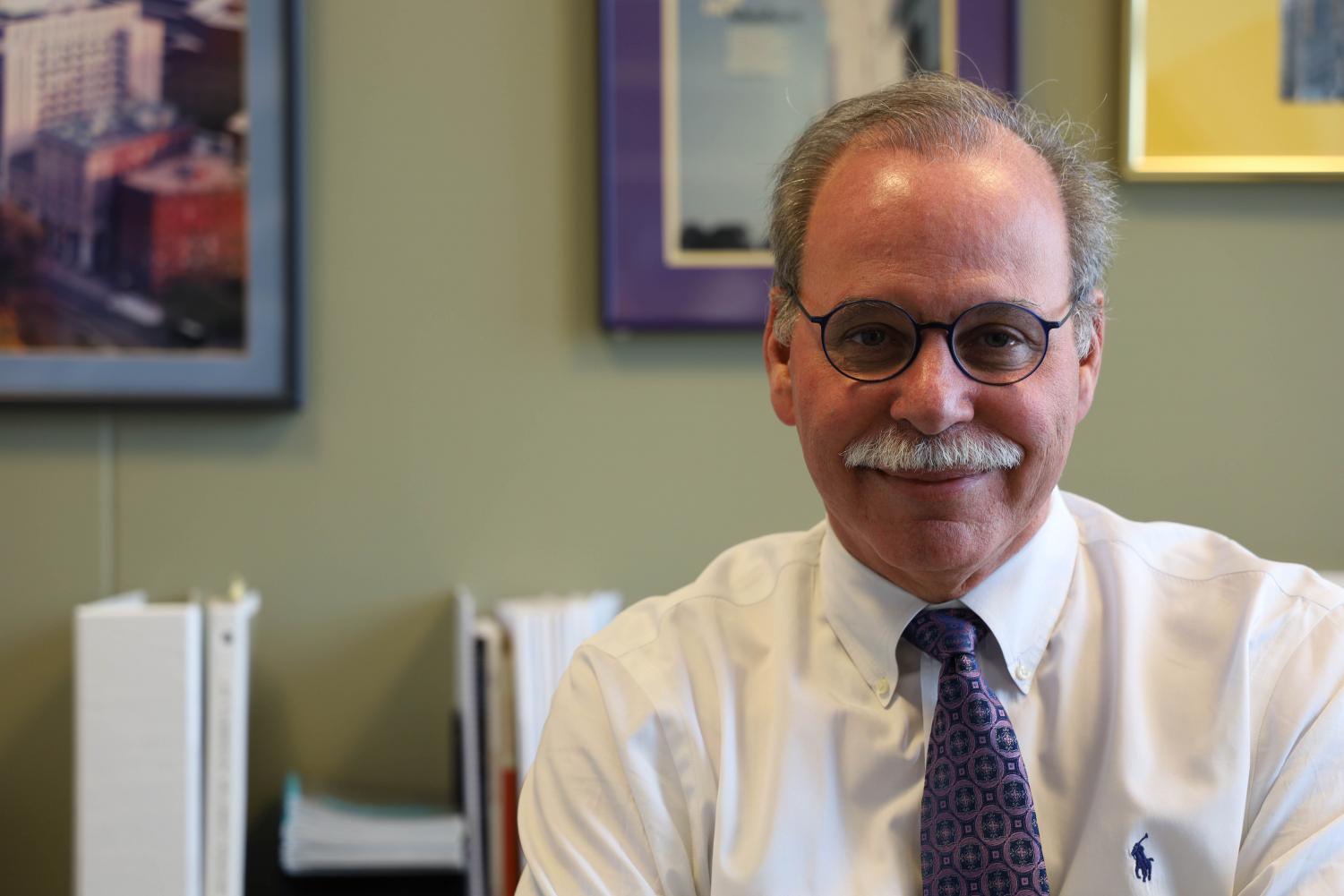 Emerson's investments generated a 32.7 percent return in 2021, indicating a promising future for the college despite the financial pressures of COVID-19.
As a result, the college's endowment fund reached an all-time high of $259.6 million. Having grown from $183.3 million over the course of the fiscal year—a record $75 million increase—Emerson proved that its financial reserves could not only weather the economic contraction, but could actually thrive. 
The outbreak of the pandemic in March 2020 saw stock indices decline sharply, drawing fears of a prolonged recession. As it turned out, though, the crash was not permanent—nor did it seriously affect the college's finances, according to Vice President for Administration and Finance Paul Dworkis. 
"The market really fell precipitously, as dramatically as one would expect when the economy shuts down," he said. "But [there was] this 'V-shaped recovery': the market falls really fast and comes back really fast, forming a V."
"The economy doesn't exactly work that way—although at the time the administration [of then-President Donald Trump] was trying to claim that it would," he continued. "But the stock market actually did do something like that."
The market's rebound ensured that the college's investments weren't seriously affected, Dworkis said. Indeed, the growth in net assets from this fiscal year, 41.6 percent, stands in stark contrast to the paltry 1.5 percent increase between FY2019 to FY2020.
However, the growth in Emerson's endowment does not immediately offset the college's operating losses incurred as a result of the pandemic—which, in March 2021, were estimated to be around $30 million.
"It's not, 'Gee, the stock market went up $5 million, can we take $5 million out?'" Dworkis said. "That's not how it works at all."
Instead, Emerson carefully avoids relying on its endowment funds for periodic economic swings. The best way to protect the expanding investment portfolio, Dworkis said, was to let it continue to grow unhindered.
"Certainly, our endowment value grew substantially over this year, all to the future betterment of the college," he said. "But the growth in the endowment doesn't translate into some immediate withdrawal of funds. They're there for perpetuity, to protect and help grow, and our mission is to grow."
"We managed the window of COVID, that's still going on, and dealt with all of the expenses not through the endowment, but through what we manage on a day-to-day basis with the college's funds," he continued.
As a result, the college was forced to weather the losses brought on by a year of depressed enrollment and hybrid learning—just as students were forced to weather the crisis with limited financial aid.
"The only thing that actually would have been done during COVID was an investment review," Dworkis added. "Looking at whether or not the decline in the market created an opportunity to re-balance investments in the market."
Indeed, the college did make one significant change in its investment strategy over the course of the pandemic. Last fall, Emerson announced it was partnering with consulting firm Prime Buchholz, LLC as its main investment advising service.
In managing its investment strategy, Emerson relies on third-party consultation, according to Associate Vice President of Finance Robert Butler—unlike some larger institutions, which can manage their investments through the auspices of dedicated entities such as the Harvard Management Company.
"We don't have expertise in-house to manage investments like that," Butler said. "We have to buy those professional services as part of our role, just like we have to buy accountants and lawyers for certain things."
The college considered about ten different consulting firms in the process, Butler said, before settling on Prime Buchholz.
Dworkis maintained that the change was unrelated to the financial pressures of the pandemic.
"We had been with our current investment advisor for a period of ten years or so," he said. "It was appropriate to look out in the market."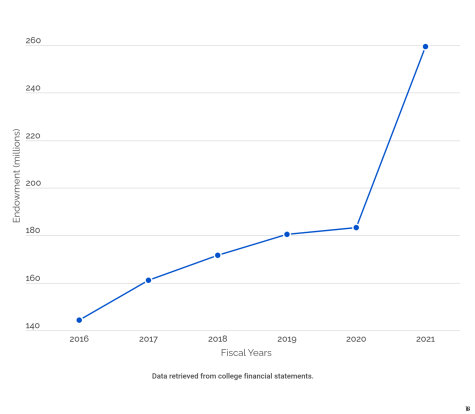 Regardless of the reason, Prime Buchholz helped Emerson ride the coattails of the market's recovery. The college's return over FY2021 rivaled that of other Boston-area institutions—even Harvard University, which saw a 33.6 percent investment return over FY2021. 
However, Emerson's endowment still pales in comparison to that of most other colleges and universities; for comparison, Harvard's fund grew to a staggering $53.2 billion this year, while Tufts' endowment reached $1.9 billion. Even Suffolk University claims a considerably more sizable endowment, at $306 million.
Butler said that, barring sustained growth, the size of the endowment limited how much funding could be earmarked for budgetary purposes such as financial aid.
"When you think of the Harvard endowment, it's huge," he said. "The Board of Trustees at Harvard can determine a distribution rate each year that [goes to students]. That's a huge figure, so it helps students more."
Dworkis reiterated that, even through the pandemic, the college viewed drawing from the endowment as a last resort—only spending $7.5 million. These expenditures were pre-approved by the Board of Trustees, as part of the college's operating budget.
"We do draw from the endowment, on an annual basis, money that's built into our budgets and our operating assumptions that are funded through these endowment assets," Dworkis said. "The growth of those over time is what fuels growth of the college, because those assets can contribute more if they grow."
Only $2.0 million of the funds withdrawn were "donor-restricted," or earmarked to a particular purpose such as infrastructure or scholarships. However, Dworkis said that all $7.5 million withdrawn funds followed the "wishes" of their donors.
"If the endowment gift is made to fund something in perpetuity, it's got to live towards that expectation," Dworkis said.
Butler said he was optimistic about the college's future should the endowment continue to rise. 
"What I'm learning is that, as we grow our endowment—as it grows, hopefully someday, as big as Harvard—we can do so much more for students and the community."