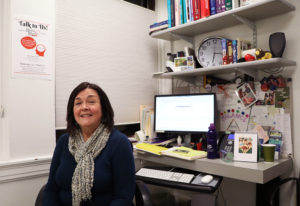 Emerson applied to JED Campus, a program created by the national nonprofit The Jed Foundation, in an attempt to improve mental health policies and resources on campus.
The Healthy Minds Study, a yearly online survey, and JED Campus are partnered organizations working to evaluate emotional health and prevent suicide among teens.
The college is administering the survey to students this semester to gain a better understanding of how to improve mental health and sources of support on-campus, Director of the Center for Health and Wellness Jane Powers said.
The college applied to the program in December 2016. JED was chosen because of the collaborative nature of the review process—one that involves a direct channel of communication between a JED representative and the college.
As part of the JED Campus program, a group of college officials from various offices—including the Division of Student Affairs and Office of General Counsel—formed to complete a self-study evaluating mental health policies on campus led by Powers.
The group will receive feedback on the self-study during the week of Feb. 22, which they will use to brainstorm new mental health policies for implementation. The Healthy Minds Study will be conducted again in the spring of 2020 to see if any changes made improved the mental health of the college.
Vice President and Dean of Campus Life James Hoppe participated in the group and said he believes mental health, substance abuse, and suicide are important issues at Emerson.
"In higher [education], we're much more aware of [mental health] today than we were 15-20 years ago," Hoppe said.
The JED Campus initiative comes at a time when some students feel like peers with mental health issues and other disabilities are not recognized as a minority on campus. SGA Accessibilities Commissioner Erin Burgess is one of these students.
"Individuals with disabilities are also minorities and a lot times that's just not recognized out in the real world, and also here at Emerson," Burgess said. "[But] they are."
Her passion for disability advocacy stems from the ways people treated her own mental health issues. Burgess said she was diagnosed with obsessive-compulsive disorder in 2013.
"A lot of times my OCD is brushed aside as just something that I can ignore, and that's just not the case," she said.
Carly Wickham, former Beacon photo editor and president of Active Minds, a student group on campus advocating for mental health awareness, said a stigma surrounding conversations about mental health still exists on all college campuses.
"I think Emerson has gone leaps and bounds from when I first got here, but there is still a lot more they could be doing for their students," she said.
Hoppe said he is sad to hear students with mental health issues feel neglected. He believes the college has taken steps to improve the resources available, noting that within the past year and a half the college has added two full-time counselors and increased the counseling budget.
"I know from working with friends and family … when someone is struggling, or in the midst of an episode with mental health, there's no such thing as too much support or enough support," Hoppe said.
Resources available to Emerson students such as short-term individual therapy, substance use counseling, and group therapy can be found at Emerson College Counseling and Psychological Services located on the second floor of the Union Savings Building. More information is available on their website.