Column: A Lakers fan reflects on the franchise after championship
By Charlie McKenna, Deputy News Editor
October 14, 2020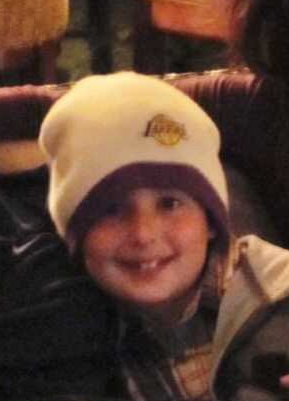 It's been a tough 10 years to be a Lakers fan. But after defeating the Miami Heat in six games in the NBA Finals on Sunday, the Los Angeles Lakers stand atop the NBA mountain once again. 
Jordan Hill. Chris Kaman. Ryan Kelly. Robert Sacre. Wayne Ellington. Yi Jianlian. Jodie Meeks. Nick Young. Roy Hibbert. Tarik Black. I can keep going, but I think 10 names gets my point across. 
Now, you may not know who any of those players are, and there's good reason—they aren't exactly worldbeaters. Yet, every single one played for my beloved Los Angeles Lakers at one point or another over the last decade, which means that I, a Lakers fan, found myself rooting desperately for the success of these not-very-good players. Most of these men weren't end-of-the-bench guys for the Lakers. They played major minutes for some of the worst Lakers teams in history. 
The Lakers last won a championship exactly 10 years ago, beating the rival Boston Celtics in seven games. But since then, the franchise endured the worst seasons in its long history. Before winning their 17th ring in 2020, the Lakers missed the playoffs seven years in a row—the longest streak in franchise history. The last time they made the playoffs, in 2013, they were swept by the San Antonio Spurs in the first round after star Kobe Bryant ruptured his Achilles tendon at the end of the regular season. Bryant struggled to stay healthy in the subsequent seasons, and the Lakers were a dumpster fire. They failed to land any major free agents, despite the glamour of Hollywood and the franchise's past success. 
During those seven years, the team turned in some truly awful seasons—17-65 during the 2015-16 season being the worst of the bunch. Lakers teams were constructed of washed-up veterans and young players taken at the top of the draft—notably Lonzo Ball, Brandon Ingram, and D'Angelo Russell—who were drafted second overall in back-to-back to back seasons. They all showed promise but were put in an unwinnable situation, trying to live up to franchise-savior expectations on bad teams. 
We stand for community, fact-based journalism. What do you stand for?
Some things in life are essential; they touch us every single day. Good journalism is one of those things. It keeps us in the know as we hurry through our busy lives.
I spent years anxiously awaiting the draft lottery. Each year, I wore my "lucky" Lakers t-shirt, which features Bart Simpson dunking a basketball—hoping desperately that the ping-pong balls would rattle the Lakers' way so they would be able to keep their draft pick. They did each of those years, which is why the T-shirt earned its "lucky" moniker—though that luck may have worn off by now, as I wore it during Game 5 of the Finals, during which the Lakers did not get particularly lucky. 
The team's fortunes seemed to change when LeBron James, arguably the best basketball player of all time, signed in free agency. His first season was a disappointment after James suffered a groin injury on Christmas Day and was sidelined for much of the season—missing his first playoffs in 13 years. 
Then, in the offseason, the Lakers traded almost all of their young players, including Ball and Ingram, for Anthony Davis, immediately thrusting them into the championship conversation. The James/Davis painting led the Lakers to the top seed in the Western Conference and their first playoff run since 2013.
2020 has been an incredibly challenging year for a multitude of reasons. Way back on Jan. 26, before the pandemic hit and there was still hope for this year, Lakers fans received incomprehensible news: Bryant and his 13-year-old daughter Gianna were killed in a helicopter crash in Calabasas along with seven others. It shook the NBA world and the team. Just the night before, Bryant took to Twitter to congratulate star LeBron James on passing him on the NBA's all-time scoring list. The next day, James stepped off the team plane in tears after learning of Bryant's passing.
Bryant meant a lot to me and to so many other Lakers fans. I cried when he scored 60 points in his final game as a Laker, and I cried again when he died. That's why this year's victory meant so much—it was the perfect tribute to Bryant, who cared so much for the Lakers. 
When the final buzzer sounded in Game 6 on Sunday night, I almost couldn't believe my eyes. It actually happened. The Los Angeles Lakers actually won the Finals. I didn't start caring deeply about the team until they were mired in losing season after season, so 2020 felt like the first title I could claim as my own as a fan. 
Yet, I don't feel as satisfied as I hoped to. Maybe because I'm thousands of miles away from the city I know was anxiously waiting for this moment just like me. Maybe it's because I wasn't able to watch the game with my Lakers-fan friends who are scattered across the country. Maybe it was because the Lakers blew the doors off of the Heat in Game Six with an absolutely smothering defensive performance that effectively ended the game after two quarters. 
Maybe it's the failure of expectation—that I wanted so badly for something to happen, and when it finally did, that weight was gone. Whatever it may be, I don't particularly care because the Los Angeles Lakers won their 17th NBA championship, tied for the most in league history with the Celtics.
And as a little P.S. to all my Celtic fans who may be reading this—we've won six titles this century. Y'all have one. Just saying.
Charlie McKenna, Deputy News Editor
Charlie McKenna is from Los Angeles, CA and currently serves as The Beacon's Deputy Express Editor, where he leads The Beacon's coverage of events, breaking news, and student government at the college....