Community Impact: 12 Hemenway strikes out with Fenway residents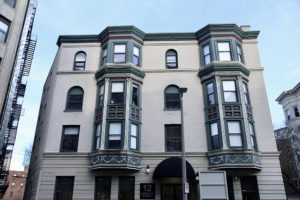 This is an ongoing series dedicated to exploring the college's impact on neighboring communities.
Fenway residents say they have yet to see the benefits Emerson College promised last year in an effort to approve its lease of the 12 Hemenway Residence Hall.
Last year, the Boston Planning and Development Agency approved an amendment to Emerson's Institutional Master Plan to temporarily lease Boston Fenway Inn, a hostel, for two years as housing for 115 Emerson students. The Beacon previously reported that the Fenway community opposed the college's decision on frequent occasions.
"Emerson did not even approach the Fenway residents before they decided to go through with this," Fenway resident Conrad Ciszek said. "At least in my observation, they have not offered anything to contribute to the betterment of the Fenway."
Margaret Ings, vice president for government and community relations, said her office has done a number of things to benefit Fenway, including going to the community organization's monthly meetings and contributing financially to and participating in different events, such as the 44th Anniversary Fenway Ball Gala and the West Fenway Christmas Tree Lighting with Mayor Martin J. Walsh. Emerson also hosted trick-or-treaters in the Hemenway building last Halloween.
"We operate the way Emerson operates, which is always to go to the community first before we do any process with the city. I've done that since the day I walked into this office," Ings said. "I think [Emerson] has made a very positive impact in that neighborhood because we care about being a part of the neighborhood and not just living in the neighborhood."
The college put forth a list of benefits for the Fenway community, but residents do not see them as beneficial. The list includes added security in and around the building, a community room open to residents when not in student use, and five resident assistants on-site, which Ings said is a considerably large number for the four-story building.
"It doesn't benefit me. It benefits [Emerson's] dorms and their students that they have an obligation to protect," Ciszek said. "Somebody in the Fenway wanted to stop by to use the restroom there … and were told they couldn't use it. I don't know how accessible that is."
Ciszek said he likes living with students in the area because they give the neighborhood vibrancy and keep businesses open later, but administration causes his opposition to Emerson's residency.
Richard Giordano, policy and community planning director of the Fenway Community Development Corporation, said there has been a wave of complaints about students occupying the neighborhood children's playground during the day and late at night which causes disruption and drives away families. He said there's no way to tell which college the students come from, but that other inquiries about skateboarding started six months ago, when Emerson moved in.
"I think the [Emerson] administration has made a lot of steps towards trying to put in practice procedures that will help minimize any kind of problems," Giordano said.
Ings said Little Building's reconstruction displaced 750 Emerson students, and that 12 Hemenway was just part of the plan. She said heavy opposition came from Fenway residents feeling like they could no longer afford to live in the neighborhood and that to them, the college took the one affordable building for two years.
"The students who are not housed on-campus are … killing the Fenway and a large number of other neighborhoods," Fenway resident John LaBella said. "[Institutions] are encroaching in our neighborhood and taking over buildings for school that could have been affordable housing or had been affordable housing."
Northeastern University, Berklee College of Music, Boston Conservatory, and Boston University students also reside in the area. According to the BPDA, 70 percent of Fenway's population is made up of college students. Ciszek, a Fenway resident of 27 years, said the community continues to see rent prices rise for permanent residents and small businesses.
"I've seen rents and housing costs go through the roof," Ciszek said. "When I first came to the Fenway, you could get a studio apartment for $450. Now, you're lucky if you can get one for $1,800."
In addition to about 100 students living at 12 Hemenway, Assistant Director of Off Campus Student Services Jeff Morris said about 37 of the 738 survey responses the office received last August said they live in the Fenway area. 2,482 students live off-campus, which is more than half of the Emerson student population.
"All of these schools are battling for the Fenway area because it is so popular," Morris said. "It's the bottleneck of the green line."
Chantal Ariana, a sophomore resident assistant at Hemenway, said the students and the community have engaged in friendly relations so far and that her Resident Director Matthew Carney goes to the Fenway community meetings all of the time.
"He made sure that we are going to abide by their rules and their policies," Ariana said.
Fenway residents like Ciszek and LaBella think the city needs to step up and limit the institutional expansion that is driving out and displacing residents who have vested interest in their community.
"If you think of a hotel—everyone's new, no one stays, and all the workers commute—the Fenway is turning into a hotel," LaBella said.