Course evaluation survey revised for this semester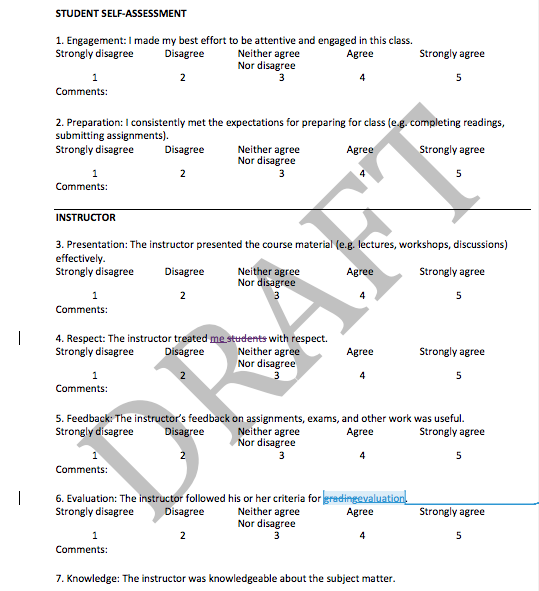 Alterations to the course evaluation survey will now ask students to reflect on their teacher's performance, and their own. The college has not reviewed the evaluation since 2006, according to Amy Ansell, dean of liberal arts and head of the revision committee.
The process began three years ago when a board was appointed to look at evaluations at other institutions, Ansell said, and a total of eight pilots of revised evaluations were constructed.
The new evaluations are divided into two sections that require students to give feedback on three different components—self, instructor, and course. The first section consists of 11 questions, which students answer on a five-point scale and have the option to leave a comment. These questions rate a variety of elements, such as student engagement, respect from the professor, and course structure.
The second section is four open-ended questions. The questions prompt the student to discuss positive aspects of the course, what they think can be improved, and diversity and inclusion within the course.
"Previously, there has been a question on whether the instructor treated the student with respect, but we wanted to strengthen it, especially in light of the student protest last spring," Ansell said.
Amy Vashlishan Murray, assistant professor and committee member, said the group felt that it was important to receive feedback on diversity in the classroom because of ongoing campus conversations.
"We're casting a broad net to allow students to comment on classroom climate," Vashlishan Murray said.
Vashlishan Murray said the revised evaluations will begin by informing students of what exactly their feedback is used for, including promotions, tenure tracks, and even termination.
"[Course evaluations are] not by any means a throwaway thing, but something that is really used," Vashlishan Murray said. "It's used in quite serious ways by the faculty themselves and the college more broadly."
A central goal of the revision was to move away from only assessment of the instructor, so that the questions were more focused on that of the course. Ansell said she thinks this is important to improve course organization and identify key issues within a syllabus. For example, she said, a professor who scored highly can teach a course that was ranked poorly, leading to a different type of intervention.
"A lot of time, issues in a course are about the way the course is organized." Ansell said. "There's limited degree to which you can separate course and instructor, but it's useful to try to distinguish between to the two to know if there's something to fix."
Courtney Quinlan, a freshman communication studies major, said she doesn't believe students are putting much thought into course evaluations. The revised questionnaire seems more engaging and relevant than previously, she said.
"The changes might make students think twice before blowing this off," Quinlan said. "They'll probably take it more seriously and think about what they say."