Creating a major is possible, for those in the know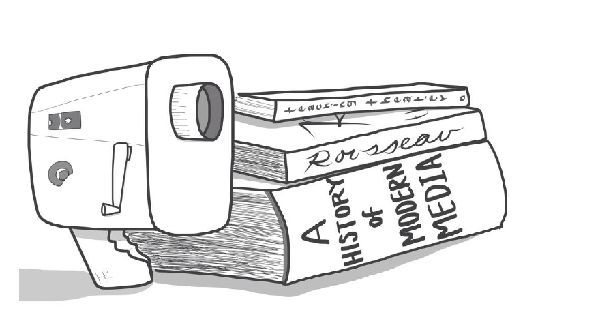 The Individually Designed Interdisciplinary Program, or IDIP, gives Emerson students another opportunity to create what doesn't yet exist for them. However, according to current students in the program, the process of applying for the major can be stressful and time-consuming, and it's not well publicized.
"I decided two weeks before the deadline that I wanted to apply for the IDIP program and the application took over my life for those two weeks," said Gina Brindisi, a senior interdisciplinary major. "Once I even left in the middle of one of my classes—pretending to go to the bathroom—to have a meeting with my now-adviser. At one point I didn't think I was going to finish my application."
Students in the interdisciplinary program create their own majors by combining courses across multiple departments, all centered around a theme of their choice. Students then choose two or more faculty members or across departments to help guide and shape the major to fruition.
Currently, there are 15 Emerson students enrolled as interdisciplinary majors, according to a list provided to the Beacon that was compiled by program coordinator Colleen Heffernan. On average, Emerson has about 10 IDIP graduates a year, said professor Nigel Gibson, who works with IDIP students.
How to IDIP
To be considered for the interdisciplinary major, students must go through an extensive process that includes meeting with advisers and department heads and choosing courses for the major's curriculum. The application consists of a proposal that must address the objectives of the student's proposed major and demonstrate research in Emerson's course catalog for the student's class plan.
The interdisciplinary concept is not unique to Emerson. Some institutions' academic programs, like those at Brown University and Hampshire College, are shaped entirely on a create-your-own-curriculum system.
Brindisi originally entered Emerson as a writing, literature, and publishing major. It was only during her sophomore year that she said she first heard about the interdisciplinary program from an upperclassman and began to question her choice of major.
"I loved writing, but I realized I wanted a more meaningful career post-graduation," said Brindisi. "I wanted a career that would allow me to help others and I needed a major that would combine my different passions and interests and prepare me for that career."
During her sophomore year, Brindisi said she worked with Emerson faculty to create her current major: social change through literature, leadership, and marketing. She now takes classes across the WLP, Communication Studies and Marketing Communication departments.
After graduation, she said she hopes to enter a career in nonprofit marketing or join Teach For America, the nonprofit that enlists recent college graduates to teach for two years in low-income communities.
In the past, IDIP students have created and graduated with degrees like global activism and advocacy, investigative theater for social change, and effective marketing through digital media design, according to Emerson's website.
Like Brindisi, other students who got involved with IDIP have said they enjoyed their original major, but felt like something was missing. Molly Ronis, a senior interdisciplinary major, entered Emerson as a marketing communication major, said she but quickly realized the major was missing an element of theater that she had become familiar with in high school.
"While I didn't want to pursue a major that was exclusively performance, IDIP allowed me to blend the two departments together," said Ronis. "My major is arts management within the Marketing Communication department and Performing Arts department."
Applications for the program must be completed and approved by the second semester of the student's sophomore year. Sometimes juniors will be admitted with a strong petition under special consideration, but applications submitted by seniors are not considered, according to the Emerson website.
Interdisciplinary challenges
Marissa Robinson, a sophomore marketing communications major, said she has been in the process of creating her IDIP curriculum for nearly a year now, and is hoping she will be approved by next fall, the first semester of her junior year.
Inspired by Emerson alumna Bobbi Brown, the makeup artist and entrepreneur, Robinson is seeking to create a major titled the business and artistry of cosmetics. She said she has been requesting approval for her proposal from the marketing communication and performing arts departments.
"The marketing part of it was pretty smooth, and I was able to get approval because I was already in the program," said Robinson. "But trying to get into performing arts major was really hard because I think that program is very limited and strict with who they accept initially."
Like any of the majors offered at Emerson, there are challenges that come with being an IDIP student, particularly around time of registration.
"Even though you may have included a course in your major, the course may have a department restriction that you have to get around," said Brindisi. "It can be frustrating, but it just means you have to be especially proactive in the registration process."
Ronis also warned students interested in the program to be prepared for a long road ahead, since she said many professors aren't familiar with IDIP.
"Most professors do not even know about the program and make no effort to figure it out," said Ronis. "There is also very little guidance, and while you have specific professors who act as advisers, they are not trained in advising for IDIP."
Despite the difficulties, Brindisi said she believes the process is worthwhile.
"I feel like in a lot of majors there are some requirements most students dread taking," said Brindisi. "For me, I came up with my requirements, so I enjoy them all. Because of my IDIP, I like being in every single one of my courses."
Little knowledge about IDIP
Like Brindisi, some incoming students said they had never heard of or didn't entirely understand the IDIP program until they were introduced by an upperclassman already in the program.
"I still find most of the student body doesn't know what the IDIP program is," said Brindisi.
Brindisi said she, as a tour guide and orientation leader, tries to mention the program to prospective students.
Since the deadline for the program is sophomore year, some students may hear about it, but are too late and miss the chance to join.
"I have heard about it, but I don't really know much regarding it," said Matt Granelli, a freshman performing arts major. "I think Emerson should at least hold an information session on this topic specifically, instead of just listing it as an option."
In fact, the Institute for Liberal Arts, which administers IDIP, has held information sessions for the program at least once a semester for the past year, but few responded to the events on Facebook.
Gibson, who is the director of the honors program at Emerson, said the Institute is aware that many students are not informed about IDIP.
"It's not really promoted," said Gibson. "We have posters up, but it's mostly word of mouth. Students get to know it through the advising office. It's difficult because most students come [to Emerson] for a specific major, and we don't really encourage undecided majors."
But Gibson said he believes there will always be some interest in the program—enough to keep it going for the foreseeable future.
"There hasnt been any consideration to end the program," said Gibson. "I don't think it's going to die, but the question is: is it going to develop?"