ECLA construction to begin March 8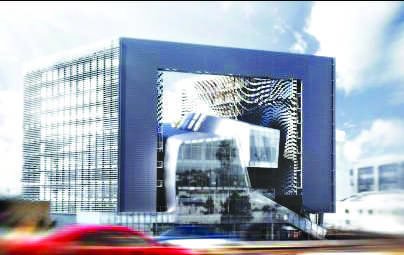 Emerson administrators this week announced March 8 as the official date for the groundbreaking ceremony of the new Emerson College Los Angeles (ECLA) facility, a project that will cost approximately $85.5 million and is expected to finish in spring 2014.
The groundbreaking, originally scheduled for July 2011, was postponed due to a lawsuit between LA County and the East West Recording Studios, a record label across the street from the campus worried about noise from the construction site, according to Andrew Tiedemann, vice president of communications and marketing.
The lawsuit was dismissed July 12.
Local students, alumni, and administrators are invited to attend the ceremony, which Tiedemann described as a "photo-op" for the college. He and President M. Lee Pelton are working to include LA politicians and industry professionals in the ceremony.
Administrators began plans for the Emerson addition in 2006 in an effort to consolidate the current LA study program to one facility. Currently, students participating in the program live in the Oakwood Toluca Hills Apartments and take classes about a mile away in rented office spaces in Burbank, California, said Tiedemann.
After the project is completed, students will live and take classes in the 37,000 square foot building located at the intersection of Sunset Boulevard and Gordon Street in Hollywood, said Tiedemann.
"Generally it should serve as a housing administrative and instructional facility," said Jim Lane, executive director of the ECLA campus.
The new building will include an alumni relations office and a full-time administration office, both of which the current facility does not have. Tiedemann said the building will also have meeting spaces available for alumni gatherings, film screenings, and speeches from industry professionals.
By bolstering the connection with LA, Tiedemann added that administrators hope to set up a program where professionals living in California could teach classes to Boston students with the use of distance-learning technology.
While the campus gets an upgrade, two groups of administrators— the ECLA Academic Programming Committee based in Boston and the ECLA Advisory Group based in LA— will work to revamp the academic program and publicize the new campus, said Tiedemann.
Lane said the most noticeable change to the program at this point will be the increased number of students accepted into the program, upping the now 120 accepted students to over 200.
Lane and Tiedemann both said there will be a more intense focus on an LA graduate program, where students could split their graduate years between Boston and California.