ECPS Survey of Undergraduates finds funding and tuition should be the top priority for incoming president
A recent survey by the Emerson College Polling Society reveals that 62 percent of the undergraduate student body believes funding and tuition should be the top priority for incoming President Jay M. Bernhardt. The survey was conducted from March 27 through April 24, 2023, consisting of 371 undergraduate students at Emerson College.
The college announced on April 14 that undergraduate costs of attendance are set to increase by four percent for the 2023-24 academic year. The increase will bring tuition up to $54,379 and single room and board up to $20,829. Combined, full-time Emerson students in a single room will be expected to pay $75,208 per academic year—a difference of $2,892.
Emerson polling highlights how these increases reflect on the student body's concerns for the incoming president, with most referencing funding and tuition. Other issues students believe Bernhardt should address include housing and open communication with students.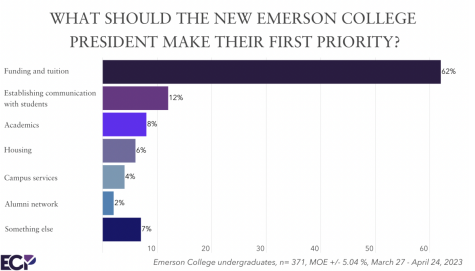 Students also rated their on-campus experience from dining options to residential assistants. Those surveyed rated their satisfaction with residential assistants a 4 out of 5 and dining options on campus a 3 out of 5. The Dining Center is the favored dining option for 32 percent of students.
Those surveyed also weighed in on on-campus organizations and course satisfaction. The survey reveals that 76 percent of students are involved in at least one organization and more than half feel like they are part of a community at Emerson. Most undergraduate students think their courses are preparing them for their careers, while more than half say there are not enough classes offered for their major that are accessible to them. Some reasons cited as to why their major classes are not accessible to them include classes being filled or not being offered.
A majority of students have never used Emerson career services and 48 percent have never attempted to use Emerson mental health services. Around 41 percent of students that have used career services rated their satisfaction a 3.4 out of 5, while those that used Emerson's mental health resources rated their satisfaction a 3 out of 5.
Students were also asked about their favorite Emerson alum. The most popular being actress Jennifer Coolidge '85 (20 percent), followed by directors Daniel Kwan '10 and Daniel Scheinert '09, comedian Bill Burr '93, actor Henry Winkler '67, and Oklahoma City Thunder General Manager Sam Presti '00.
Data was collected via an online survey and distributed by student tabling and email. The details were weighted by gender, race/ethnicity, class year, and major, based on the Emerson College Factbook 2022-2023 provided by the Office of Institutional Research.