Emerson Film Festival returns in person Mar. 30
From narratives and documentaries, to experimental and animation, Emerson returns for its 21st annual Film Festival on Mar. 30, featuring 10 films from undergraduate and graduate students alike. 
Showcased in the Bright Lights Screening Room and presented by the Department of Visual and Media Arts, the two-hour program will begin at 6 p.m. A Q&A session with the filmmakers will follow, with the reception to be held at Democracy Brewing. Anna Feder, Head of Film Exhibition and Festival Programs, encourages students to attend and support their peers' artistic works.
"Students studying film all expect that there will be an audience when they make their work, and that they'll show it on the big screen and the house will be full, but they don't necessarily go to see the work of other people on the big screen," Feder said. "They need to be part of the audience that they want to exist for their work."
The event was not held last year, resulting in a lower number of submissions for this year's festival, compared to the average 100. Guidelines for submissions are that films remain under 30 minutes, they must have been made after January 2020, and were completed during a student's time at Emerson. 
"The size of the program depends upon the quality of the submissions we receive," Feder said. "It's a way to highlight the diversity of the work coming out of the visual media arts program. It's a very eclectic mix of films."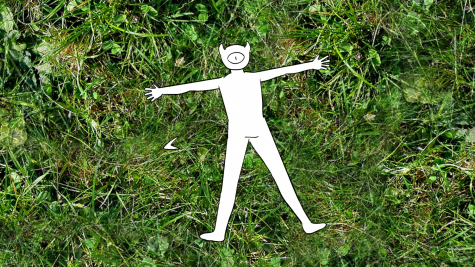 First-year VMA Ning Chen's four-and-a-half minute-long animated film "This Video Will Trans Your Gender" looks at Christianity and gender through comedy, by sharing the filmmaker's personal thoughts on the subject. The film came about as Chen's independent final project for his foundations in media arts production class. 
"I wanted to do something that expressed my personal experiences in a way that was in a comedic tone, not necessarily in this personal heavy tone," Chen said. "I just wanted to make something that's lighthearted, but still my real-life experiences."
After he began by laying out a storyboard, Chen's favorite part of the process was creating the drawings and audio. He is looking forward to seeing the final product on a big screen and getting the experience of the film festival process.
"I'm not really in that realm a lot, but this was a really great opportunity for me to just be more experienced in the world of submitting to film festivals or going to festivals, and just along those lines," Chen said.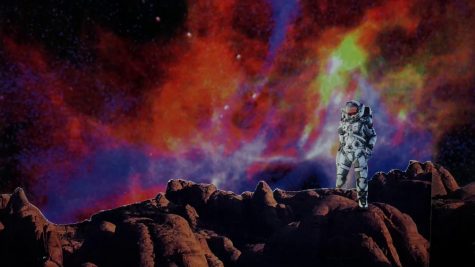 Mae Hoffman, an adjunct professor in Emerson's VMA department, did a nine-and-a-half minute experimental documentary about musician Wendy Carlos titled "No Historical Precedent." Starting production at the beginning of 2020, the film took nine months to complete, moving slowly and quietly. 
Hoffman, a seasoned festival filmmaker, knew sound was an important aspect to encapsulate and appreciate, taking a 1960s classical rearrangement from the singer. She wanted to focus on having a role model cloaked in mystery. 
"I came up with the idea to take that same piece of music and try to recreate it as much from my own memories as possible, so that part of the story was how one piece of music can get filtered through the generations and it's gonna affect people differently with each hearing, so that was enlightening to work on," Hoffman said.
With the return of in-person gatherings flooding Emerson and Boston, Hoffman is eager to see the environment of the screening's audience. 
"I'm sure interested to see what the feeling in the room's gonna look like this year because I really don't know what to expect from a live, real-life happening anymore," Hoffman said. "This is a very crowded, busy city, but I just can't tell whether or not anybody wants to actually go anywhere in the real world and do anything."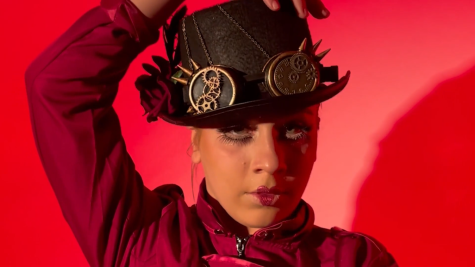 Graduate VMA Miranda Yung created a dance film music video to Panic! At the Disco's song "Ever Since We Met", as part of her graduate-level directed study in dance film with professor Shaun Clarke. Finished about a year ago, Yung had the creative freedom to explore her expression through copyright music, which is often seen as taboo. To Yung, it's natural to use songs with a personal touch for her projects. 
"That's the kind of music that has this really dynamic, incredibly overwhelming, beautiful emotional quality to it that just covers an entire spectrum that personally, I've had a hard time finding in royalty-free music or smaller, more reachable independent artists," Yung said. "I have that connection to the song, so let's sit down and get a little more organized, and put a story to what I'm feeling and seeing, and see what that says."
Yung utilizes first-year Berklee dancer Trisha to play three roles within different vignettes: a monster-like creature, an angel, and a Mad Hatter-esque force who acts as a sort of narrator, Yung's personal favorite. Each represents aspects of clashing emotions, resonating with Yung's own mind. Yung said Trisha improvised about 60 percent of the film's dancing. 
"More or less, the film is an abstract piece on my experiences with mental health and going back to everyday struggle of fighting things that are unhealthy and keep as sane as I can," Yung said. "I'd give her a direction and she'd just run off with it and have something really amazing. She's another key creative collaborator in this process." 
Yung is looking forward to celebrating everyone's inventive films. Having a space to express herself deeply, through a successful piece of media she's proud of is a treat she doesn't get often. 
"This was the first real piece I could start seeing myself reach a different advanced level, a level I'm really proud of, both in bringing my artistic voice into full fruition, but also the kind of films I have been making as of late, they're very much my full pieces," Yung said.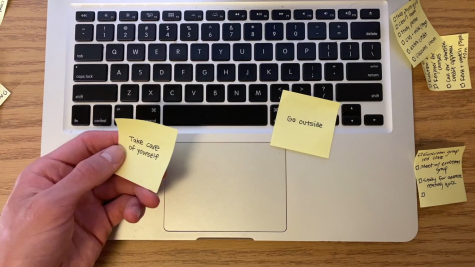 Wyatt Cunningham, a junior IDIP in filmmaking and the human mind, has two films featured: "Take Care of Yourself," a stop motion documentary about the struggles of online school during the height of the pandemic, and "Sounds of the City," an exploration of the local urban environment shot on super eight film and emphasized through sound. With two ideas with stark differences, Cunningham didn't see the full picture of his visions until well into the development processes. 
"It was really building sounds of the city that I recorded and building it on top of the drumming sounds I had because that really gave it the rhythm that it needed, that's really what brought it together," Cunningham said. "It was actually pretty hard to have the motivation to be making ['Take Care of Yourself']. There was a lot of procrastinating with it and I had the vision in my head, but I didn't have the means to get it done."
Cunningham was inspired to capture the citys' soundscape after doing a city listening exercise and watching Bakara in a production workshop class, a film showcasing city time-lapses, which he tried to emulate in his own approach. Just as he did, he wanted to make audiences listen closely to the city's ambiance. All shot on his iPhone, the only initial idea he had for "Take Care of Yourself" was to experiment with stop motion, becoming a more serious project as time went on. 
"The stop motion aspect went along with the roboticness of the time and things that were happening and being inside so much," Cunningham said. "At the end, I transitioned into being outside, and that's when I finally escaped the stop motion and all the movements are smooth again so it's just kind of this free feeling."
Thrilled to see his work on the big screen, Cunningham is looking forward to networking with fellow filmmakers who share his devotion to film production. His professors have already helped him further explore his love for analog film. 
"It's an opportunity to meet more people and have them suggest more film festivals and have them connect me with other people," Cunningham said. "Meeting people that have been in the business that do more freelance stuff or continue to work on their passion projects because that's something I wanna keep in my life."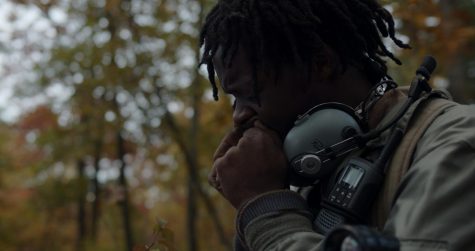 Independent filmmaker and recent graduate, currently working for Stewart Talent Agency in LA, Zachary Earnest worked on "The Lost Son," with friend William Rowley. The film was the first project for their Emerson filmmaking alliance Last Minute Media, with the plot being born from a mutual understanding of the creatives' relationships with their fathers. Earnest wanted to capture emotional moments from personal experiences of successfully reconnecting with his own father. 
"We both talked about how miscommunication is a big deal, and it just spawned from the ether," Earnest said. "This idea of what if it was a survival movie where two people, a father and son, are trying to reconnect."
The film's story depicts the separation of a father and son after their plane crashes in the vast wilderness, and the son panics and parachutes early. The son isn't seen in the film and the location is left unknown intentionally. Centering on communication issues, the pair is unable to track each other down due to ineffective conversation on the radio. 
"The whole film is an allegory for the miscommunication issue between fathers and their sons, and the perceptions of masculinity and living up to expectations sort of cause a gap in communication," Earnest said. "There were a lot of things that threatened to sink the whole production, but we improvised and we learned on the fly. We made it work through endurance." 
This was the crew's first real experience with creating a legitimate short film, which became a learning curve for everyone involved. Previously screened at New Jersey's Garden State Film Festival and Flickers Film Festival in Rhode Island, Earnest is awaiting a more Emerson local screening opportunity, given the original desire to connect with fellow Emersonian filmmakers. 
"It's better to go too big for your first project, which in hindsight is probably what I did, than too small," Earnest said. "That's the best thing about Emerson is you start meeting other people who you can creatively gel with, and you can see their projects and they teach you things and you can teach them things with your project."

VMA graduate student Amber Yang's film "Fly" was one born from a visual standpoint, given her typical opposite process of applying a story second. She looks through various stories until one is just the right vibe she's going for, reading nearly 20 short fictions before settling on the perfect one for her imagining of "Fly." 
"I had this vision of coming through this narrow hallway and going straight into a more open space," Yang said. "I had intended this project to be one long take, full of master shots and long takes. I found the story and I just thought it fit my vision with all the lighting and everything, so I fused it together and that became my film 'Fly.'"
The set took place on a controlled soundstage where many helping hands participated in measuring and plotting scenes. With the amount of fun Yang had filming, she's anticipating the film having a life of its own, hoping to translate that into her current master thesis project. 
"Takes are kind of a dance between camera and the actor when it takes a long time to rehearse," Yang said. "When things finally click, everything is working together all at the same time, that feeling is just very great, and that's part of the reason that long take is just so fun and beautiful to me."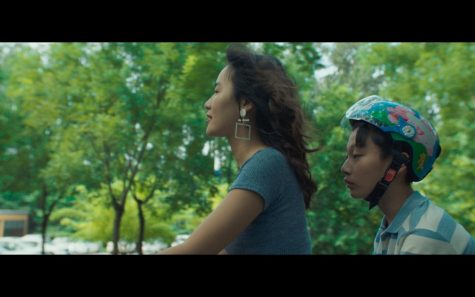 For her 2020 VMA graduate thesis project, Tong Mao produced "Shimmer Summer," a film set in China about high school student Ou Yuan on a journey of self-discovery after meeting a unique woman. The film is another that has themes of de-gendering, which Mao pointed out also goes deeper than the surface level of beauty, one stemming from the courage it takes to be one's true self.
"For me, gender is fluid," Mao said. "However, society always tends to label us by our physical gender, and to define women and men behaviorally. My film is not trying to speak out for a specific group of people, but to quietly and poetically present the state of mind of a teenager who was in her early stage of gender awakening."
The story was inspired by a close friend's experience cross-dressing. Her vision came to light with the support of professors Paul Turano and Bernice Schneider who steered her in the right direction with critiques. 
"He told me he could only feel his true self when he put on a dress," Mao said. "Everyone should be free to pursue the beauty in their hearts, which should not be limited by external factors."
"Shimmer Summer" has been featured internationally on numerous occasions, including at the St. Louis International Film Festival, Short Film Corner of Cannes, and China's New Era. Mao has won awards in the Indie Short Fest and Rome Prisma. She is constantly searching for new audience eyes. 
"The main purpose is to share my film with more people and get their thoughts and feedback," Mao said. "Being able to show my film at my own college has great sentimental value for me, it means a lot."
The two other films to be showcased at EFF are Graysen Winchester's "Prophecy: The Stories We Tell Ourselves" and Sarosh Waheed's "I Am Muzlim." Winchester reflects on stories she grew up telling herself about her future as an artist, affecting her views on her mom who "failed" as a dancer. Waheed's piece focuses on his evolving relationship with Islam and documents his experience during Ramadan. 
People interested in attending can find more information on the Bright Lights film festival website page. Tickets are available for free online and at the ArtsEmerson box office.