Emerson men's lacrosse player signs the first NIL deal in college history
Two men's lacrosse players, Austin Franklin and Lex Torrington, combined to secure the first deal regarding a player's Name, Image, and Likeness in the college's history.
The NCAA changed its stance on players profiting from their NIL in July 2021, mediated by new state laws. 
The deal was officially signed with Archie's New York Deli on Mar. 10. Though the conditions include promotional videos on social media accounts, a fundraiser with the Daniel J. Hollis Foundation, and a few free t-shirts, the center of Franklin's deal is the Yahoo Bacon. 
Consisting of a fried egg, hashbrown, cheese, and bacon in between a toasted Portuguese muffin, the Yahoo Bacon is advertised as a breakfast sandwich. It has significance to Franklin and the men's lacrosse team.
Located across from Emerson's fitness center, Archie's became a hot spot for Franklin and a couple of his teammates in his junior year, as a place to grab a quick bite after a lift. Franklin introduced players to the location, which eventually became ingrained in the culture. 
With the COVID-19 pandemic, though, the team doubted whether the tradition would carry on.
"We thought we were going to lose the culture of like Emerson lacrosse going to Archie's Deli," Franklin said. "We freaked out."
Franklin said he and the team had worried that Archie's, which became a "major piece" of Emerson's lacrosse culture, could die out during the pandemic. But the NIL deal potential posed a unique opportunity for players to collaborate with the company. 
"When NCAA athletes were able to do stuff with their name, image, and likeness, I was like, 'How can we work together?' Franklin said. "It felt like the perfect fit." 
The fundraiser is in partnership with the Daniel J. Hollis Foundation. "Lunch with Dan" will be in full effect on Mar. 21 from 5:30 a.m. to 2 p.m. Archie's will donate all of its profits to the foundation, which will continue its goal to provide opportunities to young athletes with the money. 
Torrington said he was surprised, and grateful, that Archie's was willing to donate 100 percent.
"It really meant a lot," he said. "They said that they knew about the whole story and so they and they were touched by us wanting to do a fundraiser for him. That's definitely a highlight for me." 
Franklin has built a social media presence over the course of his collegiate career with his brand "LMFAO Sport" which produces short-form sports-related content. The account has accumulated 319,000 subscribers on Youtube and 11.3 million likes on TikTok. Torrington said social media is an example of how Division III players could use their NIL moving forward.
"It's also really good for Austin's brand because he has his own sports, comedy, social media presence on Instagram, TikTok, and YouTube's got over 300 thousand subscribers," he said. "His brand sort of fits into his business model… I saw an opportunity to establish a culture of Division III athletes making NIL deals with small businesses that everyone can benefit from."
Franklin said having a decent social media presence can be a very important asset for all college students.
"Social media can be used as a really unique tool to create leverage for yourself," Franklin said. 
Head Coach Matthew Colombini said this opportunity could inspire other players on the team to make their own NIL deals. 
"The guys on the team here think it's fun and exciting," he said. "It's open to anybody as long as you get to pursue it yourself…If you're willing to put in a little bit of work and be creative about it, which Emerson students are certainly known for, you could do something pretty unique."
Franklin was named a captain of the men's lacrosse team for the past three seasons and decided to return to Rotch Field with his extra year of eligibility because of the team atmosphere. Colombini said Franklin has always been able to look at things from different perspectives.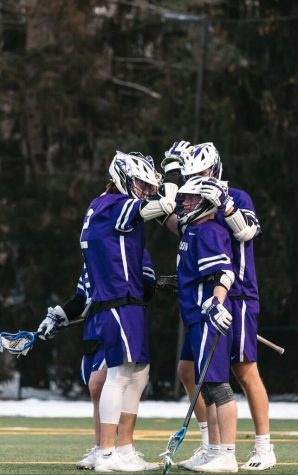 "He's a tremendous leader," he said. "He's really helped build the culture and gets the right way of doing things and always puts the team first. He's a pretty creative guy and he's always thinking about different ways to do stuff."
Teammate Pierce Elderage said when he and other players heard about the potential deal, they were unsure about its legitimacy.
"I didn't know what was going on," Elderage said. "Then all of a sudden, he made it into something really cool and it's gonna be really special."
As the agent for Franklin, Torrington worked with a law student at Brandeis University. Colombini said the opportunity is representative of what Emerson's sports communication and athletics department provides.
"It's pretty cool that [Franklin] is using one of his teammates who wants to be involved in the agency," he said "In some fashion, Lex is getting the real-world experience of helping negotiate the deal."
Moving past Emerson College, Torrington is interested in being a sports agent and Franklin will continue his work in content development and accept a job from DraftKings joining their social media team.