Emerson students torn on live music festival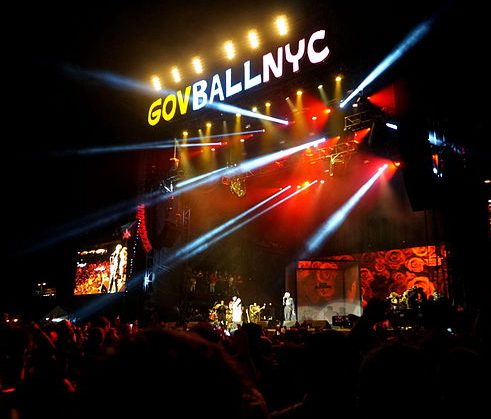 Emerson students flocked across state lines to attend this year's Governors Ball music festival last weekend—a unique experience for students deprived of concerts for months amid the pandemic. 
The event, affectionately known as the "Gov Ball," was held at New York's Citi Field, hosting approximately 50,000 people over three days. For many students, it marked the return of live music for the first time since the outbreak of the pandemic canceled most large, in-person gatherings, but for the festival, it was celebrating its tenth birthday during the festivities. 
Hosted by Founders Entertainment, a subsidiary of Live Nation Entertainment, Governors Ball began in 2011. Now, ten years later, the festival has amassed a larger audience, lineup, and headline talent. This year, Billie Eilish, A$AP ROCKY, J Balvin, and Post Malone headlined the event. 
First-year C.J. Hoekenge said Gov Ball was the first music festival he had ever attended. 
"I was definitely drained by the end of every single day," Hoekenge said. "But looking back on it, it was a really great experience."
Belle Fortebuono, a first-year business of creative enterprises major, said the festival was her first time in a large crowd since the start of the pandemic. While it was overwhelming at times, she said, it was a lot of fun.
"It was a really great experience." Fortebuono said. "I'm a really big music person, so seeing people live again was incredible."
Despite some performances acknowledged as disappointing—namely rappers 21 Savage and Young Thug—audiences were thrilled at the opportunity to see performances by artists including Billie Eillish, A$AP Rocky, Post Malone, Megan Thee Stallion, and Phoebe Bridgers.
"I was so in awe," Brynne Norquist, a first-year visual and media arts major, said of Bridgers' performance. "It was so cool to actually see her."
Norquist, a native New Yorker who has attended the Governors Ball since 2017, said the festival implemented a series of COVID-19 protocols to keep festival-goers safe, including requiring proof of vaccination for entrants. 
Event organizers also swapped Randall's Island—the location of the festival in years past— for Citi Field in Queens. Programmers opted for a more mixed schedule, scheduling popular artists of various genres at the same time.
"They paired popular artists together to limit crowds, to make sure there was an equal spread [of people]," Enorquist said. "Both artists would have huge crowds, but very different crowds."
Despite the precautions, other Emerson community members criticized the event, noting that the atmosphere did not appear COVID-safe on social media. 
"The crowds at the event looked enormous and not a single person was wearing a mask," said Eden Ornstein, a first-year communication sciences and disorders major.  
While acknowledging that vaccinations help individuals fight infections, Ornstein pointed out that they don't necessarily halt the spread of COVID within a community. Ornstein felt the students who attended should have been more cautious.
"Emerson has been working so hard to create a COVID-safe bubble," she said. "It feels like a slap in the face to see these students running around maskless."
C.J.Hoekenga said he and his friends who attended the festival took precautions to avoid transmitting the virus. The group got tested immediately after their return from New York and quarantined together until receiving negative results, he said.
"I want to respect the fact that not everyone is comfortable enough yet to jump back into that scene," said Hoekenga. "I don't want anyone to feel uncomfortable around me."
He also added that he felt safe going to a music festival after reading about Lollapalooza, a Chicago music festival in August that health officials determined was not a superspreader event. 
Just 203 of Lollapalooza's estimated 385,000 attendees—less than a tenth of a percent of festival-goers—tested positive for COVID-19, according to Chicago Department of Public Health Commissioner Dr. Allison Arwady.
However, health officials also acknowledge that even a single case could lead to an outbreak of breakthrough infections, and is especially dangerous for immunocompromised students or students who are unable to be vaccinated.
Emerson student Jax Gross expressed her concern about students attending music festivals, saying it's "kind of selfish" for students to attend events with large crowds.
"I don't think that people who went were one-hundred percent in the wrong, but I do think going to Gov Ball was not really necessary," said Gross. "There were some people in my class that went who I saw Monday, which was kind of shocking."