Kasteel Well students uninjured following deadly Dutch shooting
Students studying abroad at the Kasteel Well campus in the Netherlands are safe and uninjured following a deadly shooting in the Dutch city of Utrecht on Monday morning, a college official said.
The Emerson campus is located about 90 minutes away from the site of the shooting via public transit.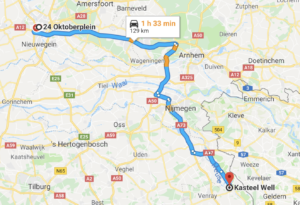 "We have checked in with all 80 of the Kasteel Well students, and all are safe," Director of Media Relations Michelle Gasseau said in an emailed statement to the Beacon.
Dutch police named Gokmen Taskin, a 37-year-old Turkish man, as a suspect in the late Monday morning shooting that left three people dead, according to the Associated Press. The gunman fired upon tram passengers passing through a residential neighborhood in Utrecht.
Gasseau said no Emerson students traveled to Utrecht for the independent travel weekend between March 15–18. Several students are still traveling between March 18–19; however, Gasseau said they have been contacted to make them aware of the incident.
"Safety is the first priority here at Kasteel Well, and students are kept up to date and prepared to be aware of their surroundings during their time at Kasteel Well," she said in the statement. "Parents and guardians were also contacted and provided with this information."
A police spokesman said the suspect reportedly fled the scene by car after the attack, according to the Associated Press.
The Utrecht Police are investigating the shooting and treating it as a terrorist attack, according to a statement from the City of Utrecht.
The police is investigating the shooting at the #24oktoberplein in Utrecht this morning. An possible terrorist motif is part of the investigation.

— Politie Utrecht (@PolitieUtrecht) March 18, 2019
Utrecht Mayor Jan van Zanen confirmed—in Dutch— that at least three people are dead and nine others are injured, according to a recorded statement on the City of Utrecht Twitter page. At about 4:40 p.m. Central European Standard Time, Utrecht Police adjusted the previously reported data to five injured people, according to their Twitter.
Burgemeester Jan van Zanen reageert op het schietincident eerder vandaag pic.twitter.com/PzI6t2tPtX

— Gemeente Utrecht (@GemeenteUtrecht) March 18, 2019
Advice from city officials for Utrecht residents to stay indoors was lifted after 4 p.m. Central European Standard Time.