Emerson's historic "Jelly's Last Jam" comes alive after four-year roadblock
Though the cast of "Jelly's Last Jam" wasn't mic'd, their powerful voices resonated throughout the Semel, echoing Emerson's first all-Black musical's central mission: the elevation of unsung Black heroes and the celebration of Black creativity and culture.
At the sold out show's conclusion, thunderous applause rattled the Semel Theater last Friday. For director Jasmine Hawkins, a BFA Acting senior, this moment was four years in the making.
"Jelly's Last Jam" is a student production that ran for one night only. The storyline follows the life of historical jazz musician Jelly Roll Morton, highlighting themes of colorism and his proximity to whiteness in a segregated New Orleans.
Much like the plot's French opera house, Hawkins said the show represents a "bastion of hope and grace" at Emerson—a place where the boundaries for racially diverse storytelling are limited.
In her first year, Hawkins had an experience that was vital in her exploration of Black musical theater. She remembered walking the streets of Boston, watching as people stared at an unhoused Black man dancing on the street "in disgust."
"[People here] pick and choose what history they want to tell you about," she said. "They don't confront history here. The only way we can learn from history is if we tell the truth."
That's when, according to Hawkins, she knew she had to make her mark as a Black creative.
According to Hawkins, the best thing about "Jelly's," a musical set in 1920's New Orleans at the height of jazz culture, is that it tells "the good, the bad, and the ugly—all in one."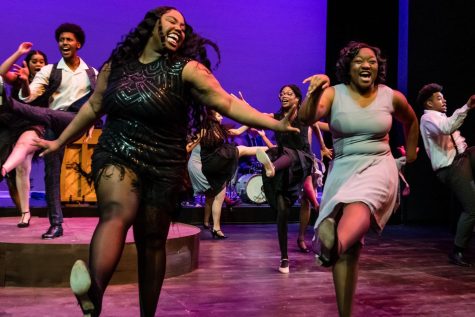 "That's why 'Jelly's' is so great," she said. "The only way you can accurately tell the story is that, inherently, you know everyone is going to be Black. But if you remove that part and just tell the story, it's so universal."
"It's a celebration of joy," Hawkins added. "The show doesn't let you fester in the pain of things… I know there's more to our story than just pain and trauma."
Hawkins drew upon her musical background for inspiration in her director's vision. She sought to turn "Jelly's" into a world—inspired by her jazz musician father from Richmond, VA. The show featured a live band that he performed in, helping to immerse the audience in Jelly's mind.
"When you come into the theater, you're in Jelly's head," she said. "He's reliving his life in front of people, so why don't we just let this theater become his mind?"
Despite the production having support from various faculty, Hawkins said that the COVID-19 pandemic had other plans, stalling its performance for years and making it hard to produce without the backing of a major student-run theater group.
Hawkins turned to many groups on campus to produce "Jelly's," to no avail. Beyonce Martinez, a junior theater and performance major, and friend of Hawkins, said the roadblocks were very frustrating.
"I know the school wasn't trying to fund it or help her fund it," Martinez said. "They weren't trying to respect her ideas and what the show has to bring."
Martinez's comments touched on the broader struggles of Black creatives and performers in Emerson's theater department, who, she said, are rarely cast in EmStage and other productions despite their talent. Nalany Guerrier, a junior creative production and performance major, agreed.
"Opportunities like this aren't being brought to us," Guerrier said. "Imagine going through your entire college career advocating for Black people."
Though the initial difficulties she faced were disheartening, Hawkins described the responsibility that  ultimately fell on her to produce it as "a blessing in disguise."
"God told me that I was going to do it and not anybody else," she said. "It hurt at the time, but it was a blessing."
Hawkins already had support from student groups, such as Mercutio Troupe and EmShakes, because of the ongoing obstacles she faced in funding, as well as financing from a GoFundMe to put on the show.
"We had different student groups that were like, 'well, [the school] isn't giving you money, so we'll give you money,'" she said. "After that, we finally ended up getting sponsored by a student group on campus, and we ended up appealing for more money from [Student Engagement and Leadership]."
This appeal was successful because, according to Hawkins, SEAL knew her troubles in producing the show and wanted to help her.
While funds and shutdowns stood in the way, the trials and tribulations paid off. According to Hawkins, people received it beautifully.
"I've heard people say it was hauntingly beautiful," she said. "People just received it very positively. [They said] they had a spiritual experience."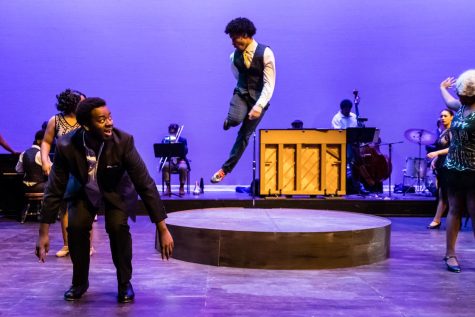 George C. Wolfe, the playwright behind the original show, was also in attendance at Friday's show. Wolfe, a Tony award winning playwright and director, wrote "Jelly's" in 1991. He enjoyed the show immensely, according to Hawkins.
"To have someone that I do admire like that actually be alive and come to the show…it meant a lot," she said.
Martinez noted the similarities between protagonist Jelly and a similar tragic hero, Levee, in "Ma Rainey's Black Bottom," a play by August Wilson adapted into an Oscar-winning film in 2020. Both pieces showcase a young Black musician whose over-ambition in a racist society ultimately leads to their own undoing.
"It really highlights what Black people go through," she said. "We want to be successful so badly, but being in a white man's world [makes it] so hard. You'll do anything to get [success]."
After making history with the school's first all-Black musical, Hawkins hopes the legacy will continue with those in her cast, who, according to her, are working on an all-Black production of "DreamGirls." Hawkins, who hopes to help in any way she can, said that the presence of all-Black musicals is essential to Emerson's theater department.
"It's one thing to have Black people in white stories [and] colorblind cast… but it's about representation," Hawkins said. "There's more than one type of experience. We do not have to go through trauma for 90 minutes and, you know, take our heart out and crush it on the floor for y'all to see and enjoy it… and then [be] left to pick up the pieces. There's more than one type of story."