Entrepreneur alum reflects on DNC appearance, PPP, and owning a restaurant during a pandemic
Lien Ta '03 came to Emerson with the hope of one day working in magazine design. After a brief career in media, a reignited passion for food led Ta down a path in the restaurant industry. She now owns two Los Angeles restaurants on the frontlines of the battle between local eateries and a raging pandemic. 
Here's Looking at You, an American restaurant, opened in 2016, while modern adult diner All Day Baby opened more recently in fall 2019. Both restaurants were shut down in March as the COVID-19 pandemic spread. And although Ta was able to reopen both at the beginning of the summer, only All Day Baby remains up and running due to the financial toll of the crisis on Ta's restaurants.
"There's no end in sight to this pandemic and we're just watching the time go by," Ta said. "Businesses are going to close one by one. I have two and one closed."
The global pandemic has had a devastating impact on businesses across the country—180,000 businesses temporarily closed in March alone, according to Yelp. Since then, some businesses have reopened, although the majority of them are still closed. Nearly 100,000 of them have shut down for good. 
At the time of the city-wide shutdown in Los Angeles in March, which closed both restaurants, Ta oversaw 65 employees who were all furloughed. On May 28, both restaurants reopened for takeout and delivery. But after they both faced financial hardship, Here's Looking at You closed indefinitely on July 12.
"[Take-out only is] not what the restaurant is supposed to be," Ta said. "It doesn't stack up to the bills that we have and there's how much the rent costs and all of that stuff. It's not that nobody is coming [into All Day Baby], which was unfortunately the case at Here's Looking at You. So that's why we made the decision to close that restaurant."
Closing Here's Looking at You has allowed Ta to focus solely on her other spot, which was just starting to get on people's radar, she said.
"We've kept All Day Baby open because people still do come," she said. "It's just not a lot of people. There are days where it's really hard to keep up with the orders when it's just like a couple of us. Aside from Jonathan and myself, I only have six employees now."
While at Emerson, Ta was a writing, literature and publishing major, as well as one of the founding members and eventual editor-in-chief of Gauge Magazine. After graduating, Ta worked as a reporter at E! Online and then later as an editor at Movies.com where she worked under the E! founding editor, Lew Harris. Just before switching career paths, Ta also worked as an editor at Hollywood.com.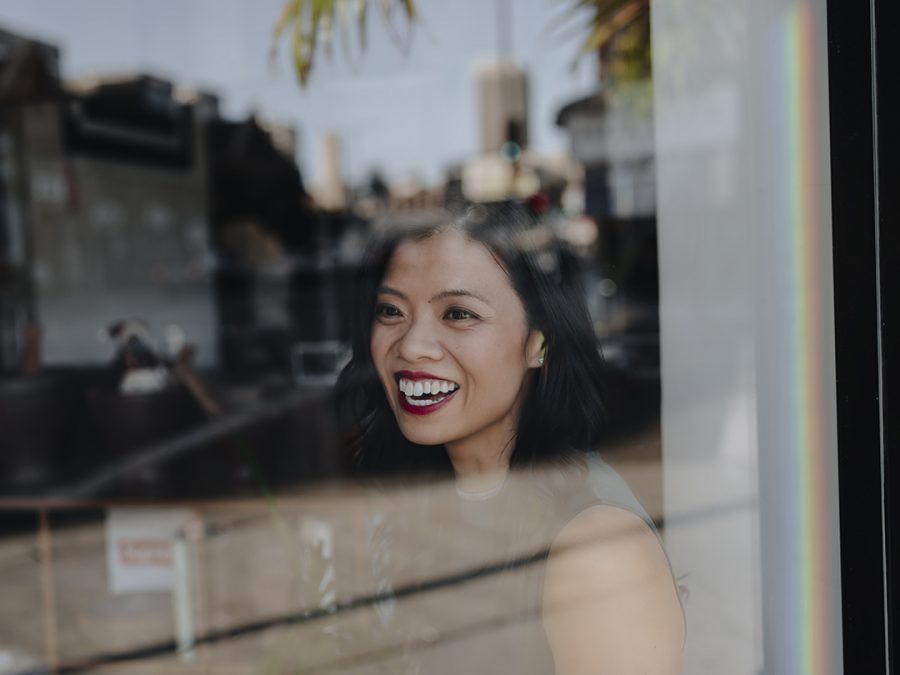 The Georgia native said after years of working in celebrity reporting, she wanted to do something different.
"One day, I just decided that I didn't really want to be in this career anymore," Ta said. "So anytime any individual is probably at a crossroads, they're thinking about, 'What else can I do?' And I just thought, I've always loved food. I've always loved restaurants, more specifically; it wasn't like I had this hobby of cooking or anything like that. Sometimes you get a crazy day and you just think 'I'm going to do this.' And that's ultimately what I told myself that I would do."
When she decided to start her career in food, Ta spent five years working in every position, from hostess to manager. One job Ta never had was that of a chef—she knew that if she wanted to go after her new pursuit, she would need a partner.
Ta met her current business partner and chef, Jonathan Whitener, while working at Animal in Los Angeles. She met him right as Ta questioned her dream and was worried it wouldn't be fulfilled, in fall 2014. 
"I worked with Jonathan for more than a year before I realized one day—I had this epiphany— that this old dream of mine could probably be resurrected if I asked Jonathan if [he] wanted to do something like this with me," Ta said.
It took around six months to find a location for their restaurant and to accumulate the funds before Here's Looking At Me opened in 2016. 
Ta said it was more difficult to open her second restaurant, All Day Baby, because she was already running Here's Looking at You.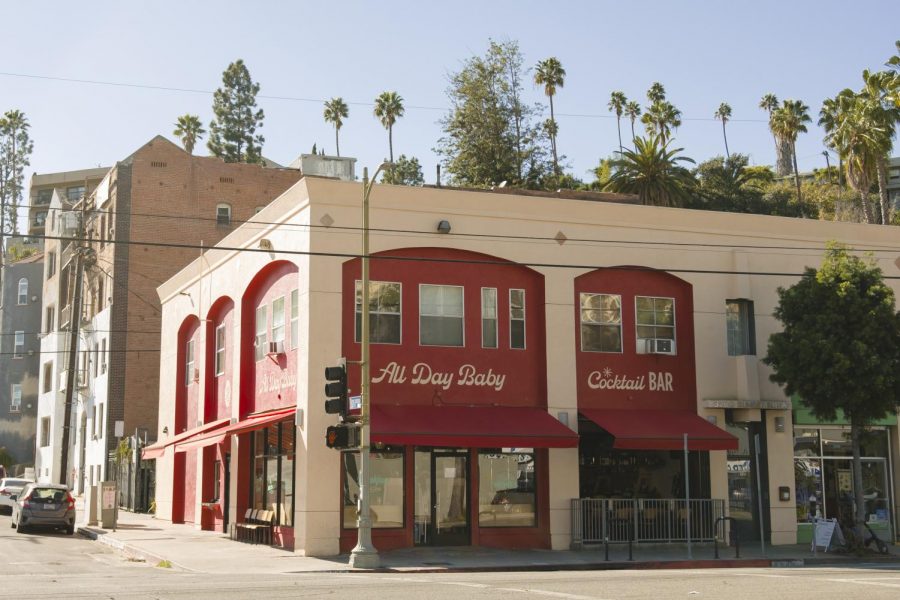 On the third night of the Democratic National Convention, Ta and her restaurant, All Day Baby were featured in a five minute segment about small independent businesses severely impacted by the pandemic. Ta explained how the feature opened a new door for her.
"What came out of that DNC appearance was at least it opened up doors to renegotiate my lease terms with my landlord, to try to get that rent price down or to get rent forgiveness or abatement," Ta said. "I wasn't able to essentially reach him for a long time to kind of get this solidified. But that experience on the DNC was useful in that way."
In 2017, Ta attended the James Beard Women's Entrepreneurial Leadership Program, a training program that is targeted towards female restaurant owners. There she met Carolyn Johnson, a chef and business owner of multiple restaurants in the Greater Boston area, including Concord's Mooncussers Fish House in Back Bay and 80 Thoreau. 
Due to COVID-19, Johnson's Back Bay location had to let go of almost every employee except for the managers.
"It's been pretty brutal, needless to say," Johnson said.
The biggest problem many of these local restaurants are facing is revenue, or the lack thereof, Ta said. She applied and received a Paycheck Protection Program (PPP) loan for each of her restaurants to help keep employees on the payroll and to help her businesses stay open. 
Ta said government assistance is an essential part of moving forward.
"It's about money," Ta said. "It's about government relief. There's a bill called the RESTAURANTS Act that would enable small independent restaurants to receive grants and funding. It's been put into the HEROES Act, version 2.0. It was just time. A lot of us don't have time. It's so dependent on how many dollars you have in the bank account."
The Health and Economic Recovery Omnibus Emergency Solutions (HEROES) Act is a $2.2 trillion stimulus package meant to combat the economic struggle that COVID-19 has placed on American citizens. Within the act, $120 billion would go into the RESTAURANTS Act to help independent restaurant owners through a grant program. 
The House of Representatives signed off on the HEROES Act, which also includes another round of stimulus checks. But President Donald Trump has recently halted negotiations for another COVID-19 stimulus package until after the election. 
"It's offensive," Ta said. "There's not a lot of forethought when there's anybody in positions of power to make these kinds of decisions about funding. The HEROES Act is also addressing stimulus checks and unemployment, and all of it matters."
Stimulus packages like this one would be beneficial for restaurants like All Day Baby, as well as any of the 180,000 other businesses that have closed because of the pandemic. Johnson said that pushing these negotiations back could have an impact on independent businesses across the country.
"It's just this deep frustration," Johnson said. "Now the fact that [negotiations] aren't until after the election, it's like 'Do you know how many restaurants are going to close? Or small businesses or bookstores or all these pieces of our communities that are just clinging to hope?'"