Fall 2021 photo practicum 'Places They Call Home' captures an array of student experiences
Upon walking into the Huret and Spector Gallery on the sixth floor of the Tufte Building this week, one is greeted by a professional, vibrant, and emotional exhibition filling the space around them.
The photos in the exhibit are an accumulation of 11 students' photography throughout the course of just one semester of Professor Camilo Ramirez's class "Photo Practicum." 
"Places They Call Home," organized by the Department of Visual and Media Arts, launched Dec. 6 and consists of student photography portraying topics such as grief, identity, sexuality, community, adolescence, and gender. It will remain on display until Dec.10. 
The photo practicum features the works of Ian Bishop, Kasey Brodwater '22, Gloria Cao '23, Langley Custer, Xinyi (Cindy) Gao '22, Zeyun Liu, Carly McGoldrick '22, Taina Milsap '22, Anna Moon, Brooke Northrup '22, and Mariely Torres '21. (Millsap served as The Beacon's living arts editor for two semesters).
Their work is titled "Black & White City, Green Devil," "The Kids Turned Out Fine," "I Was Never Really Here," "Everything that's happened since," "U.S. & us," "Untitled: 2021," "Fort Imagination," "It Could Also Look Like This," "Eastie: Our Home," "Being Here," and "Is There Any Other Place," respectively.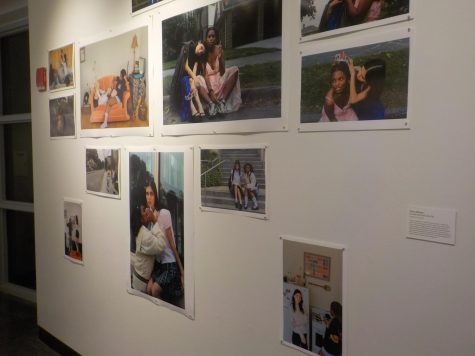 The gallery provides each contributing student with a personal space to display their works in whatever creative manner they feel works best. Each section exudes a different energy and generates a different emotion, both through the content in the photos and the way they are printed, framed, or laid out on the wall. Some students' work inspire nostalgia, some trigger sadness, and others provoke realization. All are unique, and all leave room for audiences to walk away from the gallery more enlightened than they came. 
Ramirez's course is intended to give students the opportunity to create their own works and gain real world photography experience. The class is open to anyone who has taken two introductory level photography classes. 
"A practicum is a culmination of all the things we've learned in photography and applying them in a way that's professional and presentation ready, and the next step before going out into the world as a professional," Ramirez said. "The class is basically trying to take all of the previous knowledge and build on that to something that is an extended exploration of some topic or idea." 
Students such as Brodwater, a visual media arts major working towards a Bachelor of Fine Arts in photography, diligently worked over the course of the past semester to choose a concentration, compile their work, and ultimately create the gallery. 
"'Places They Call Home' is an exhibit that highlights the work of a handful of students who all worked on their own individual projects for an extended period of time," Brodwater said in an interview with The Beacon. "Their projects all resonate with them as an individual deeply. They all tell a different story." 
At the beginning of the course, each student was in charge of choosing a concentration which they will work to capture and curate over the semester. 
"I struggled with picking a concept for this project, because I didn't want to pick one thing and focus on shooting just that one thing for a whole year," Brodwater said. "I wanted to pick a concept that left me with freedom to shoot what I want to shoot. It evolved from a wanderlust sort of thing to what is now a project about adolescence and youth. It was interesting to see it all come together and to see how everyone's projects changed throughout." 
McGoldrick, a BFA candidate in the photography program, found that these concentrations narrowed down as the semester continued. 
While McGoldrick's original idea was to tell the story of her relationship with her mother through the lens of her hometown, her idea has evolved greatly since. After the sudden death of her childhood friend Lucy, McGoldrick's project, "Fort Imagination," now tells the story of the adolescence the two shared all those years ago.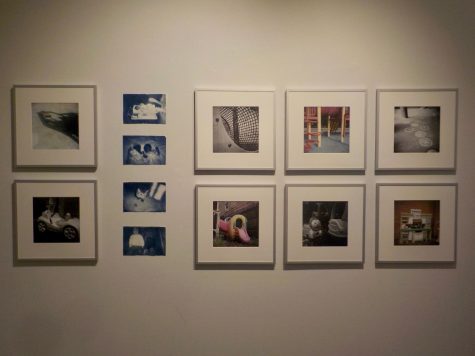 Her exhibit depicts photographs of playgrounds and children's toys, some captured in black and white and others in color. In addition, it includes archival photographs taken by McGoldrick's mother of the two girls as infants and toddlers.  
"This project was a way of grieving my friend, but also grieving the happier things that we did like going to playgrounds," she said. "These photos feel really sad to me, but kind of in a way that is reminiscent and blissful and nostalgic."
Once the concentrations are chosen, Ramirez guides the students through the process of creating their exhibit, down to every last detail. 
"We do critiques where we check-in, look at the pictures, talk about them, discuss their ideas and craft, and then just keep refining it and refining it and refining it down to every decision," Ramirez said. "What size will the prints be? Which pictures are going to be in the edit? How many? How are they going to be installed? Will it be framed or not? Will there be video? Will there be audio components? There are so many decisions, and it really is an individual conversation that has more to do with the students' vision than what I would want to impose." 
Through this experience, McGoldrick was able to use her vision to grieve the loss of her friend, as well as find joy in the memories that may have otherwise remained in the past. 
"It's not necessarily a piece or a body of work about dying young," McGoldrick said. "It's more a piece of reflecting on childhood and memory. I've learned how to make art about bad things that have happened to me in a way that isn't exploitative or melodramatic. It just feels very honest to me and to how I feel about what happened." 
Other projects, such as Brodwater's, explore a more broad approach to their concentrations. "The Kids Turned Out Fine," focuses on the complexities of growing up, especially for our generation which arguably had to grow up too quickly.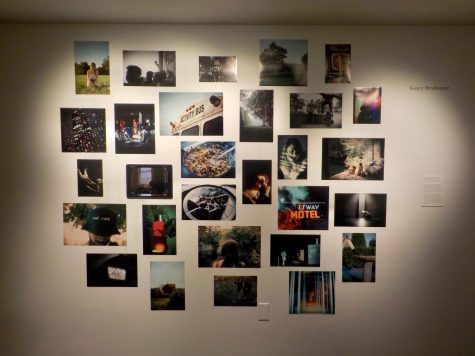 "I wanted to highlight being young, being reasonably risking and just living life to the fullest," Brodwater said. "I tried to include some contrasting photos, some reminders of adolescence and being young like the carousel and the bowl of cereal and the school bus. I also included a picture from a Black Lives Matter protest, the mirror with the blood on it, things that showed the darker side of getting older. I wanted to appreciate getting older, and the beauty of the danger of that." 
Now that the student work is finally available to the larger community, there is a sense of pride and joy in knowing that a semester's worth of dedication has paid off. This has resulted in not only a beautiful gallery, but also thought-provoking subjects that audiences can explore. 
"It's so rewarding to have this," Brodwater said. "Even though I've had tons of photography classes where I've put prints up on the wall, it hasn't been a wall like this in a gallery. It really opened my eyes to curating and how hard that can be. It's extremely rewarding to see your work up in a gallery and it really forces you to think of what you're photographing and also what you're showing." 
"It makes you feel really good about yourself in the end to have a physical product up and get to say, 'I did that,'" she continued.