First days of simplified symptom tracking process see delays at tap desks
Emerson began linking its daily symptom tracker to all student, faculty, and staff IDs Tuesday, meaning community members no longer have to display their tracker results to security guards upon entering campus buildings.
The update, which began rolling out to staff on Oct. 1 before eventually reaching faculty and student IDs, allows community members to continue submitting a daily symptom check through the Emerson mobile app as normal. If cleared to enter, simply tapping into the building, instead of displaying the green badge, indicates that they are symptom-free. 
The update was made "in an ongoing effort to ensure that all community members in Emerson buildings are symptom-free," an email from the college on Oct. 8 said.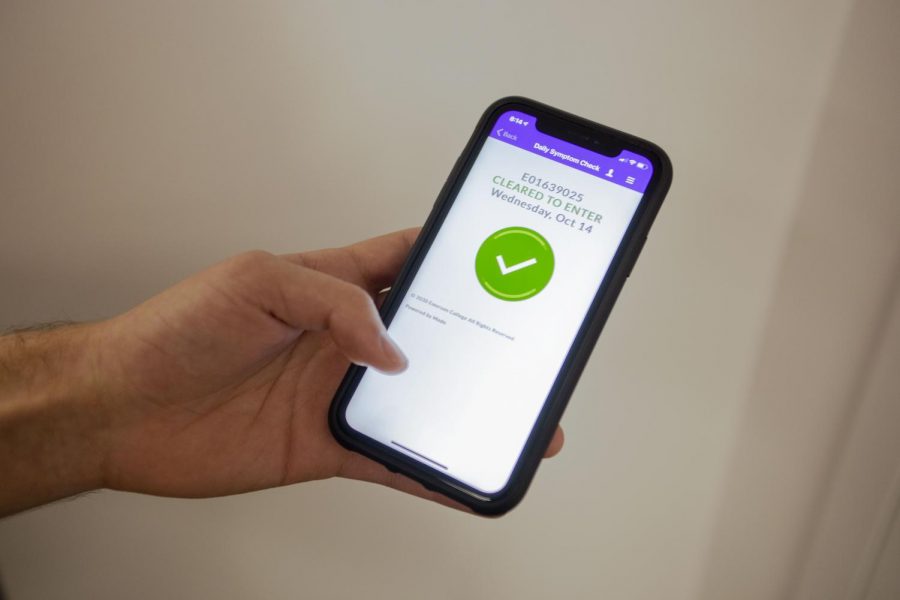 A drawback of the new update, however, is that symptom tracker results do not enter Emerson's system in real time. Some students have reported a buffer period of just under five minutes before their results entered the system. That means community members may be denied access to a building at first if they fill out the tracker on the walk to class or at the entrance of a building.
The update rolled out to all IDs on Oct. 12, and the first few days of the new system saw lines of students piling up outside of tap desks, waiting for their tracker results to enter the system.
"Well, it's an inconvenience, but I understand it's a necessity," junior Cole Tatum, who was waiting in line in the lobby of the Paramount Theater Wednesday morning, said.
"It's part of the learning curve, I guess," sophomore Tyler Campbell, who was also waiting in the Paramount Theater, said. "You have to do it a couple minutes before you get here."
Community members have been required since August to fill out the symptom tracker to indicate potential  symptoms of COVID-19, like a runny nose or cough. If a community member reports even one symptom, they are denied access to college buildings until they receive clearance from the Center for Health and Wellness to enter.
The symptom tracker, coupled with regular community testing, is an integral piece of administrators' efforts to prevent outbreaks of the virus.
College officials could not immediately be reached for comment.