First-year class settles in after year of upheaval
After a year of canceled proms, delayed graduations, and remote learning, the road to Emerson has been anything but normal for most first year students. 
With everything up to the college application process transformed by the pandemic, the incoming Class of 2025 was forced to adapt to a new reality as they considered Emerson. Perhaps as a result of this upheaval, the college's Office of Undergraduate Admissions reported a drop in overall applications this year. That drop came despite the college extending the regular decision deadline to Feb. 1 from mid-January and holding an extra round of applications for early action and early decision.
"We feel [the pandemic] has the opportunity [for applicants] to rethink their college search process," Director of Undergraduate Admissions Michael Lynch said in an interview. "We were planning for any number of outcomes—though we would like to see the overall application numbers rebound after the pandemic."
Yet hundreds of students were able to navigate the complicated, often daunting application process—even as their own senior years were nearly unrecognizable. Theatre & performance major Dolly Pickelhaupt described the difficulties looking forward to college with the present so uncertain.
"It's definitely been hard," she said. "I don't know anyone who isn't going through a rough time over the past year—but I'm a very social person. Not being able to see half of my friend group, knowing that I wouldn't really get a prom, or [being forced to have] a wacky in-person graduation it's very isolating. I don't see how it couldn't have impacted the college application process." 
With traditional high school services constrained—including tutoring, test prep, and college counseling programs—many students, like political communications major Caroline Laran, had to learn to become more self-sufficient during the application process.
"We had obstacles like not being able to get that one-on-one personal help in school," Laran said. "I don't even really think I talked to my guidance counselor that much until the fall of my senior year, which was really scary." 
Others sought to ignore the effects of the pandemic as much as they could. Brooke Huffman, a journalism major from Missouri, said Emerson's Common Application offered an optional question centered around COVID—but she was reluctant to discuss something that had already dominated her senior year. 
"I wrote my essay on how writing has personally helped me cope with my anxiety and how I've used it as a creative outlet for years," Huffman said. "I chose not to write about COVID."
Despite this, Huffman said that her decision to apply to Emerson was rooted, in part, in her perception of how the college—and other institutions—were handling the pressures of the pandemic."Some schools [were] open to tour, but those were generally the ones that took COVID a little less seriously [than Emerson]," she said. "That wasn't the kind of school I was interested in looking at."
Instead of in-person tours, many incoming first-years saw the Boston campus through virtual tours, or stood outside of the storied Boylston Street buildings from afar.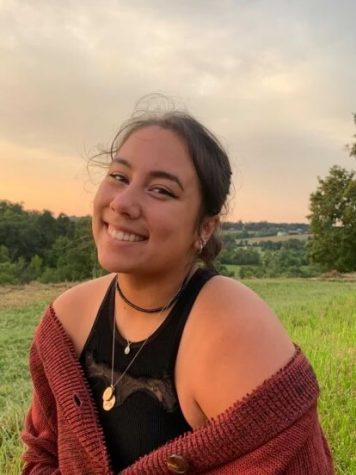 "I did all the virtual tours, I watched YouTube videos of dorm tours, all the cheesy stuff," Huffman said. "I went on [Emconnect] and looked at all the different organizations offered. I just really wanted to get a good feel for the vibe, and I really liked that it was a much smaller and artsy school compared to some of the other schools I was looking at."
Jessica Gomez, an incoming journalism student from Pennsylvania, committed to Emerson for softball in April of 2020, after only ever seeing virtual tours and videos sent by a teammate. On a cold day in October, she finally saw Emerson's campus in person for the first time. 
"I got up in October to actually see [the campus]," Gomez said. "I wasn't allowed inside, I just got to see the area, walk around the buildings, it was really nice." 
Diagnosed with an auto-immune disease during her senior year of high school, she said the pandemic had her worried about having to manage while being far away from her family.
"I'm glad [I got my diagnosis before] being in college, but it's kind of scary to take that on my own—and life in general on my own," she said. "I guess I'm more excited than nervous—they're one in the same in terms of emotions. But I think I'll get the hang of it."
The Class of 2025 will be the first first-year class since the pandemic began to experience a semblance of the normal, pre-pandemic Emerson. With the vaccination requirement for Emerson community members, many incoming first-years expressed excitement about attending an institution with reasonable levels of protections against the virus. 
"The idea that my freshman year we'll be able to have a slightly more normal experience is great—even if it starts in that weird in-between state," Huffman said. "Just knowing if I continue to do my part and the people around me do their part, things [will] continue to look up."