First-year releases EP 'Sittin in 317'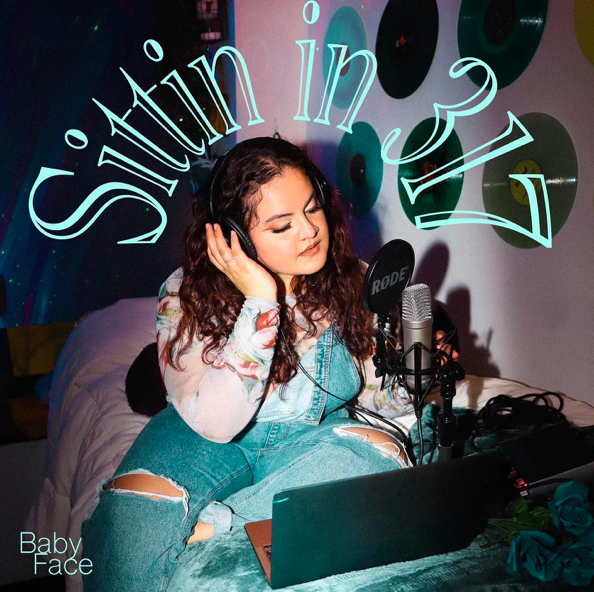 Halfway through the semester, first-year marketing communications major Vritika Thadhani and her friends set goals for themselves to accomplish before the summer—Thadhani's goal was to create new music. 
The result of this challenge is Sittin in 317, an EP composed of three songs, released under the name Baby Face. Thadhani wrote and produced the EP based on old drafts she had started in high school. She released the project on April 16 on Spotify. 
The EP title refers to Thadhani's working process in her dorm room while the stage name, Baby Face, comes from the nickname her family gave her. The songs all evoke specific moments in Thadhani's life, especially the relationships she's had.
"It was definitely painful to relive it, but when I could do it through music, it was a way to process it comfortably and safely," Thadhani said.
As Thadhani began working on the tracks in March, she was also recovering from jaw surgery she had over winter break that aligned her underbite. She was worried the recovery process would be cumbersome and stall her ability to make music, but she fully healed from the surgery. 
"It's just been a wild semester," she said. "The music thing has definitely kept me grounded."
Two of the tracks, "Phoenix" and "Freedommind," rely heavily on layered vocals, a nod to Thadhani's background in acapella and choir. 
"If I can provide myself that extra depth with my own voice, I'll definitely do it," she said.
"My Home Soul" is the most lyrical of the tracks, drawn from a relationship that Thadhani had to learn to let go. Although the EP began from high school projects, Thadhani said it has evolved to become a response to what happened during her first year of college.
"It was closure for me to realize that I'm okay," Thadhani said.
In terms of genre, Thadhani takes inspiration primarily from R&B and jazz. The artists she most admires range in sound and influences: Hiatus Kaiyote, Charlotte Day Wilson, and Kaytranada, along with Yves Tumor and Childish Gambino. Thadhani's versatile interests come from her passion for fusing and expanding genres. 
"I can't wait to just see how I can bend R&B as a genre," she said. Thadhani emphasized how Hiatus Kaiyote combines R&B with different sounds so it is no longer a single genre.
The first-year's music has been anchored by support from her family, who have always welcomed her ventures. Thadhani said her parents both have strong singing voices, particularly her mother who sings at temple. Thadhani's older sister introduced her to different music early on and has been a significant influence.
"[My family] literally just sent me flowers for this release, and I cried," Thadhani said.
Thadhani grew up in East Brunswick, New Jersey where she spent her childhood immersed in the arts. She started singing at the age of three, which turned into a penchant for writing and performing. Thadhani was active in school choirs, eventually becoming vice president of her high school acapella group and learning sound engineering because of her position.
"During COVID time, we had to make our concerts online, and I started using different mixing programs to make the voices blend," Thadhani said.
Thadhani hopes to continue experimenting with music and collaborate with artists in Boston, including friends she has at Berklee. Although Thadhani was accepted into Berklee, she chose Emerson because she wanted a background in marketing that would allow her to navigate the music industry. 
"The reason I'm studying to be a marketing communications major is so I can end up marketing myself and other people like me who want to make music," Thadhani said.
Following the EP release, Thadhani began working on new music right away. 
"My summer is gonna look like me in my room making music as much as I can," Thadhani said.