Five-run ninth inning propels Lions to win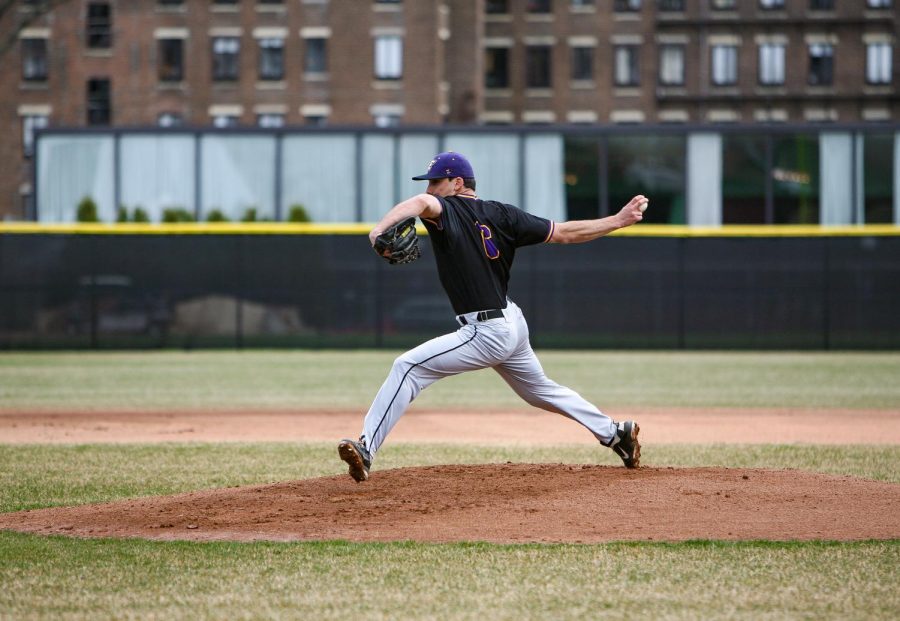 By Kayla Buck, Assistant Sports Editor
March 12, 2020
A walk-off single by freshman catcher Matt Nachamie earned the Lions a 9-8 win Wednesday afternoon over visiting Lasell University.
Senior pitcher Jack Fox pitched six innings, while sophomore pitchers Bryan Simmons-Hayes, and Michael Logerwell pitched one each. Fox gave up six runs on eight hits and struck out five batters. In seven batters, Logerwell gave up two runs and struck out one batter. There are no recorded statistics for Simmons-Hayes.
The Lasers benefitted from one hit in the first inning, but could not bring the batter to score before the Lions completed three outs. 
Senior infielder Joe Paladino led off the Lions' lineup with a single into center field. Senior outfielder Cam Beattie grounded out to shortstop which allowed Paladino to advance to second. Following Beattie's out, freshman infielder Thai Morgan singled into left field and put Paladino in scoring position at third base. Morgan and Paladino scored off a three-run home run into left field by sophomore outfielder Quinton Copeland.
Fox struck out the first batter of the second inning, but the batter reached base off a passed ball. The Lasers put another batter on base off a fielder's choice, but could not score before the Lions ended the inning. 
We choose information accessibility
News and the truth are under constant attack in our current moment, just when they are needed the most. The Beacon's quality, fact-based accounting of historic events has never mattered more, and our editorial independence is of paramount importance. We believe journalism is a public good that should be available to all regardless of one's ability to pay for it. But we can not continue to do this without you. Every little bit, whether big or small, helps fund our vital work — now and in the future.
Lasell scored off a fielder's choice in the fourth inning which loaded the bases. Fox struck out the next batter to end the inning. 
Lasell maintained momentum in the fifth inning to record another run, two hits, and two walks. With the bases loaded, the Lasers failed to score. 
In the bottom of the fifth inning, Beattie homered to left field to give the Lions a one-run lead. Both teams failed to score in the sixth inning.
Fox started the seventh inning but walked a batter, hit a batter, and gave up a hit, allowing the Lasers to score. Logerwell closed the inning with a hit that brought in two runners to score, giving Lasell an 6-4 lead.
The Lions failed to retaliate in the bottom of the inning despite a hit by Morgan into the left field.
The Lasers scored two additional runs in the eighth inning, and the Lions again failed to score despite a hit by Ryan McCahan. 
Simmons-Hayes held off the Lasers' offense with three outs in three batters at the top of the ninth inning.
Cohen led off the Lions' ninth-inning with a hit by a pitch to put him on base. Paladino followed with a defensive error to put him on first and advance Cohen to second. Beattie loaded the bases with a single into left field. A single to the shortstop by Morgan brought Cohen into score and left the bases loaded. Copeland followed with a single to bring in Beattie and Paladino. Morgan scored off a ground out by Andre Padovani, leaving Copeland in scoring position on third. Lasell intentionally walked McCahan, and Nachamie singled up the middle, bringing Copeland home to score the final run.
The Lions will play a doubleheader against Pine Manor College in Newton at 12 p.m and 3 p.m., Saturday, March 11. 
Kayla Buck, Assistant Sports Editor
Kayla Buck is a sophomore from Kerrville, Texas. Despite being from Texas, she is an avid Red Sox fan. Last year she worked with the sports staff writer for a variety of sports. In addition to sports coverage...